As with all the latest Android flagships, the Platinum 7 ships with Android Marshmallow 6.0.1.
In all honesty, I cannot really distinguish between it and its predecessor, Lollipop. Icons have the same, flat aesthetic, while the home buttons are still 3 different shapes.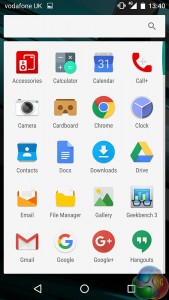 The launcher is also very similar, except users now scroll down through their apps, as opposed to sideways.
The quick-settings drop-down panel is another area where things have not changed, while the full settings menu is also left untouched.
One cool feature that the Platinum 7 includes, though, is the ability to change the function of the camera key. By default it will take a picture for you when the camera app is open, but it can be changed to launch your favourite app, for example. This is a neat touch which simply allows extra customisation potential.
On the whole, the software is very functional. While to me, it seems just like Lollipop, that is no bad thing. There is zero Vodafone bloatware, and Android has been left untouched.