While I would usually include a screenshot of CPU-Z here, it did not correctly identify the Snapdragon 652 CPU inside the Platinum 7.
So before coming to the benchmarks, I want to touch on real-world performance. In my experience of the Platinum 7, it is an exceptionally fast and responsive phone. I faced no lag when opening or switching between apps, and games (such as Stick Hero and Temple Run 2) ran very smoothly. 3GB of RAM is also very generous, as over a 3-hour period, my average use was 52% of the 3GB. This just means there is more than enough system memory to keep things snappy.

Moving on to the synthetic benchmarks, then, and we start with Geekbench 3. I compared the Platinum 7 to the iPhone 6S as this is the type of phone Vodafone are seeking to dethrone, even though the Platinum 7 is barely half the price of the iPhone.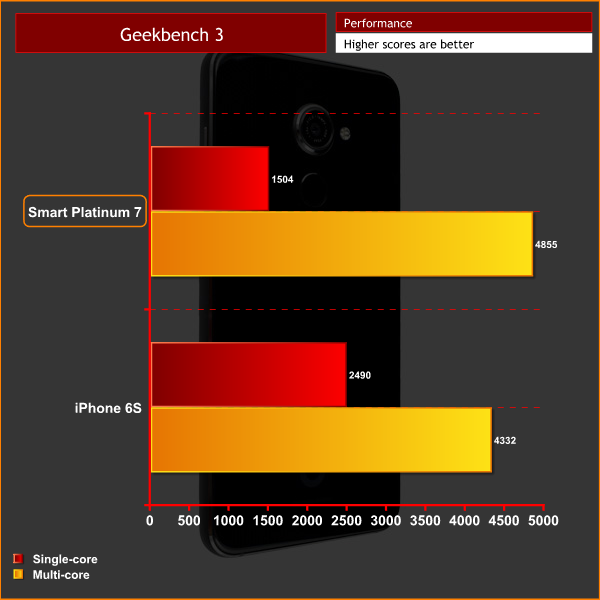 As you can see, the Platinum actually beats the iPhone for the multi-core score. The iPhone does come out a fair way ahead for single-core performance, though.
Next, I ran 3DMark Ice Storm Unlimited.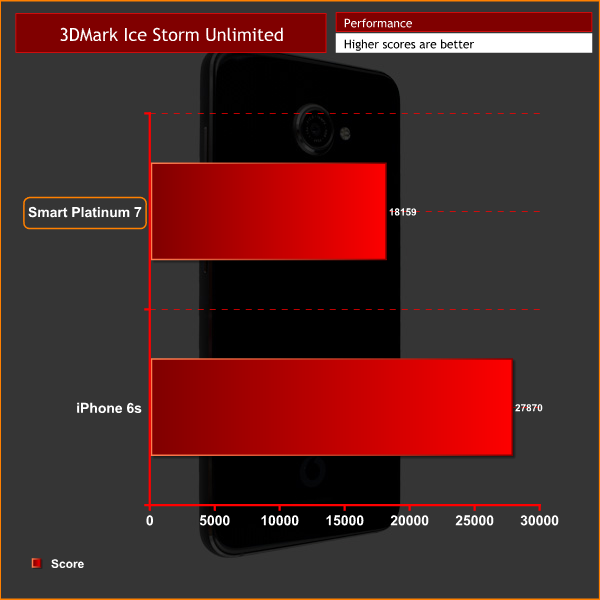 While the iPhone did pull away here, 18000 points is still a great score for a £300 phone. This puts the Snapdragon 652 in the same sort of league as the Snapdragon 808 and 810.
Finally, I also ran Ookla Speedtest to ensure 4G speeds are good enough.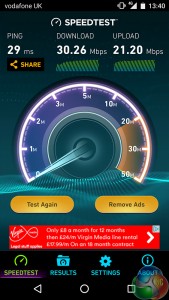 In all honesty, I was hoping for slightly faster speeds from the Platinum 7. However, it is not always easy to tell whether the phone or the operator's signal speed is to blame.
While I used the supplied Vodafone SIM card, if the Platinum 7 could be unlocked and used on the EE network, with whom I get speeds up to 80 Mbps, I would wager the 4G speeds would be increased.