Now, I mentioned in the introductory video that I have seen two phones (the HTC Desire 820 and the OPPO R5) running the relatively recent Snapdragon 615 CPU, and both also had 2GB RAM. These are the same core specifications which make up the Smart ultra 6, so I had a certain expectation of how the phone should perform.
It is safe to say I was almost exactly right. In real-world terms, the Snapdragon 615 is a wonderful performer, opening apps swiftly and generally being very responsive. It is also helped in that it is extra efficient due to its octa-core design. This means it is essentially one quad-core 1.5GHz CPU alongside one quad-core 1GHz CPU. The Smart ultra 6 decides when more or less power is necessary and then disables or enables the necessary cores to get a job done.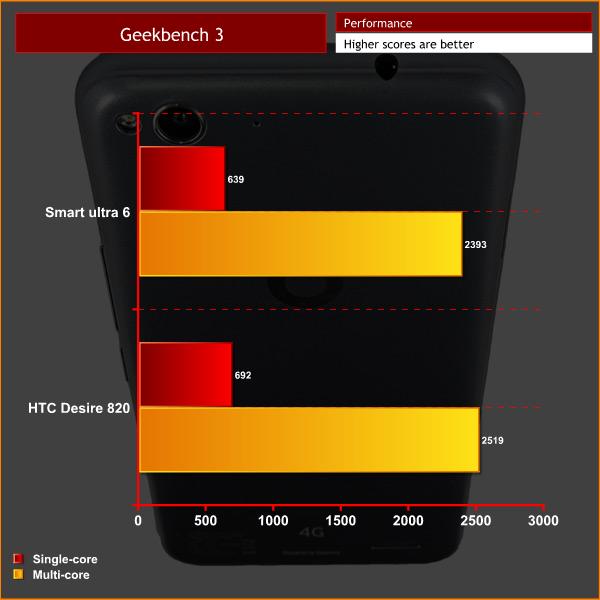 Benchmark performance was very similar to the Desire 820 and OPPO R5 smartphones, as you would expect. In Geekbench 3 it scored 639 for single-core performance and 2393 for its multi-core performance. This is just behind the respective 692 and 2519 scored by the Desire 820.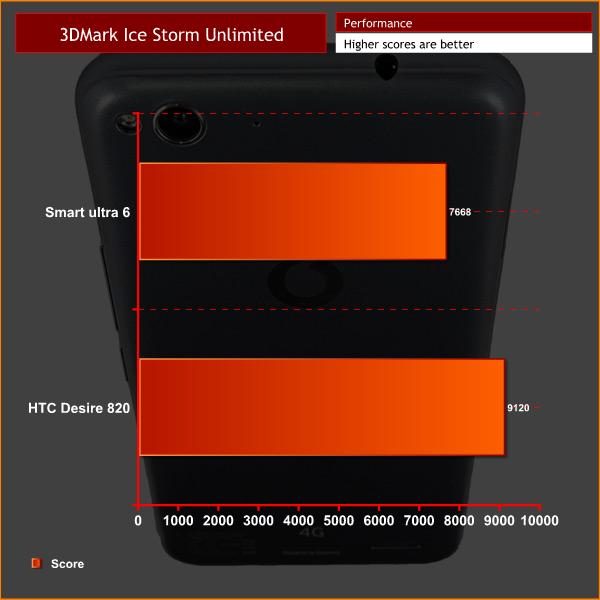 In 3DMark Ice Storm Unlimited, the scores were also close. The Smart ultra 6 scored 7668 to the HTC's 9120. This is a slightly bigger difference than expected, but it is not enough to be concerning.
Clearly, the 615 CPU is a great performer and is a good foundation for a decent smartphone. However, what is so striking is that Vodafone use the 615 in their £125 phone, while the OPPO and HTC models cost over double the price of the Smart ultra 6. As such, it is simply phenomenal performance for the money.

You can also see that the 4G performance is certainly capable, though not as fast as some EE speeds I have seen. Still, the speeds are good.