The Vodafone Smart ultra 6 is a relatively high-end phone, packed with great hardware, at a very affordable price of just £125 SIM-free. It certainly impressed me a huge amount, to the extent I am thinking about buying one to replace my iPhone 5S.
The design is very simple, with a no-frills approach. I like this, as it does the job well and that is all I want. The handset is obviously large – the 5.5-inch display is fitted with a body measuring 154 x 77 x 8.35 (LxWxD) and weighing 159g, but it is not unusable considering the screen size.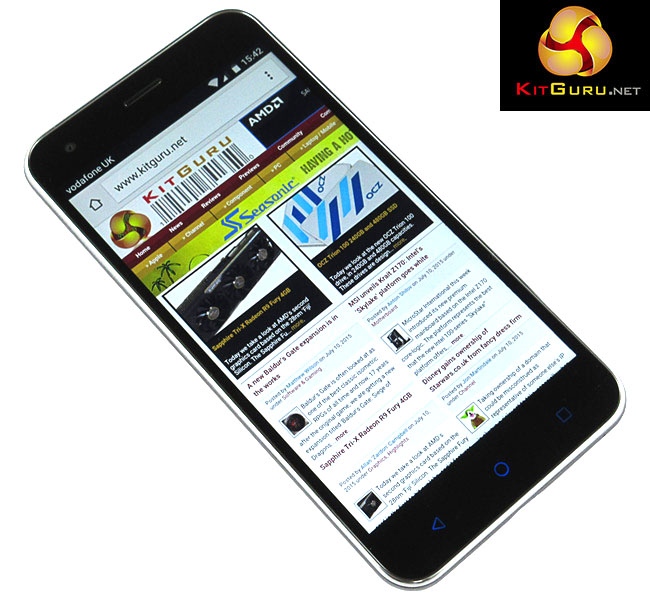 The display is absolutely fantastic, and is perhaps the strongest area of the phone (though there are a few contenders.) The IPS Quantum panel is bursting with vibrancy, and thanks to the 1080p resolution, everything is crystal clear. I cannot fathom how Vodafone can include this for £125, but it is brilliant.

Android Lollipop has been left alone which I always like to see, so if you are familiar with the OS you will find no surprises here. It is clean, sleek and flat – a mobile OS fit for 2015. It runs very well thanks to the Snapdragon 615 CPU and 2GB RAM, which handle everyday usage perfectly. You certainly won't be asking for more power, and considering the price, the performance is nothing short of phenomenal.
The camera was an area of slight contention, however the 13MP unit won me over with its highly detailed images and good colour reproduction. The auto-exposure levels are not always fabulous, but the results are very usable and very good for the price.
A 3000 mAh battery is also a good performer, easily powering the phone for a whole day on a single charge. I cannot see how it would last 2 full days (as Vodafone suggest) without very intermittent usage, but for a single day it is very solid.
Overall, it is a stunning phone. It packs in hardware users could easily pay £300 or more for if it were made by Samsung or HTC, all for just £125. At this price, you really cannot afford not to.
You can buy the Smart ultra 6 exclusively from Vodafone for £125 inc VAT here, or pick it up on a contract deal here.
Discuss on our Facebook page, over HERE.
Pros
Fabulous display
Strong performance
Solid camera
Great all-day battery life
Thin and light
Simple yet effective design
Cons
Camera auto-exposure is not perfect
Plastic back feels fairly cheap
KitGuru says: The Smart ultra 6 is clearly a fantastic phone before we even consider the incredibly low £125 price. This phone is up there with handsets double and even triple its pricing, and is a simple 'must have.'