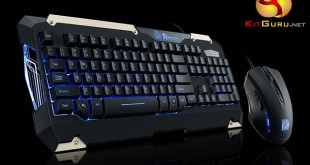 In recent months TT eSports have been making strides to woo the gamer on a budget. Last time around KitGuru looked at their Challenger Prime keyboard, and it did well considering its low price. Can the COMMANDER mouse/keyboard combo live up to expectations?
While the Challenger Prime is certainly an affordable keyboard, the COMMANDER gaming gear combo is even cheaper at £24.49 – and you are obviously getting a mouse as well as a keyboard. The main question, then, is have TT eSports sacrificed quality for the cheaper price?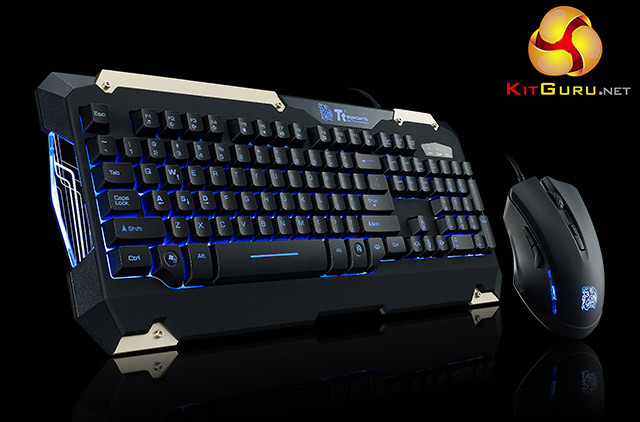 Features
Plunger switch keyboard
Fully backlit
1000MHz polling rate
Ambidextrous mouse
On-the-fly DPI adjustment up to 2400
1.8m braided cable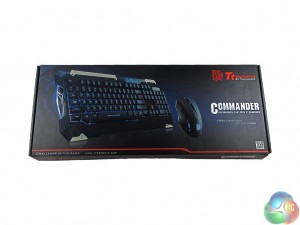 The TT eSports COMMANDER combo ships in a fairly standard black box, with a couple of product photos as well as product branding.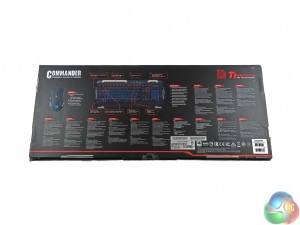 On the back, several key features of both peripherals are briefly outlined.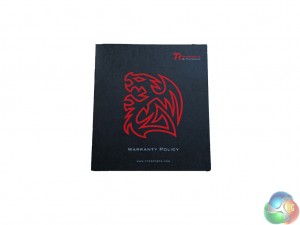 Just like the Challenger Prime, the COMMANDER combo does not come with much in the way of packaging. The mouse and keyboard come in their own protective sleeves, and there is a small warranty booklet but that is it.
However, as there is no customisation software, the COMMANDER peripherals are simply 'plug-and-play' so there is no real need for a quick-start guide or any other booklets.
On first impressions, I felt the COMMANDER keyboard is a big improvement over the Challenger Prime in terms of design. It does away with the sharp, aggressive edges for a more traditional rectangle shape, though the corners are still angular.
There is also some gold paneling at the top and bottom of the keyboard, though it is purely for show. Since peripherals are so subjective I will let each reader formulate their own opinions of the COMMANDER keyboard, but in my view it is a simple yet attractive piece of kit.
The COMMANDER mouse is a fairly standard-looking affair, but since it is ambidextrous it is symmetrical. There are two side-buttons for navigation purposes, as well as a DPI-adjustment button below the mouse wheel. The TT eSports dragon logo occupies the empty space at the bottom of the mouse, and there are LED light panels on either side which constantly illuminate the mouse.
While both peripherals certainly look good, criticism can be made in terms of build quality. Everything is made entirely from plastic, which is certainly not unreasonable at this price – it just means you do not get the best user experience. For instance, I found the mouse to be very light and almost insubstantial – as it weighs in at 127 grams.
The gold plastic paneling on the keyboard, too, looks a little tacky in my opinion. It is not necessarily a deal-breaker for the for the COMMANDER combo, rather it is a reminder of the old adage that 'you get what you pay for.'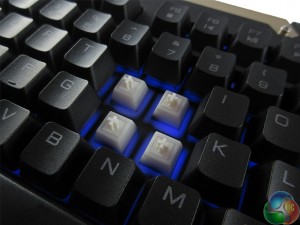 While I would usually begin a keyboard review by looking at the included customisation software, this is unfortunately lacking with the COMMANDER combo. Since there are no macro keys, and the backlight is blue-only (though you can purchase a red light variant), there is nothing to customise. This means the backlight is either on or off as there is no brightness level to adjust.
On the topic of the backlight, I must say I was very disappointed with the blue backlighting. While the blue lights illuminate the base of the keyboard fairly evenly, the LEDs are so weak they do not actually illuminate the keys themselves. This means using the keyboard in the dark is not helped by the backlighting, making it pretty much pointless.
While there are no macro keys for users to assign as they see fit, there is the standard set of multimedia keys at the top of the keyboard. To save space they have been allocated to the function keys, meaning you have to press the 'fn' button simultaneously with your desired multimedia key. I would prefer separate multimedia keys but this approach saves space and is better than having no multimedia keys at all, so it is not the end of the world.
So on to the actual performance of the keyboard. TT eSports advertise that the COMMANDER keyboard makes use of plunger switches which are meant to have a 'tactile-feel', though the actual switches themselves are not mechanical. Essentially, it is a rubber dome keyboard as, unfortunately, I must say I did not notice any 'tactile-feel' while typing.
That disappointment aside, for a rubber dome keyboard it feels good. There is a reasonable amount of key travel – certainly more than with the Challenger Prime – and the keycaps are slightly curved which makes for a comfortable typing experience. The lack of macro keys, too, mean the keyboard is not quite as wide as other gaming keyboards – something which I personally prefer. Because of this, I did not experience much of an adjustment period and I was able to carry on typing as usual.
The COMMANDER keyboard is also an adept gaming keyboard, with nothing of note (aside from being rubber dome) to stop me from saying you will be able to game well with this keyboard. My main criticism comes back to build quality – while the keyboard worked well during my week of use, I cannot see it lasting very long under sustained use. To repeat myself, you get what you pay for, and the COMMANDER keyboard is simply a cheap piece of kit.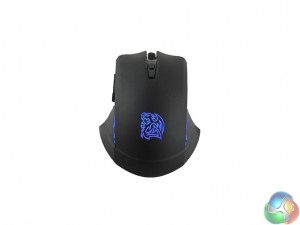 As previously mentioned, no COMMANDER customisation software means there are no re-mappable buttons on the COMMANDER mouse. There are two side buttons, on the left edge, but these are just standard navigation buttons. The DPI adjustment lets you cycle between 800/1200/1600/2400 DPI on-the-fly, which is another standard feature with gaming mice.
The LED backlight is blue to match the keyboard, and there are lights on either side of the mouse, as well as one centrally positioned which illuminates the TT eSports logo. These are actually decent lights and the logo is evenly lit.
As it is an ambidextrous mouse, TT eSports are clearly trying to target as many people as possible with its COMMANDER combo deal. This may be an issue for some, as specifically shaped mice can be more comfortable in the hand. However, I am not especially fussy when it comes to the shape of my mice, and the COMMANDER mouse did not feel particularly uncomfortable to me.
It is a flat mouse, though, with not much of an arch to fit your palm. I found this pushed me towards using the claw grip, though I would usually favour a palm grip. While you can use both with the COMMANDER mouse, I found the claw grip to be more comfortable due to the flatter design of the mouse. What is also worth mentioning is the rubberised finish to the mouse – it allows you to keep a firm grip on the mouse itself, particularly useful if your hands are prone to getting a bit sweaty.
A DPI of up to 2400 could be problematic for some, however. Many users may be used to mice with DPI levels of up to 8000 – with some going even further. For me, 2400 DPI is my ideal setting so it did not pose me any problems, though I am sure many would like to go higher. For a budget mouse sensor, though, it is certainly passable.
However, problems again arise from the build quality. The COMMANDER mouse is simply too light and flimsy to be fully satisfying to use. Every movement is a reminder that this mouse is a cheap piece of kit. The scroll wheel was also unsatisfactory as it felt very tough and unresponsive, while also requiring a fair amount of force to press down.The TT eSports COMMANDER gaming gear combo is another attempt by the ThermalTake subsidiary to bring gaming peripherals to the masses in an inexpensive way.
The combo ships with just the included keyboard and mouse, with little in the way of packaging and no customisation software. This tells us the COMMANDER combo is very much 'back-to-basics', with no macro keys on the keyboard or re-mappable mouse buttons.
Both pieces of kit certainly look good, with the keyboard adopting a fairly minimalistic design – compared to the Challenger Prime, anyway. The mouse, too, is essentially symmetrical as it is ambidextrous, and features an appealing, illuminated TT eSports logo.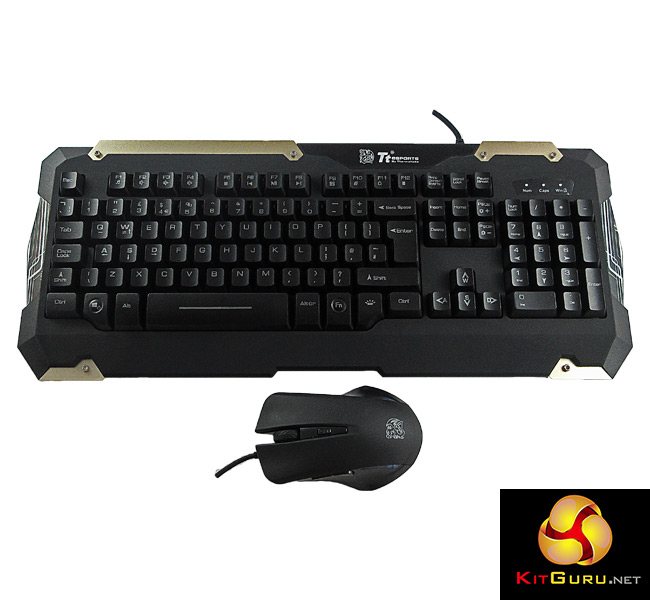 On first impressions, both peripherals perform well, too. The keyboard is supposedly a 'tactile-feel' keyboard utilising plunger switches, but I unfortunately could not discern any noticeable different between itself and other rubber dome keyboards. Still, it has a good amount of key travel and will serve you well in games, too.
The mouse supports DPI of up to 2400, and you can cycle between 800/1200/1600/2400 to find your preferred sensitivity. For me this is enough, but I know many users like a very high DPI sensitivity, so it may be best to spend a bit more to get a higher-quality sensor. Still, the mouse is comfortable to use and performs well at 2400 DPI.
Both peripherals, however, fall down due to their build quality. The COMMANDER combo sells for £24.49, which is not a lot of money for both a keyboard and a mouse. Unfortunately, it shows as neither peripheral feels particularly durable or sturdy. The mouse is particularly light, which means it is not hugely satisfying to use for daily duties.
For the average joe sitting at home, however, the COMMANDER combo may well be a good and inexpensive upgrade from a generic, office-use keyboard/mouse set. For more discerning, enthusiast gamers, however, I have no doubt in my mind you will want to spend a bit more to get peripherals of a higher quality.
You can pick up the TT eSports combo from Amazon for £24.49 here.
Discuss on our Facebook page, over HERE
Pros
Inexpensive.
Both peripherals look good.
Both will offer greater performance than standard office-use keyboard/mice.
Symmetrical mouse is versatile.
Cons
Lack of build quality is a major letdown.
Terrible keyboard LED backlighting.
Mouse DPI may not be high enough for everyone.
Plunger switches feel no different to other rubber dome keyboards.
KitGuru says: The COMMANDER gaming gear combo is an inexpensive piece of kit and delivers a decent experience for the price.