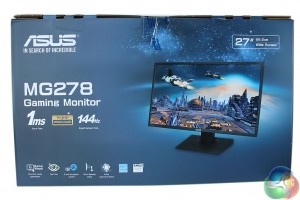 Asus labels the MG278Q packaging with many of the features we've already mentioned, with its 1ms response time and 144Hz refresh rate prominently displayed. The AMD FreeSync label is there too, along with indicators of a few other functions.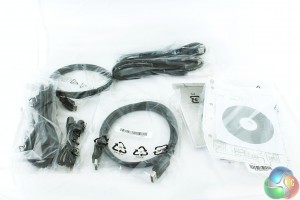 Asus hasn't left any cabling out. DVI, HDMI and DisplayPort cables are all included, with a USB 3 uplink cable and male-to-male 3.5-inch audio passthrough cable.
There's also a manual, quick-start guide, and warranty information, along with the standard power cable.
The support column for the stand is attached to the panel when you remove it from the box, and rotated 90 degrees.
The stand is simple to assemble. A notch at the front of the support column clips into the red section in the base, and then you turn the key to tighten it.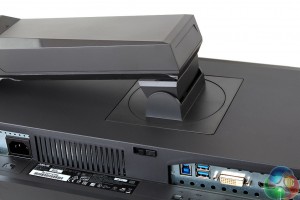 The support column isn't fixed to the panel with any screws though. By flipping a black switch at the back it just pulls out, and can be substituted for a VESA mount.
At the bottom of the stand is a detachable cable management accessory, which is a slightly different design to the MG279Q's.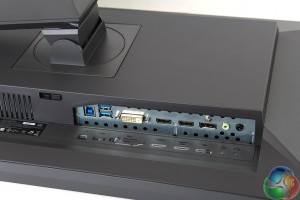 The range of video inputs on the right-hand side has slightly changed from the MG279Q. You now only get a single DisplayPort input, with a DVI port taking the place of the Mini-DP input. In addition there are two HDMI ports, one of which is HDMI 2.0 compatible, with audio input and output connectors.
There's also a pair of USB 3 ports, with the uplink port next to them.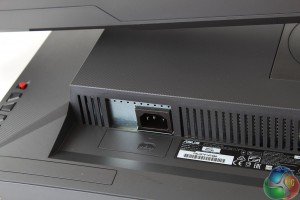 And the standard IEC power connector is located on the left, with an internal power supply.
There are five physical buttons on the right-hand side, along with a red joystick to navigate through all the menus in the OSD. Each button has a corresponding label on the front. There's also a white power indicator sitting underneath the bezel.
As with other Asus displays, we should mention how useful the joystick is, as it makes navigating the menus a whole lot easier than other firms' OSDs which rely on up/down buttons.
The stand features a full range of movement, with 90˚ pivot, height adjustment up to 150mm, tilt between -5˚ and 20˚ and swivel from -60˚ to 60˚. Good to see.