With the lower button used for power and the top button a dedicated cancel command, the middle three are used for shortcuts to functions in the OSD.
There's one for the GameVisual presets.
Another for the input selection, and one more for the GamePlus extras, which includes four different on-screen crosshairs.
The crosshairs can be moved around the screen with the joystick in case you need to adjust your aim. Many gaming screens now offer aiming assistance in this way, but not all of them let you move the crosshair about.
There's also an on-screen timer, which we found to be fairly pointless.
A new addition to the MG278Q is an FPS counter, which displays the screen's current refresh rate. When FreeSync is disabled, then it shows 144Hz at all times, or whatever refresh rate the screen is set to. In this case it's not much use as it obviously cannot accurately read a game's frame rate and you'll have to rely on Fraps or another similar tool.
But with FreeSync enabled, since the screen is locked to the video card's frame rate, then this is an accurate reading of the game's frame rate. As we found it also can be used to diagnose whether FreeSync is enabled, since there is no option to enable it in the monitor's OSD.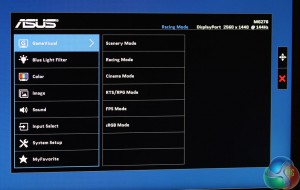 Pressing the joystick inwards brings up a more detailed options menu, which opens on the GameVisual menu.
The next menu is for adjusting the blue light levels, a popular modern feature on displays to make it easier to read text late at night, or for extended use.
The 'Color' menu gives brightness and contrast controls, with settings to adjust saturation, colour temperature and so on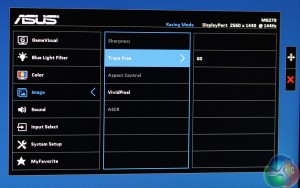 The Image menu provides options for Sharpness, Trace Free, Asus VividPixel and ASCR. With some GameVisual presets, many of these options are greyed out.
On the MG279Q, this menu contains a setting to enable or disable FreeSync, but it has been removed from the MG278Q. Why? Because the panel supports FreeSync up to its maximum refresh rate, unlike the MG279Q, its always on. The only way to enable or disable FreeSync is in the AMD Catalyst Control Centre.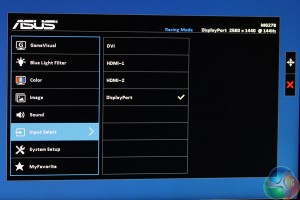 The input menu here displays the same settings as the shortcut, allowing you to choose which input you want to use on the display.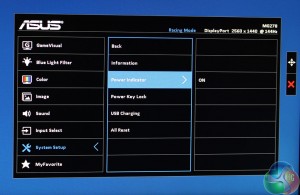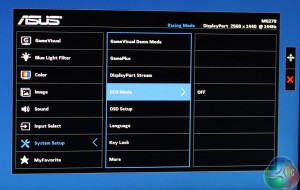 The 'System Setup' menu is full of settings, with an ECO mode, OSD setup, GamePlus menu and so on. Further down are more options to enable power management, USB charging and display additional info.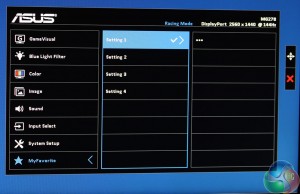 As with the MG279Q and many other displays, you can save your settings to one of the 'favourite' slots.