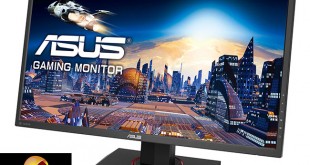 The Asus MG278Q is a 27-inch WQHD (2,560×1,440) TN gaming display that supports AMD FreeSync adaptive-sync technology. When in adaptive-sync mode, it's capable of a wider frequency range than its IPS cousin, the MG279Q, as it can go from 35Hz all the way to 144Hz. And being a TN panel it has a fast response time of just 1ms – this is a display for people with AMD graphics cards who want gaming without tearing and micro-stutter across a wide frequency range with the lowest response time possible.
If you've read our analysis of the Asus MG279Q (review HERE) … an IPS display that supports AMD FreeSync, you might get a sense of deja vu when you see the MG278Q. It's similarly a 27-inch gaming monitor with a WQHD screen resolution (2,560×1,440) and much of the external design is identical.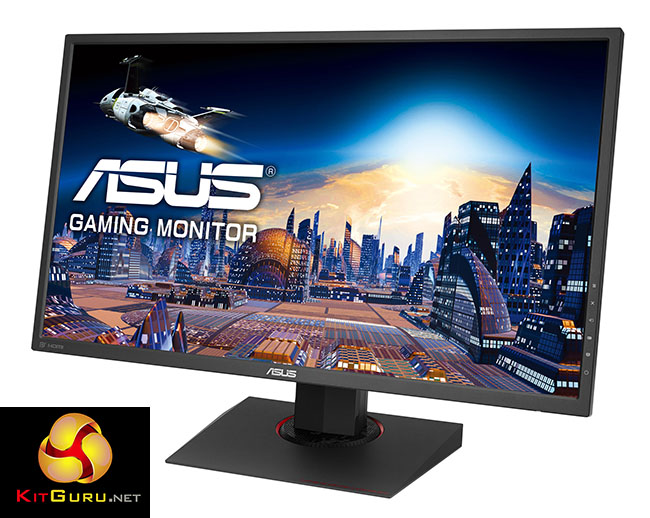 There's one major difference though. The MG278Q is a TN panel, which means it can handle a wider range of FreeSync frequencies than any IPS panel can. The MG279Q supports FreeSync between 35Hz and 90Hz, while the MG278Q can go all the way to 144Hz when in FreeSync mode.
Asus has a small leg up on its competitors at the lower bound of this range. The majority of FreeSync displays start at 40Hz, below which FreeSync is not supported and frames drift back into the standard non-sync format.
But with both the MG279Q and MG278Q, it starts at 35Hz. This means that a wider range of frame rates are supported in adaptive-sync mode, giving you a bit of extra headroom when adjusting detail settings in games. If you crank up the detail and your frame rate drops, the display and GPU will remain in sync as low as 35fps (and it's questionable whether below 35fps is a playable frame rate anyway).
And since it's a TN panel, it has a 1ms response time too, while the IPS panel in the MG279Q is slower, rated at 4ms.
On the flip side, IPS screens generally look better on the Windows desktop than TN panels, with improved viewing angles and colour uniformity, so there's a clear choice to be made between TN and IPS with the two 144Hz Asus FreeSync displays. Better overall gaming performance, with minimal ghosting and a wider FreeSync range with TN, or (perhaps subjectively) better overall picture quality with IPS, but a limit to the FreeSync range it supports (although both screens will handle 144Hz just fine).
We should also mention that for people who want a G-Sync display, Asus currently only sells a TN panel, the ROG Swift PG278Q, with an IPS G-Sync screen called the PG279Q penciled in for a Q3 2015 release, and a 4K G-Sync display also on the way.
There are a few other differences between the two screens as well. We noticed some minor cosmetic differences, a few new options in the on-screen display (OSD) and a slight adjustment to the video inputs.
There's also a considerable difference in pricing, mainly down to TN panels being cheaper to produce than IPS. This alone certainly makes it far more attractive. Asus hasn't yet revealed its final pricing for the MG278Q, but has suggested it will be £150-200 cheaper than the MG279Q. That display retails for around £500, so expect to pay in the region £300-350 for the MG278Q, which is fairly competitive with other FreeSync displays, although you're still paying a bit more than you would for a standard gaming display.
Asus MG278Q features:
27-inch, WQHD 2560 x 1440 resolution display with TN panel technology.
144Hz refresh rate and AMD FreeSync™ technology
ASUS-exclusive Ultra-Low Blue Light, Flicker-Free, GamePlus, and GameVisual technologies
Ergonomically-designed stand with full tilt, swivel, pivot, and height adjustment