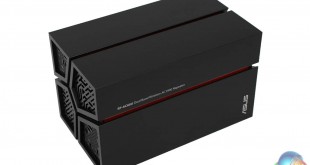 The Asus RP-AC68U is a quad-antenna wireless repeater that's designed to compliment the company's high-end, high-bandwidth portfolio of routers and other networking kit. As one of the biggest proponents of wireless kit that supports 4×4 quad-antenna configurations, Asus has been wise in building four antennas into the RP-AC68U, making it capable of acting as an extension, bridge or access point for a high speed 4×4 wireless networking environment.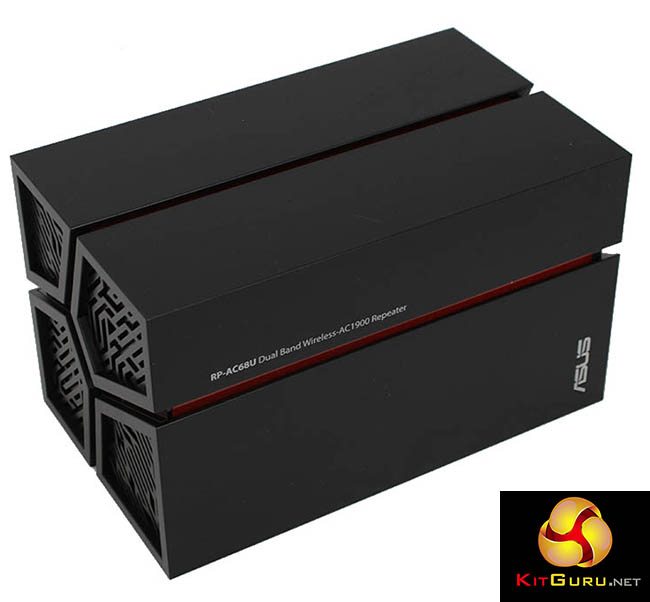 While the name places it in the same family as another wireless extender, the Asus RP-AC56 (Review HERE) which we looked at back in November, the Asus RP-AC68U is really a different kind of product.
To start with, it looks rather different. It's a standalone device, designed to sit vertically, rather than in a wall power socket, with five Ethernet ports for direct wired connection to PCs in the same room.
The front is mostly covered in smooth dark grey plastic, but perhaps most notably, when powered on, a red section in the middle illuminates red, with a look that's certainly bright and draws attention to the device. Although thankfully, if you're not keen on the lights, they can be easily switched off.
The four antennas are all internal, and it has a USB 3 port at the back for sharing storage, in the same way you have on a router. But despite four antennas, the specifications state the RP-AC68U is only capable of 1300Mbit/sec performance over 802.11ac, rather than the 1733 Mbit/sec you get as standard from a quad-antenna router. Asus says it is capable of 3×4 performance, meaning it transmits with three antennas, but receives with four.
It operates in a number of different modes, including support for a new configuration from Asus called ExpressWay.
It can be used as a wireless media bridge. That is, with a direct wireless connection between the RP-AC68U and your router, then any nearby devices are connected via Ethernet, to give the maximum possible speed.
But in this mode, any wireless devices connected to the RP-AC68U will be sharing any available bandwidth with the connection to the router, which will halve performance as it is operating in half-duplex mode.
With ExpressWay, the RP-AC68U can operate by dedicating either its 2.4GHz or 5GHz wireless channel to a full speed connection to the router, and the other wireless channel can then be used for nearby mobile devices.
In all these modes, the RP-AC68U creates new wireless SSID's for devices to connect to. But it can also be used as an access point (AP) for extending a wireless network with a long Ethernet cable or over wireless, mirroring the settings, including the IP pool, of your existing network, and potentially, adding fast 802.11ac speeds to a 2.4GHz-only network.
We'll test performance of the £140 Asus RP-AC68U on the following pages.