Setting up a wireless bridge can be quite a tricky task if the software isn't very user friendly, and it seriously detracts from some competing products, but Asus has (sensibly) pulled out all the stops here to make setup as straightforward as possible.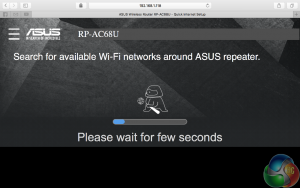 Turn on the device and after it asks you to create a login it scans the local area for wireless networks to connect to.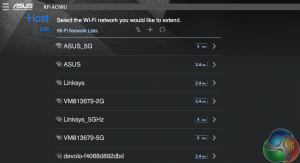 Pick one from the list.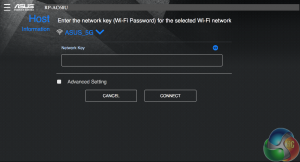 Enter the security key.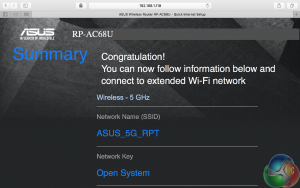 And that's all there is to it.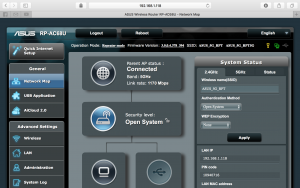 The main software screen for the Asus RP-AC68U looks pretty much like that on Asus routers, meaning its better than a vast majority of the competition (there are a few exceptions such as Linksys, who do indeed match Asus' efforts). It's a bit cut down from what you might see on a router though, but many of the same customisation settings are here.
You get notifications in the top right to suggest creating passwords, there are clickable links on the main screen to see your network status. There's a system log, AiCloud feature for sharing storage from a USB 3 device and firmware updating is a breeze.
If you run the RP-AC68U in repeater mode, these settings are ignored and instead it uses whatever settings your main router uses.
The Asus RP-AC68U creates up to four wireless networks, depending on the mode it is in. It can extend up to two networks from a router, appending text to the original network name, with  _RPT for 2.4GHz networks, and _RPT5G for 5Ghz networks.
This can get a bit confusing, when you have two completely different networks named Asus_RPT5G and Asus_5G_RPT to think about, so its worth perhaps giving the networks custom names.
We noted that in some modes, some of the options disappeared. For example, in ExpressWay mode, there is no option to customise the wireless channel, which you do get in Repeater mode.