The Asus RP-AC68U arrived at KitGuru Towers at the same time as a second product from Asus, the PCE-AC88 wireless adapter, a PCI card for desktop PCs that supports 4×4 802.11ac.
So that's not one, but two products that arrived in the same box that can be used for extending a wireless network without relying on a second router in bridge mode, albeit in slightly different ways.
They're quite different things though. While a PCI card is purely for a single desktop PC, the Asus RP-AC68U is for sharing a wired connection between multiple PCs. And unlike the PCE-AC88, from our results it seems the RP-AC68U only delivers 3×3 short-range wireless speeds rather than 4×4.

It's not too important here though, given that many competing repeaters merely support two 802.11ac streams. It's the long range performance rather than the short-range throughput that matters, and impressively, even at a whopping 20 meter distance, we were still seeing speeds that were in excess of 500 Mbit/sec.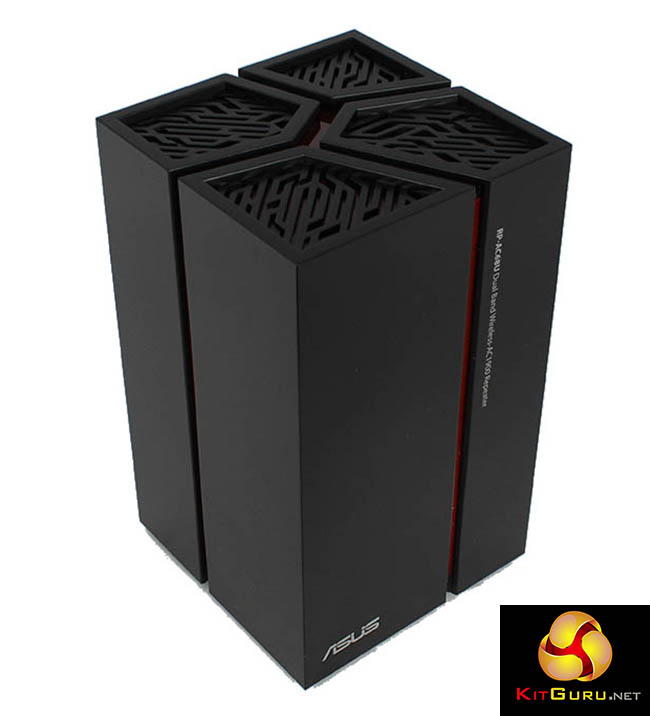 Crucially, this is a better speed than you'll get from using a router on its own at this distance. By quite some margin. That's in bridge mode, with wired devices connected to the Asus RP-AC68U.
ExpressWay is certainly a neat addition, although we saw quite a substantial difference between results using both 2.4GHz and 5GHz links between the router and RP-AC68U. Based on what we found, we would recommend using the 2.4GHz link to the router and a 5GHz link to your clients.
There are QOS settings and SmartConnect rules that can be used to prioritise devices, if you so choose, and the Roaming Assist feature means wireless devices will automatically disconnect from the RP-AC68U and connect straight to the router, if within better range.
Ergonomically, the device is great. The red illumination looks great, but may not be to everyone's taste, and Asus has considered this and made it simple to turn off with a tap of the logo.
Setup is a breeze. Asus holds your hand through the entire process of extending your wireless network, although we found it might be helpful to write down the IP address before turning on ExpressWay or Repeater mode, as you may need to log in again to adjust settings. When the RP-AC68U is in repeater mode, it retrieves its IP address from the router, and can no longer be accessed on the old address. Although Asus offers a Windows-only Device Discovery app to quickly find the IP of the repeater if you need it, we found it quicker to just remember the IP if we needed to log in.
In summary, the Asus RP-AC68U is intended for just one job, high speed wireless over long distances. It manages this very well and with the ExpressWay feature, wireless devices in range of the RP-AC68U will get better wireless speeds than they (almost certainly) would if directly connected to the router at a long distance.
But don't forget, that link between the router and the Asus RP-AC68U has to be shared by all the clients connected to it, and although Asus makes good products, they can't break the laws of physics, or create bandwidth that simply isn't there.
There's one link to be shared, and no matter if wired or wireless devices are connected, it will be divided between them. Although we ensured good performance by using Asus' top-end standalone RT-AC88U router for testing, if your existing router cannot deliver good long-range performance, you can't expect great results from the Asus RP-AC68U.

Buy from Overclockers UK for £139.99 inc vat HERE.
Discuss on our Facebook page, over HERE.
Pros:
Very strong performance at extreme range in bridge mode
Easy setup, great software
Good wireless performance using 2.4GHz ExpressWay
Cons:
Will need to be paired with a powerful standalone router for the best results
5GHz ExpressWay wasn't as fast as 2,4GHz in our tests
Kitguru Says: If you want better wireless performance at extra-long range, a high quality repeater is your best bet. The RP-AC68U is one of the best options for such a setup, without going down the route of investing in a second standalone router for use in bridge mode.