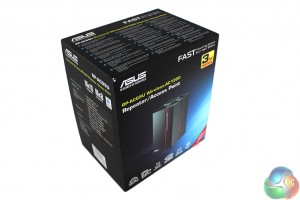 The hardware side of the Asus RP-AC68U is fairly straightforward.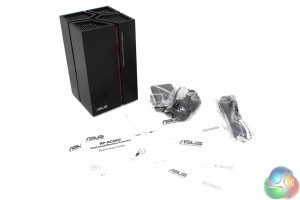 The box contains the usual Asus bumpf with manuals and a VIP notice, a piece of Ethernet cable and the power supply.
The device itself looks pretty good. It uses a tall design, which is slowly becoming more popular with networking kit these days. But because a tall box with a chipboard inside is actually a fairly boring prospect, Asus has spruced it up with a patterned gauze on the top (which also proves useful for heat dissipation) and lines running down the device, exposing a red interior which glows when the device is powered on.
The device can be placed on its side if you wish, with four internal antennas that won't get in the way, although we expect keeping it upright will give the best performance.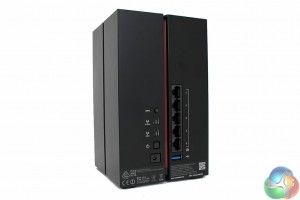 At the back you get five Ethernet ports to share the wireless link between clients, along with a single USB 3 port for sharing storage. There's a WPS button for easy connection to a router and a power on/off switch.
There are also two LEDs indicating wireless connectivity on each frequency band. They light up whether you're directly connected to the router or to a wireless client.