The Asus RT-AC5300 packaging is pretty much as you would expect. It adopts a similar appearance to most Asus networking kit with a blue and black design. The box isn't particularly large, and all the main features are listed.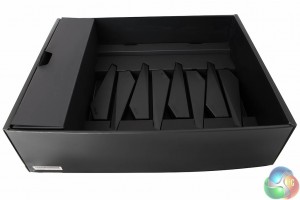 Underneath the router, the eight antennas have been laid out next to each other, presentation more fitting for a £400 router than just shoving a few plastic bags in the box would be.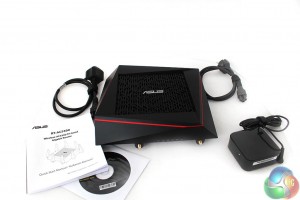 The Asus RT-AC5300 has an external power supply with a standard 'cloverleaf' power connector. As you can see in the image, the router is really quite large. You also get a software CD with the manual, and our sample had both EU and UK power leads.
With al eight antennas attached, the Asus RT-AC5300 looks quite nifty, although it might not appeal to everyone.
There's a red trim running all the way around it and lots of sharp, angled edges. A very modern looking design.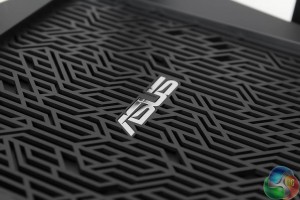 Notably, it's not just the antennas that make it stand out. The top section has a square patterned mesh, which serves a secondary function of allowing heat out, with a mesh on the underside too.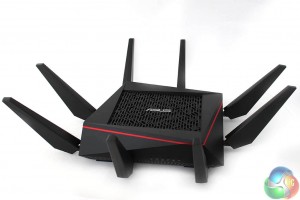 Extend the antennas and yes, it looks like a claw.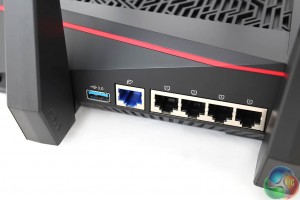 On one side there are four ethernet ports and a USB 3 port.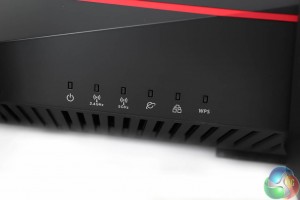 On the other are six LEDs to indicate the status of 2.4GHz and 5GHz wireless, LAN connectivity, internet, WPS and power. The internet LED glows bright red to warn you when there's no connection.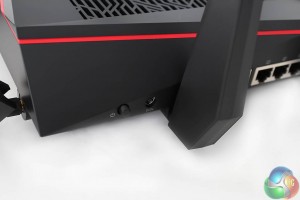 The power connector and master on/off switch are to the left of that.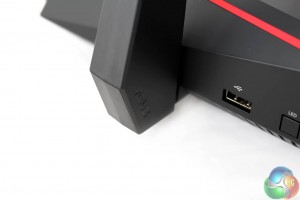 There's also a second USB 2 port on the reverse side.