Countless times, Asus routers have impressed us with their clever and well designed software. Called AsusWRT, it's light years ahead of much of the competition, with shortcuts on the main screen to many of the useful settings, making navigation a whole lot quicker, in addition to a few unique features of its own.
Other networking firms, most notably Linksys, provide great software too, that just about matches the efforts of Asus, but that in no way makes the offering here less impressive.

AsusWRT has been used on a number of routers now. The vast majority of its features can be found in more affordable models, including the Asus RT-AC88U, which we've been using as bridges for testing the RT-AC5300.
We've already taken a good look at what it has to offer in previous reviews of Asus networking kit. Not much has changed with the RT-AC5300, which is no bad thing.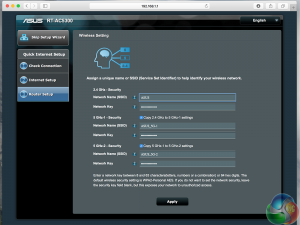 When you first connect to the Asus RT-AC5300 it takes you through a simple process of creating passwords for the wireless networks and the router itself.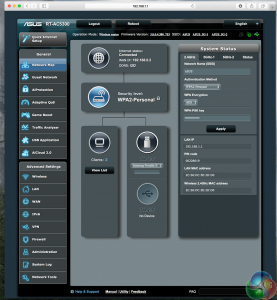 The main screen provides a set of widgets displaying system information – the number of clients, internet status, with the WAN IP address, security information, any USB devices and the status of each wireless network.

 At the top is a notification section to remind you if passwords need changing and so on.
The clickable links in the list at the top take you to the relevant section in the software. For example, click on the operation mode to bring up the screen to switch over to bridge or access point mode, or clicking the firmware details takes you to the firmware upgrade screen.
Every other setting is buried in the general and advanced options on the left. The overall look with greys, black and white text makes everything stand out well.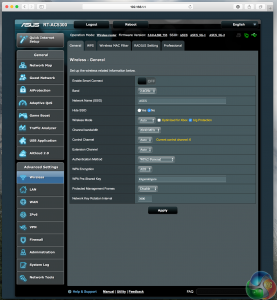 The wireless menu in the Advanced Settings provides all the usual controls for each wireless network (which can be chosen from the drop-down box labelled Band).
The SmartConnect feature (which we'll look at in more detail later) is enabled right here.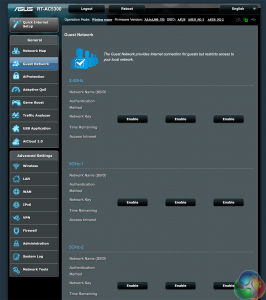 You can create guest networks for each wireless band, and set restrictions for them.
In the Administration page is the setting to set the RT-AC5300 up as a wireless bridge, or access point. The tabs at the top lead to firmware updates, system settings including password resets and assigning static IP addresses.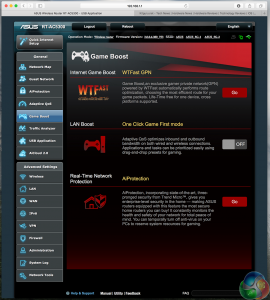 Asus provides some features it says are specific to gaming, but are really just simple hacks. LAN Boost is just another QOS system for games, while AiProtection isn't really connected to gaming in any particular way despite Asus' claims.
But the Internet Game Boost feature, using a service called WTFast, sounds more interesting, as it's designed to improve routing and get better ping times.
In use we didn't see much of a difference when we used it though, but it could benefit some users who suffer from high ping times.
The traffic analyser is a particularly cool feature. It not only shows the approximate amount of data used by each client but also a breakdown of the applications they have been using. Few other routers give you this amount of data, with this much detail and present it in an easy-to-read way.
It could be used to check whether a housemate is eating up bandwidth with constant P2P traffic, whether little Jimmy is playing on his Xbox too much, or when your spouse is secretly watching PornHub content. Ahem.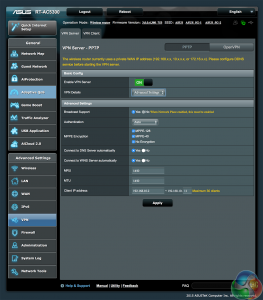 Both PPTP and OpenVPN servers are supported, with MS-CHAPv1 and MS-CHAPv2 support.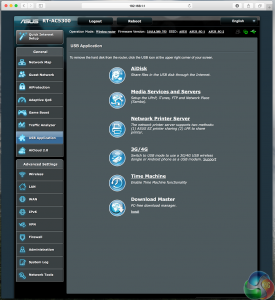 With external storage connected to either USB port, you can set up AIDisk, allowing sharing of files to a personal cloud system like on many NAS devices. There's a torrent manager, and a number of media services such as an iTunes server or FTP.
The USB ports can also be used for printer sharing and for WAN fallback to a 3G modem, or an Android phone.
The QOS settings are very easy to use, which is just as well as this can be confusing for novices to set up. Select a client and allocate them a priority (a colour). Or, if you can't be bothered with this, just choose a preset.
The AiProtection screen has a comprehensive set of security features for a consumer router. The Network Controls screen lists a number of settings that could make the router more difficult to hack, from improving passwords, to disabling UPnP and blocking malicious websites.
The Parental Controls section allows, as you might guess, restrictions to be places on specific clients, limiting sites they can visit and times they can use the internet.
The firewall allows for packet logging and DoS protection, and blocking URLs, keywords and specific network services.
The Smart Connect rule customisation page is a complicated set of rules and parameters that affect when a client is swapped from one network to another.
We left this section well alone. This page should be an advanced option, with some presets or a simplified version made available for people without the time or knowledge to spend fiddling with dozens of settings.