We first tested the Asus RT-AC5300 as we would any router, measuring its 802.11n performance (as plenty of people still use older smartphones and laptops that only support this wireless speed) and 3×3 802.11ac performance.
These features are offered by most alternative routers as well, including more affordable models from Asus, so if that is all you need, the Asus RT-AC5300 probably isn't the best choice.
Most routers offer triple-stream 802.11ac, but it isn't particularly common in laptops, with the overwhelming majority of consumer-grade devices only fitted with adapters that have dual antennas. This is why we use a MacBook Pro for this testing, as it has 3×3 802.11ac built in.

With one Mac connected to the Asus RT-AC5300 via an ethernet cable as a 'server', we measured wireless performance with direct line of sight to the router at one, five and ten metres. We used the Mac testing software WiFiPerf, which is based on the open-source iPerf software (also available for Windows and Linux). It measures both client-to-server (c2s) and server-to-client (s2c) speeds, which can vary considerably.
Using software that makes a direct connection between two PCs is better than a file transfer as there is no chance a storage device can bottleneck the transfer.
Note all speeds are in Mbit/sec
802.11n Client To Server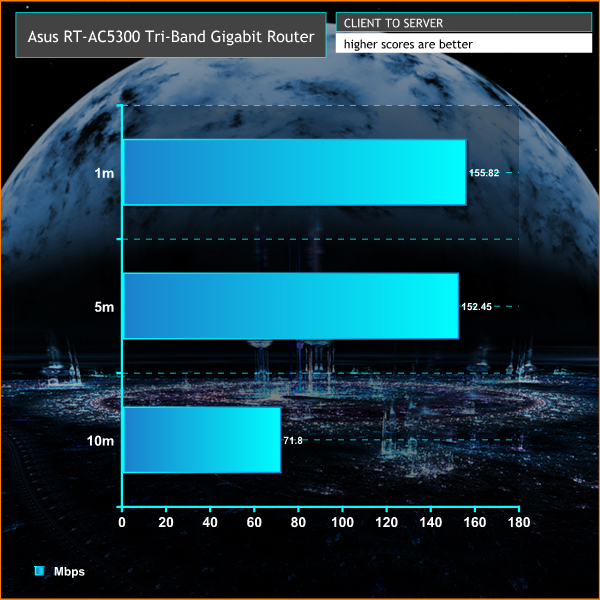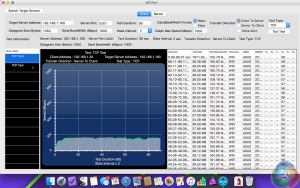 802.11n Server To Client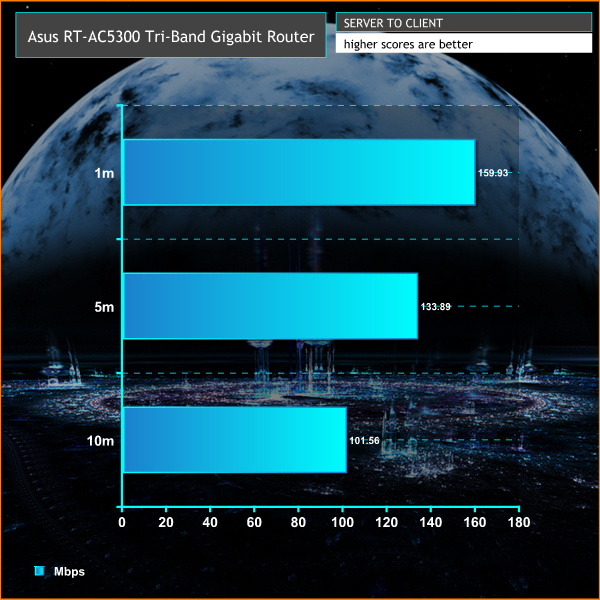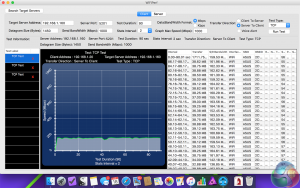 Our overall evaluation of the Asus RT-AC5300 doesn't really depend on 2.4 GHz 802.11n performance, but from our results you can see it does very well in this area, with some results that blow many other routers out of the water. At some points (visible in our screenshots) it goes above 165 Mb/sec, which is very impressive for this slower wireless protocol.
3×3 802.11ac client-to-server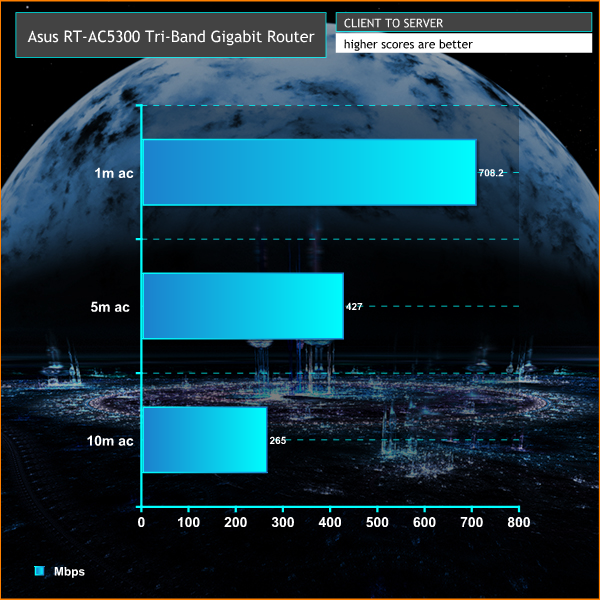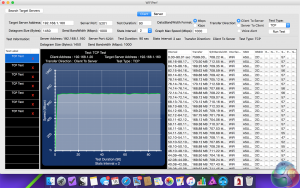 3×3 802.11ac server-to-client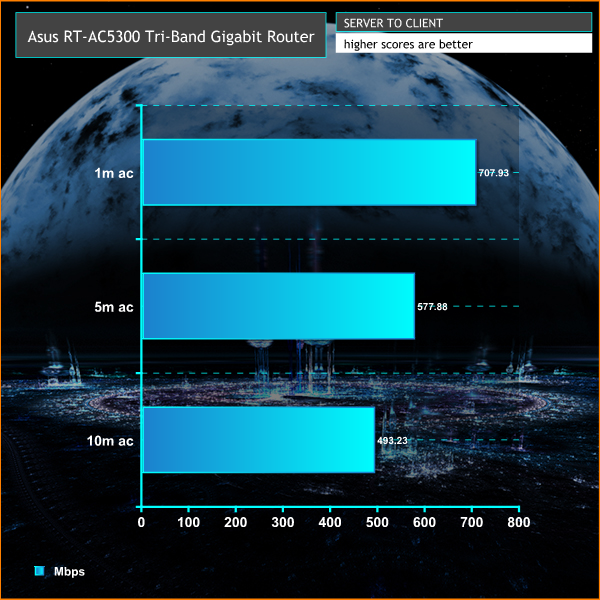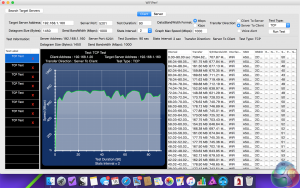 Likewise, with 3×3 802.11ac, the Asus RT-AC5300 offers transfer speeds that are notably superior to many alternative routers. As a very general rule, we expect to see about 600 Mb/sec from a 3×3 802.11ac router. Anything above that is very good performance. At short range, the Asus RT-AC5300 managed over 700 Mb/sec, a superb result, which isn't the very fastest speed we've seen (we measured 765 Mb/sec from the Asus RT-AC87) but it still leaves many competitors in the dust.
Although at short range, the client-to-server speeds drop off slightly. Usually with wireless testing, we notice the s2c results are faster than c2s results, particularly at longer range. We put this down to the larger external antennas on routers being more efficient than the internal antennas in laptops, although notably this isn't always the case.