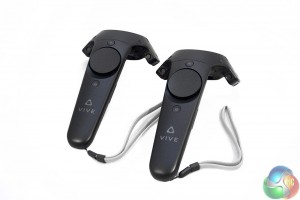 The wand controllers for the Vive are unique. They feature a long handle for grasping and what is perhaps best described as a ring doughnut at the other end.
That doughnut is covered in infrared sensors, which when picked up by the Lighthouse lasers pinpoint the location of your hands and what you are doing at the time. They coat the exterior and interior of that tracking puck, with the hollow centre allowing even better coverage by the base stations.
Inputs are handled by buttons, though not necessarily the traditional types you may be aware of. There are a pair of grip buttons on the sides, which provide a number of functions in VR, but perhaps most of all in instances where you need to firmly grasp something.
The underside features a trigger mechanism, most often used in games with guns in them and a trackpad. That allows for navigation, but is also clickable much like a traditional D-Pad.
There are two other buttons, one above and one below the trackpad. The former acts as an in-game menu button, pulling up volume controls, restart and quit functions, while the other opens up the Steam VR overlay and menu system.
Each controller is also fitted with a wrist strap at the base to prevent it flying out of your hand and into your TV, as oh so many Wii motes did in the middle of the '00s.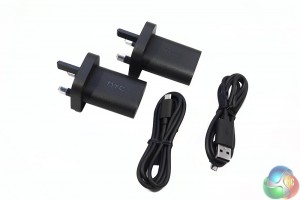 The only accessories that come with the Vive wand controllers are a pair of USB chargers with micro-USB to USB cables. These are for charging the controllers or connecting them up to your PC for firmware updates.