Testing the HTC Vive was conducted in much the same way I did with the Oculus Rift. I used the Vive for many, many hours over the course of several weeks, trying a number of roomscale, seated and standing games, as well as non-interactive experiences and 360 videos.
Throughout testing I noted my thoughts on various aspects of the headset, including its display and optics, the comfort and fit of the headset itself, its tracking capabilities, controller inputs, software platform and the quality of the experiences and games available for it.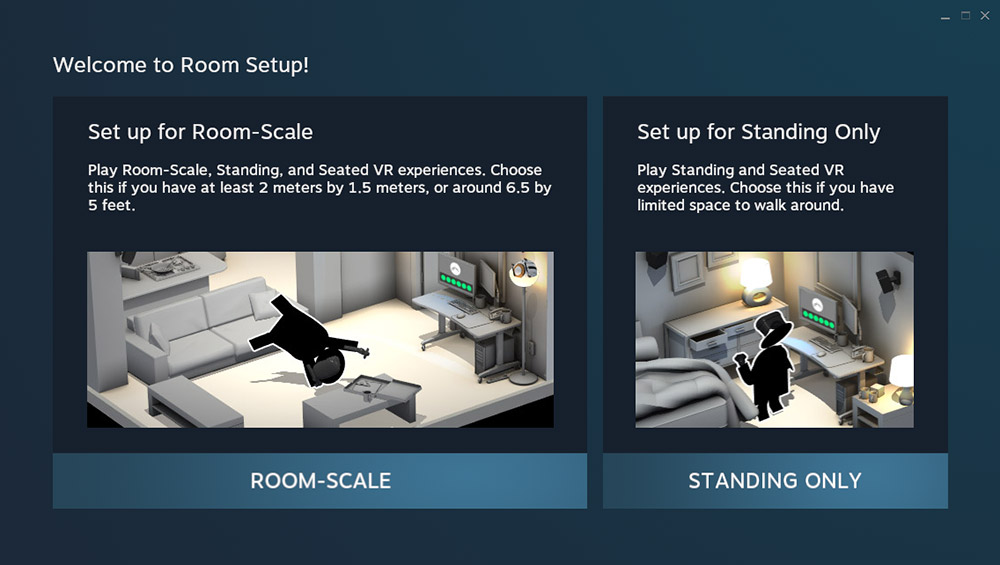 Get ready for some big house snobbery. Roomscale is going to be the new 'master race'
During testing I used a 2m x 1.5m space (the smallest recommended) as well as a larger one in a more communal area to test the differences.
The full list of games and experiences used for this review were as follows:
Non-Interactive movies and experiences
The Blu
Invasion.
Lost.
Henry.
Google Spotlight Story: Pearl
Total War: Warhammer 360 degree trailer.
Interactive experiences
Big Screen.
Steam VR Theatre.
AltSpace.
TiltBrush.
Farlands.
Games
Space Pirate Trainer.
Portal VR.
The Lab.
Job simulator.
Vanishing Realms.
Surgeon Simulator.
Fated.
Cloudlands.
Project Cars.
Zenblade.
Waltz of the wizard.
Brookhaven Wxperiment demo.
Budget Cuts demo.
Hover Junkers.
Time Machine VR.
Call of the Starseed: The Gallery
Skeet – target shooting.
Felt tip circus.
Audioshield.
Windlands.
Hordez.
Elite Dangerous.
Chronos.
Blaze Rush.
Elite Dangerous.
This is obviously not an exhaustive list of every VR game you can currently play with on the Vive, but there is only so much time we can spend on this review. If there are any particular games or experiences you would like me to try, let me know and I will do my best to take a shot at it.
What about the Oculus Rift?
As with the Oculus Rift review and the "what about the Vive?" questions I expected were not far away, this review is a standalone review. While I may make the odd comparison with the Oculus Rift, I will do my best to avoid them, as I want this to be a review based on the merits of the Vive itself, and not a "which is best?" argument. We will save that for another day.
Once I have completed both full, standalone reviews I will put together another piece that lines the two major headsets up against one another and we will see which comes out on top.