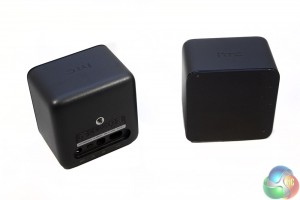 One of the biggest selling points of HTC's Vive is its ability to operate on what is called a "room scale," basis. That essentially means you can walk around your space, rather than staying seated or standing in one spot, as per the Oculus Rift.

To make this possible though, it has to utilise quite a different system for tracking. Instead of a single infrared camera, Valve/HTC used these twin Lighthouse stations, which send out infrared laser pulses and a sweeping laser. While you do not see any of that, if you had some form of infrared vision, it would likely look a little like this.
The stations themselves are small, near-cube shaped boxes, that measure around 3.5 inches long and two inches deep, and feature a matt black exterior, save for the glossy, transparent front.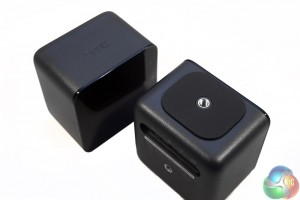 The rear and underside both have screw mounts for attaching the units to your wall or tripod and there are a number of connectors there also. There is a power plug, a micro-USB connector for firmware updates, a 3.5mm sync cable connector and a button for changing the "channel," which is an important step during set up.
Along with the base stations, you also get a pair of power cables and a very long 3.5mm sync cable, which is designed to aid those who have trouble synchronising the base stations – say if their line of sight to one another is impeded by a large light fixture or similar.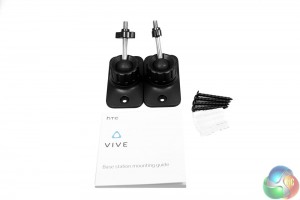 Located in their own pack, are a pair of wall-mounts, complete with screws, raw plugs and a set up manual which takes you through the process of mounting each of the stations.