At the end of my testing period with the Vive, as I look at it on my desk and consider how much I will use it now that I do not have to for work, I find myself in a bit of a love/hate relationship with it.
I have had some truly mind-blowing experiences with the Vive. I have slain skeletons and demons, gunned down drones, thrown knives at robots and spent hours painting fantastical landscapes and environments around me. The Vive has shown me things and let me do things that I have never done before and in many ways, never even considered before it came along.

But it is not perfect. This is still very much a first generation device. It has its quirks, it has its annoyances. The base stations sometimes do not wake up when they should, leaving you to unplug and plug them back in again. The headset slips from the sweet spot when you look down. Keeping an area clear for use in VR is a pain in the neck.
Most of the time though, it is completely worth it. Time and again I found myself coming out of a lengthy testing session, even when nonplussed about what I have played and found myself awed at how small my real world office is. I had just been stomping through Aperture's labs, exploring a forest in Fated or flying my hovercraft around a desert while I tried to gun down robots.
All within a 2m x 1.5m space.
The Vive is an absolutely amazing product and the roomscale tracking and locomotion combined with motion controls is a complete game changer. Make no mistake, this is the virtual reality that you envisioned as a child, or when you read Ready Player One.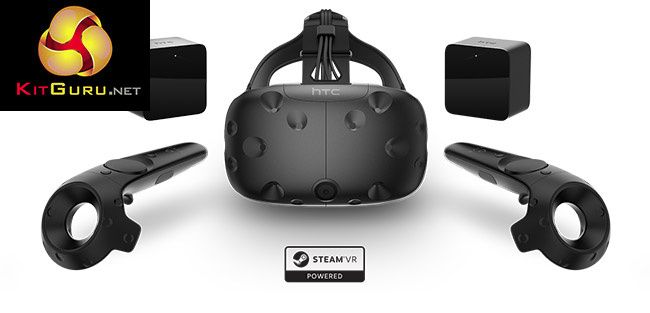 It has a long way to go and after many hours of playing you can see the strings controlling the puppets, but as it stands now, the Vive is an amazing, fantastical and honestly life-changing product.
It is just very, very expensive. With perhaps 100 hours of play time on the Vive and its Vive Pre predecessor, I am still a long way from feeling like I have gotten my money's worth from the headset and its accessories. It will be a while until that sinks in I think.
But I will get there. This is not a technology that is going away and until StarVR comes out, until Oculus releases its Touch controllers, there is not much that can hold a candle to the Vive's experiences.
I want it to get better and I want a bigger house so I can have more room to explore the technology in, but I think for many people the Vive and perhaps even virtual reality in general, is going to be something that they do not really get to grips with until the generation two hardware starts arriving in a few years.
If you are a casual gamer, this is not a bit of hardware for you. If you are a hardcore gamer, I do not think it is really for you either. The Vive is for those early adopters who want to explore new types of gaming, new experiences and be part of the early days of VR so you can say, "I was there."
KitGuru was there and we can tell you that the HTC Vive's virtual reality is stupendous, but think long and hard before buying one and better yet, try it yourself. You will not truly understand VR until you do, but be aware that if you fall in love, there will be some disappointments – it comes with the territory of early adoption.
But my god is it good.
At the time of writing, the cheapest place to buy the Vive in the UK is Curry's, which has it at £690. Stock is expected to arrive at the end of June. You might get one sooner ordering straight from HTC, but you will have to pay added postage costs.
Discuss on our Facebook page, over HERE.
Pros
Room scale is hands down, the best VR experience you can have.
Motion controllers make interaction in VR natural.
Tracking is almost flawless with proper sensor placement.
Chaperone gives you confidence to move around in VR.
Headset is comfortable over long play sessions.
Zero motion sickness throughout tens of hours of testing.
Smartphone integration is a nice addition.
Huge list of available content, though not all of it will offer longevity.
New and wonderful experiences unavailable on any other medium.
Access to Oculus content through Revive driver.
Cons
Clearing space can be a pain, especially in smaller British homes – but it is worth it.
Set up can be a bit fiddly, Steam VR still crashes.
Lens contours can occasionally be seen in scenes with bright light sources.
Headset weighting needs improvement.
Crisp, bright screen makes pixels a little more obvious than the Rift.
Visual sweet spot shifts off centre when looking down.
Frame creaks occasionally when looking straight up.
KitGuru Says: The HTC Vive is a truly wondrous product that shows us what the future of virtual reality is going to be. There are plenty of games to play and the hardware works well for the most part, but just expect to eat into your kid's college fund before you have an adequate game library.