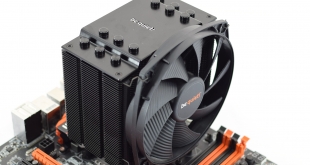 be quiet! has built an excellent reputation for its air coolers over the years, with previous models in the Dark Rock series boasting impressive thermal performance as well as low noise levels. The downside, however, has always been the unnecessarily fiddly installation method which surely must have put off many a potential buyer. With its new Dark Rock 4, be quiet! is hoping to provide the excellent performance we have come to expect, but with a much easier installation process.
With its MSRP of £64.99, the be quiet! Dark Rock 4 is certainly not a cheap cooler, nor is it unreasonably expensive. With an included 135mm Silent Wings fan, as well as the familiar black aluminium heatsink, can this cooler do enough to standout in a crowded market?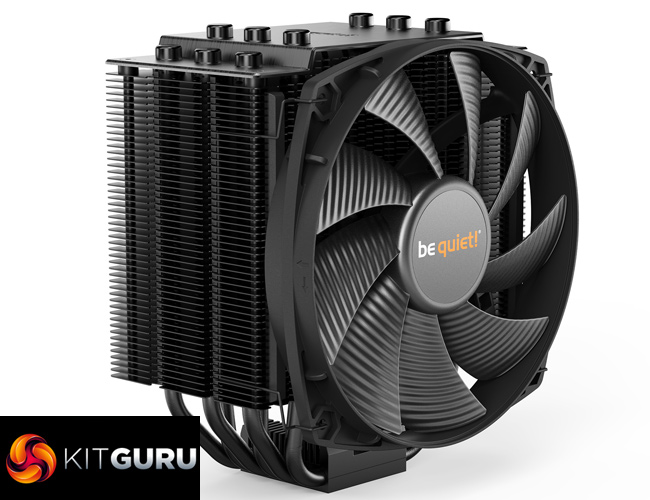 Cooler specification
Dimensions, incl fan: 159 x 136 x 96 mm
Weight, incl fan: 920g
Heat sink material: Aluminium
Socket compatibility: Intel®: 1150 / 1151 / 1155 / 1156 / 1366 / 2011(-3) Square ILM / 2066. AMD™: AM2(+) / AM3(+) / AM4 / FM1 / FM2(+)
Maximum power capacity: 200 TDP
Number of heatpipes: 6
Diameter of heatpipes: 6mm
Noise level at 50%, 75%, 100%: 10.5 / 15.6 / 21.4 dBa
Fan specification:
Type: Silent Wings PWM
Dimensions: 135 x 135 x 22 mm
Motor technology: 6-pole
Bearing type: FDB
Fan speed @ 100% PWM: 1400 RPM
Input current: 0.11A
Connector: 4-pin PWM
Lifespan: 300,000h
Accessories:  Thermal grease, mounting set for Intel® and AMD™, User manual (EN, DE, FR, PL, ES, RU)
The be quiet! Dark Rock 4 ships in a very familiar-looking box – it is black with some grey accents, with a large product photo on the front.
Inside, there are no less than six included manuals – with English, German, French, Polish, Spanish and Russian languages included. The manual itself is also very well laid-out, with colour images and clear instructions.
In terms of the included accessories, all of the mounting hardware comes in one big bag, though there are separately labelled bags for Intel and AMD sockets inside that. Four fan clips are also provided.
Another lovely inclusion is the long-necked magnetic screwdriver which really helps when it comes to installing the heatsink – but more on that on the next page.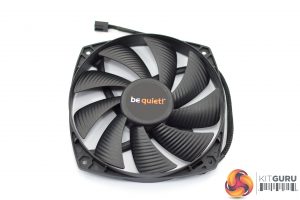 The included fan is from be quiet!'s own Silent Wings family, with this one measuring 135mm in size. It's rated to spin up to 1400RPM with a 0.11A input current rating.
Lastly, the heatsink itself looks very similar to its predecessor, the Dark Rock 3, although that is no bad thing – I love the all-black aesthetic, while the brushed metal top-plate is also very easy on the eye.
We also find 6x6mm heatpipes, while the cooler dimensions (with fan attached) is 159 x 136 x 96 mm. It weighs in at 920g, too, with the fan attached.Here I will walk you through the installation process. It is worth noting we test using a Z97 motherboard – socket LGA 1150. The process below reflects that.
The first step is to prepare the backplate. For LGA 115x sockets, this means slotting four screws through the inner-most holes, and then placing four rubber washers over those screws to keep them in place (as above).
With that simple step done, the backplate can be mounted behind the motherboard socket.
After that, four standoffs can be threaded onto the four backplate screws.
The two mounting brackets can then be screwed onto those standoffs. Here, it is important to attach the brackets vertically (parallel to the RAM slots), assuming you want the cooler to be mounted vertically as is standard.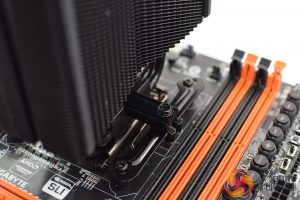 After that, the heatsink itself can be mounted to the processor, and it is secured to the mounting brackets thanks to a metal bar which slots into the bottom of the heatsink. The bar is locked-down with two sturdy screws, and this is where the included screwdriver really helps – its long neck means you are not fighting with the heatsink to get the screws properly threaded. Thanks, be quiet!
With that done, all that is left is to mount the Silent Wings fan using the provided fan clips, and installation is complete.
All-in-all, it is really good to see be quiet! has finally managed to implement a straightforward mounting solutions for its coolers. The Dark Rock 4 is mounted like most coolers on the market, and the process is much more beginner-friendly than the previous Dark Rock 3.To test all CPU coolers, we devised an easily repeatable test with no variables other than the coolers themselves. This ensures that figures from every cooler we test are comparable with each other.
Test rig
Using an open-air test bench, we deploy an Intel Core i7-4790K plugged into a Gigabyte Z97X-SOC Force motherboard. Alongside this is 16GB of 2400MHz Corsair Vengeance DDR3, as well as a 120GB OCZ Trion 150 SSD. Powering everything is a Corsair RM750x PSU.
The test process
Testing coolers involves taking a total of 4 temperature readings per cooler. First, we measure the idle temperature of the i7-4790K at stock speeds (turbo boost disabled), before measuring its temperature under load at stock speeds. Next, we overclock the CPU to 4.5GHz using a 1.3 Vcore, ensuring greater heat output. In its overclocked state we then measure the idle and load temperatures of the CPU again. The figures we present are temperature deltas – meaning we take each temperature reading and minus the ambient temperature from it. This allows us to test in an environment that is not temperature-controlled.
To ward off potential comments or questions, we know 4.5GHz using a 1.3 Vcore is not the 'best' overclock – this particular CPU could reach that frequency at closer to 1.25 on the Vcore, which is more efficient. That is not the point, however. We are trying to stress the coolers to see how they deal with excess heat … hence the higher than necessary Vcore.
Where possible, each cooler's fans are plugged directly into the motherboard using the CPU_Fan or CPU_Opt headers. Some AIOs, however, ship with their own fan controllers or PWM hubs. If we are unable to plug the fans directly into the motherboard, it is specified in the performance section of the review.
An idle reading comes from leaving Windows on the desktop for 15 minutes. A load reading comes from running Prime95's (version 26.6) Small FFTs test for 15 minutes – enough time for temperatures to plateau.
Noise output
Unfortunately I am unable to accurately measure the sound output of CPU coolers using a digital sound meter. This is because I am based alongside a busy road (with high ambient noise levels). Using a sound meter is, as such, not possible as there are variables out of my control. However, I will try my best to subjectively describe the noise output in a helpful manner.Temperatures
All temperature charts are sorted with lowest load temperatures at the top.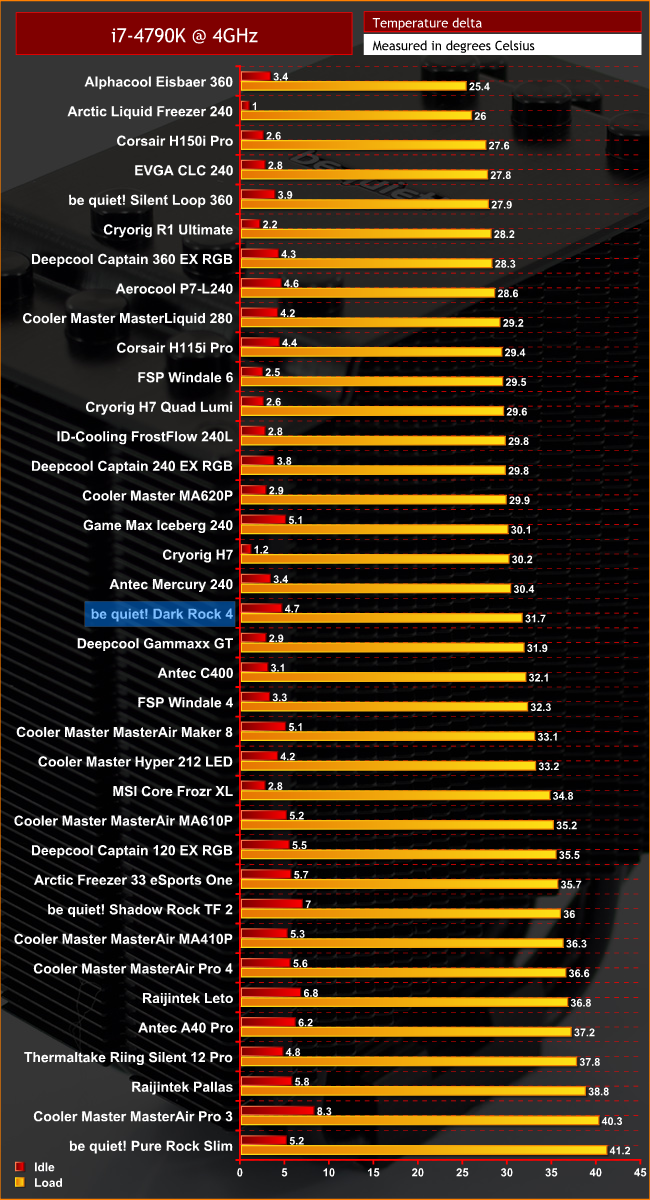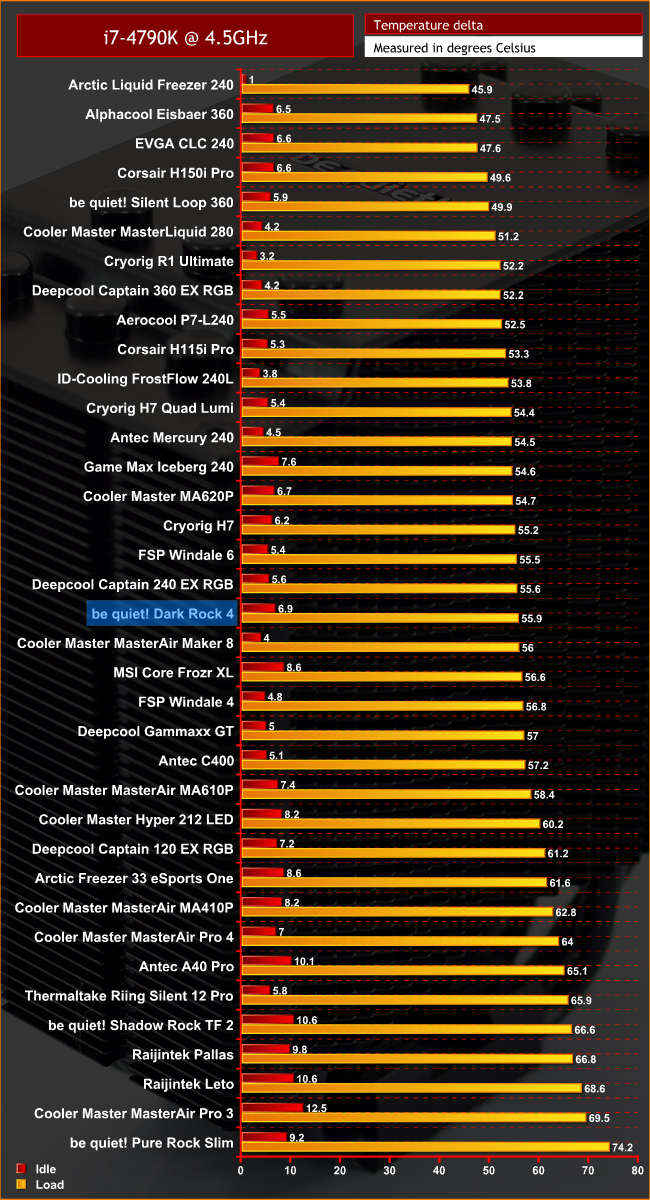 Getting right to it, you'd be forgiven for thinking the Dark Rock 4 is a rather average cooler – it does, after all, land right in the middle of our performance charts. However, most of the top entries on both charts are actually liquid coolers, and that means the Dark Rock 4 is one of the better-performing air coolers to come through our labs.
It's not the downright best we've ever seen, granted, but its 200W TDP makes it able to tame just about every CPU on the market. Still, for those purely interested in bang-for-buck, the Cryorig H7 edges ahead, as does the FSP Windale 6.
Acoustics
It's the noise levels (or lack of) which really helps the Dark Rock 4, however. At idle, it is simply inaudible, and even at 100% load – while cooling our stock-clocked i7-4790K – I had to put my ear 8 inches from the fan to actually hear any noise. With the Dark Rock 4 in a case, under your desk? There's no chance you'd hear it all.
When we overclocked the CPU, it did become audible – but only just. With the exception of the excellent Scythe Mugen 5 PCGH, the Dark Rock 4 has to be the quietest air cooler to come through the KitGuru labs.All in all, there is very little to dislike about the new be quiet! Dark Rock 4.
The biggest improvement over its predecessor is undoubtedly the new installation method. Gone is the fiddly process where the cooler is secured from behind the motherboard, and instead we have a much more conventional – and much simpler – method that uses standoffs and rails.
Performance figures are also impressive – though not mind-blowing – but I do have to commend the Dark Rock 4 for its very impressive noise levels. If you use a locked-multiplier CPU, or even an unlocked processor with just a fairly mild overclock, the Dark Rock 4 will prove almost silent.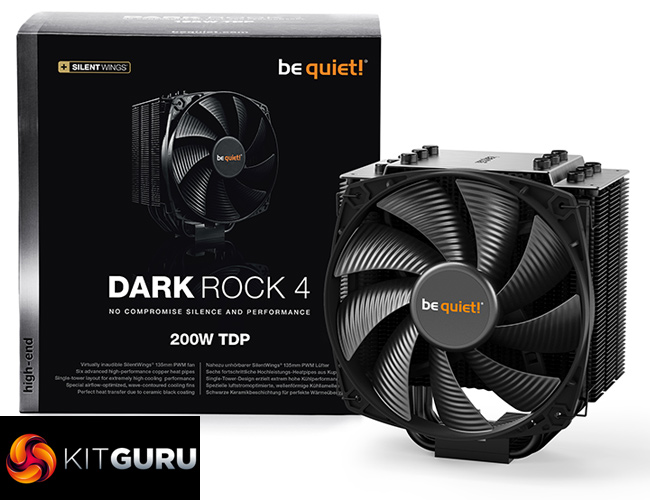 With that in mind, we are very happy to recommend the be quiet! Dark Rock 4. In terms of performance, it is not a big leap forward when compared to its predecessor, but for the new installation method alone it is well worth buying.

You can buy the Dark Rock 4 for £64.99 from Overclockers UK HERE.
Discuss on our Facebook page HERE.
Pros
Good-looking.
New installation method is a big improvement.
Very quiet.
Solid performance.
Cons
Is bettered by some cheaper air coolers.
KitGuru says: Overall, the be quiet! Dark Rock 4 is very proficient cooler. It doesn't offer the absolute best bang-for-buck, but it is very, very quiet and the new installation method is also a welcome improvement.