Let's start off with noise performance from each cooler at 100% fan speed.
This is important as it sets the precedence for which coolers we expect to deliver the higher levels of performance based on the faster and louder fans. Assuming that their performance is efficient in comparison to their noise output levels, that is.
The chassis fans are disabled, all case panels are on, and the sound meter is placed 12 inches from the side of the Fractal chassis' glass side panel – roughly where a desk user will be sat.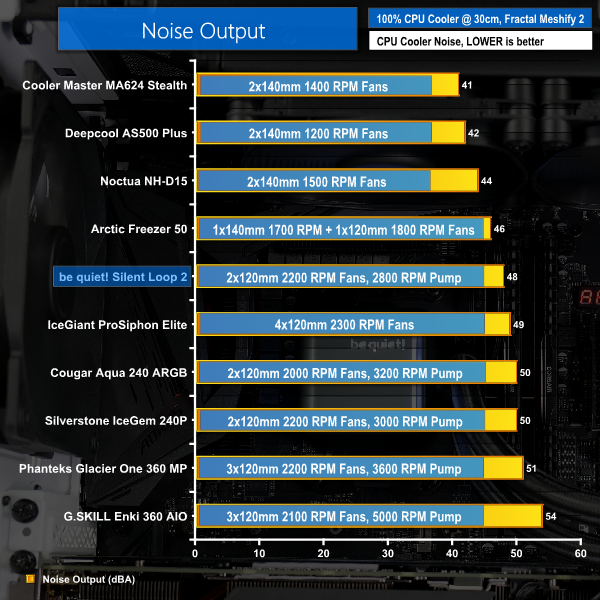 be quiet!'s Silent Loop 2 makes a promising start in the noise performance test with its two Silent Wings 3 PWM fans measuring 48 dBA at 12 inches from the chassis side panel. This is a strong result, especially given the 2200 RPM full speed operation of the 120mm blowers.
For comparison, the Silent Loop 2 beats out the competing AIO liquid coolers from our test data set. But it cannot match the preferential noise levels of the air coolers with dual lower speed fans.
If you want even lower noise operation – which we would suggest for standard usage as 48 dBA is still very noticeable – the ability to leverage the sub-500 to 2200 RPM fan speed range is a positive. However, the restricted control abilities of the 3-pin 2800 RPM pump unit will limit how much the noise output can be reduced aside from controlling fan speed.