We won't put too much emphasis on PBO results, but we will spend some time to quickly analyse them using our full fan speed data.
With 90C the maximum target temperature for PBO, we are looking for the cooler that achieves the balance between lower temperature operation and higher PBO clock speeds. Higher clocks with lower temperatures are better. But one cooler may run at slightly higher temperatures than another, albeit with higher clock speeds, so look out for that.
In essence, this test is showing us how far the coolers can be pushed while keeping a sensible 90C maximum. Or whether there is more room for pushing clocks and power delivery beyond the PBO limits while still sticking to a 90C target.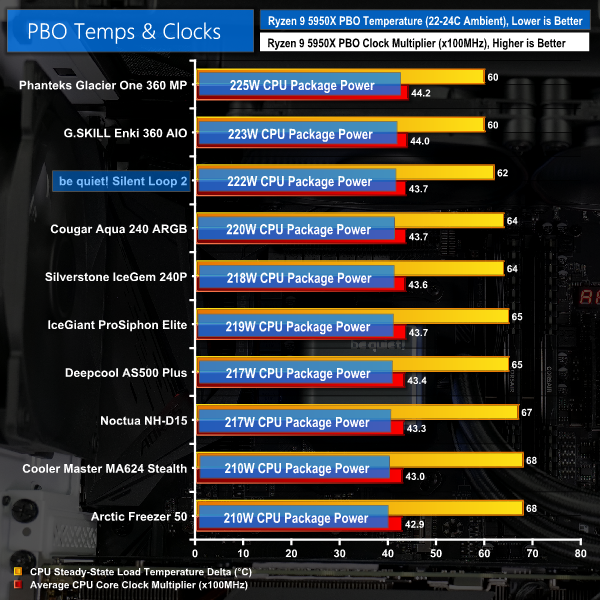 be quiet! again does well in this cooling test with the Silent Loop 2 240mm unit. We see a performance level that is only bested by the 360mm AIOs from our data set. Cougar's and Silverstone's competing 240mm options are beaten by a measurable and repeatable margin.
Managing a little over 220W of CPU package power and returning a mid-80s CPU operating temperature highlights that the Silent Loop 2 has more performance left in the tank. That point is also notable with the 4.37GHz average operating core clock for our 5950X CPU, which is comparable to the 240mm units but not quite as high as the 360mm pack leaders.
We are confident in saying that the Silent Loop 2 is the best of the non-360mm AIO coolers in our data set for this PBO test. Though that is also largely to be expected given the £120 price point.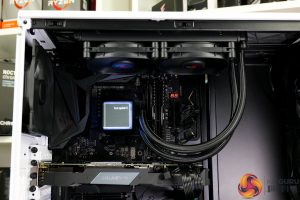 We can quickly brush over the stock test results as the roughly 129W package power from our 5950X is not high enough to stress the be quiet! Silent Loop 2 cooler properly. Plus, the PB2 algorithm means that the temperature levels are typically very similar as the clock speeds change dynamically.
Even with the PB2 shackles and low power output from the chip, we see the Silent Loop 2 at 100% fan speed hovering around 55C with clock speeds in the order of 3880-3890MHz under heavy load. These results are comparable to the Cougar and Silverstone 240mm AIOs but they lag the more expensive 360mm AIO slightly, as we have seen throughout our thermally-focussed tests.