With the Silent Loop 2, be quiet! is delivering solid performance from the 240mm unit when tested with our AM4 system. We saw performance numbers that were close to those of more expensive 360mm AIO units, and that's good with a hot 5950X.
One particular strength is the good job that be quiet! does at balancing the noise levels with thermal performance. There is a good ability to tune down the noise for 40dBA cooling performance. And the pump noise level was not obtrusive either, though it does feature limited speed control with its 3-pin DC connection.
The be quiet! Silent Wings 3 High-Speed PWM fans are strong performers. They also look good in our opinion, despite not featuring any lighting. We wouldn't be surprised if some people would like some degree of RGB lighting on the fans. That is individual preference, though, and we certainly will not complain given the excellent noise-balanced performance.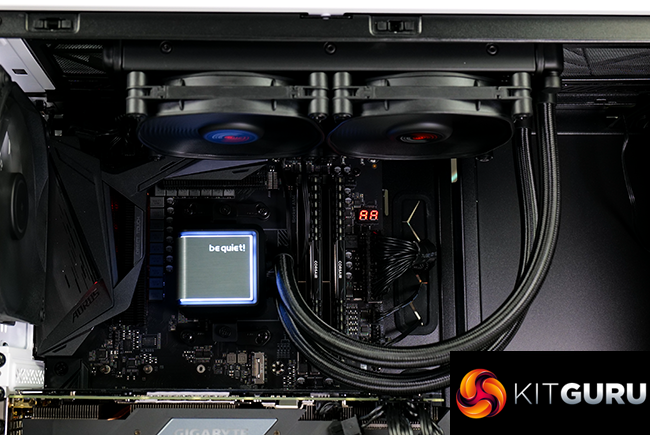 While we liked the RGB lighting on the pump block unit – as the border is subtle but stylish with reasonable control options – £120 is expensive for this calibre of unit with no RGB fans. That may appeal to some users who just want a subtle flash of RGB inside their system. But £120 is firmly in RGB pump/block unit AND fan territory.
The 3-year warranty is disappointing as 5 years is expected from premium brands in today's market, especially at this price point. Then again, some users may prefer the inclusion of a refill port and encouraged self-maintenance, so that is a factor to bear in mind.
Overall, we like the Silent Loop 2 thanks to the strong noise-balanced performance delivered by Silent Wings 3 PWM fans. The pricing is certainly on the expensive side for a 240mm AIO and the warranty is disappointing. However, the subtleness of the RGB lighting, alongside the usual be quiet! quality standard, will appeal to many.
The be quiet! Silent Loop 2 240mm is listed as 'coming soon' to CCL HERE.
Discuss on our Facebook page HERE.
Pros:
Solid overall performance.
Good noise-balanced performance.
Excellent Silent Wings 3 PWM fans.
Subtle but good-looking ARGB lighting.
Refill port will appeal to some users.
Cons:
Expensive at £120 in the UK.
Only 3 year warranty.
Limited DC-powered pump speed control – only 9V to 12V motherboard header control.
KitGuru says: £120 certainly is not cheap for a 240mm AIO cooler with minimal RGB lighting and a 3-year warranty. However, the be quiet! Silent Loop 2 does a good job at offering strong noise-balanced performance thanks to the superb Silent Wings 3 fans.