We highlight VRM temperatures when using each cooler on our Gigabyte B550 Aorus Master motherboard with the overclocked Ryzen 9 5950X. Do note that the results are heavily influenced by the specific layout of the Gigabyte B550 Aorus Master test motherboard with respect to top-side or rear IO-side VRM components. So your findings may vary if you have a different motherboard VRM layout and heatsink design.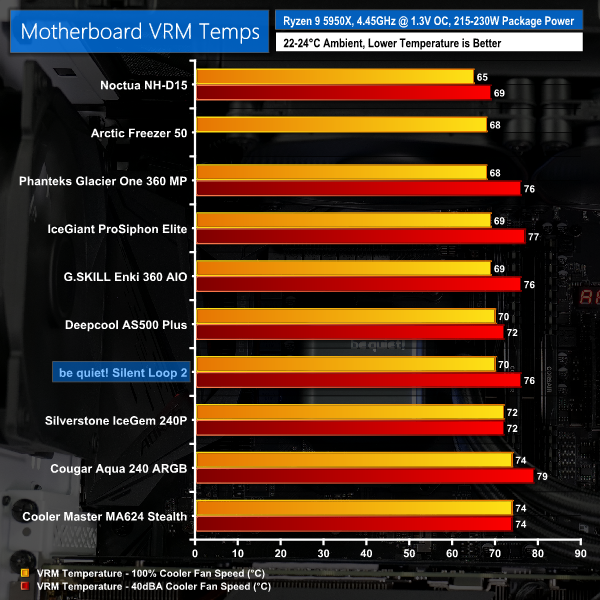 If we now look at VRM temperatures when running our manually overclocked test at full fan speed, the Silent Loop 2 is sub-par. Of course, this is heavily influenced by radiator and therefore fan positioning inside one's chassis. As well as the specific design and positioning of one's motherboard VRM heatsink.

With all of that said, the Silent Loop 2 is close to the bottom of our chart with VRM temperatures in the order of 70C. And the 240mm unit is also poor when focussed on 40dBA locked fan speed performance – registering a mid-70s VRM sensor result.
If you want a CPU cooler that has the benefit of helping out the VRMs, the Silent Loop 2 is not a strong option if your system and test configuration roughly matches ours.