Our overclocked test is the main stress test and represents a very tough challenge for these CPU coolers. As we are locking the voltage and clock speed, the temperature figures are directly comparable between competing coolers.
We see package powers in the order of 220W for the CPU and wall power levels that exceed 300W for the system. There is a caveat whereby lesser performing coolers force the CPU to run at higher temperature levels. This, in turn, reduces the operating efficiency and dictates that the CPU draws more power. This increased power draw results in higher operating temperatures, thus further negatively affecting the thermal performance.
This small degree of thermal runaway – albeit very limited in system divergence terms – is important with our manually overclocked 5950X CPU. It perhaps seems unfairly weighted against the lesser performing CPU coolers. But it is the reality of real-world operation whereby higher performing CPU coolers can sometimes show disproportionately better temperature performance at the higher thermal load levels.

Note the use of delta temperature data in our charts and factor in your own ambient conditions for reference.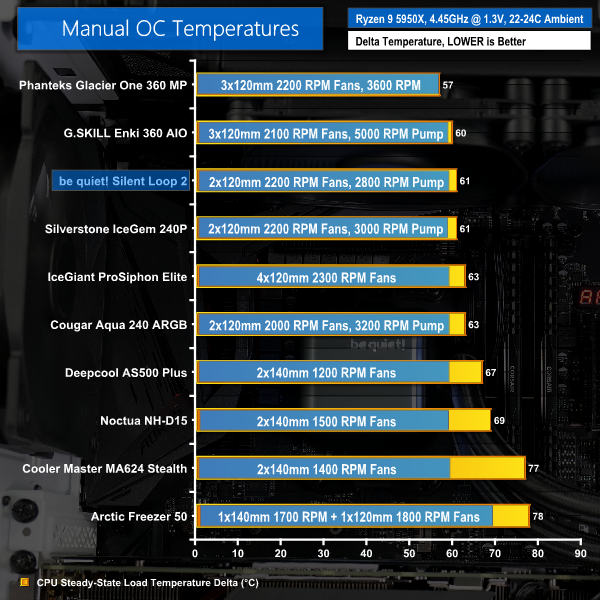 With full speed fans and pump unit unleashed at our Ryzen 9 5950X overclocked test, the be quiet! Silent Loop 2 performs well.
We recorded a delta temperature of 61 degrees – which translates into low-to-mid 80s real operating CPU temperature in typical ambient conditions. This is a positive result and has the Silent Loop 2 matching the physically bigger Silverstone IceGem 240P while beating out the Cougar dual-fan AIO, as well as the air CPU coolers.
In fact, the performance from be quiet!'s 240mm AIO is close to that of G.SKILL's 360mm liquid cooler which also operates with a trio of high-speed fans and a high-RPM pump unit.
Given the preferential noise output and slimmer form factor versus Silverstone's similarly priced IceGem 240P, we would call this initial temperature test a minor victory for the be quiet! Silent Loop 2.