Having assessed the coolers at full fan speed, we see clear separation between the AIO cooler performance with their high-speed, loud fans and the competing lower-speed fan air coolers. As such, we have a look at some test results with the noise levels locked to 40dBA on each CPU cooler.
This noise-normalised test is perhaps a little unfair towards AIO liquid coolers and air CPU coolers with dense fin arrays. Those designs need high pressure fans to penetrate the dense arrays and this usually comes in the form of high-speed and loud fans.
With that said, noise is noise when it comes to user tolerance, so the way in which a cooler is designed and optimised is not necessarily a concern to a user simply wanting low-noise, 40dBA-type operation.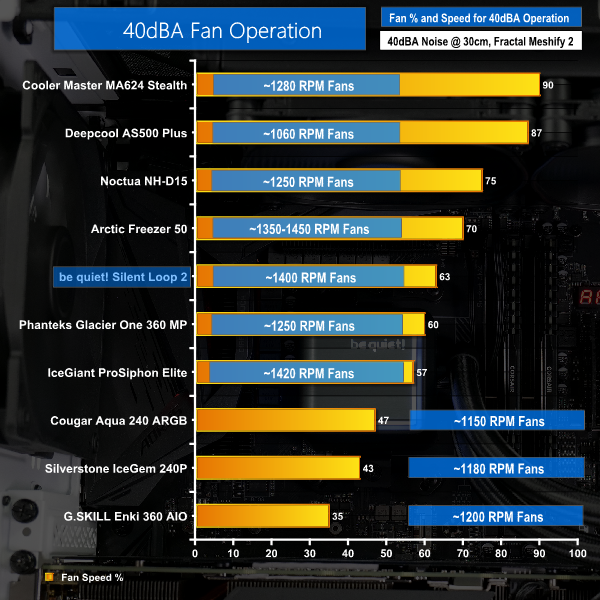 Dropping the Silent Loop 2 cooler's pair of Silent Wings 3 120mm PWM fans to 63% speed achieves our desired 40dBA target. This translates into an operating speed of around 1400 RPM for both fans with the 3-pin powered pump unit still locked at 2800 RPM.
This is actually less of a reduction from maximum fan speed as compared to the other AIOs in our data set. That is despite be quiet!'s Silent Wings 3 PWM fans being rated at a high – 2200 RPM – maximum speed. This is – at least on the face of it – a testament to the noise efficiency of the Silent Wings 3 120mm fans.
We will have to see how performance bears out at 40dBA operation.