The sub-£150 market segment has been a clear void in AMD's Zen 2 product stack. That changes today with the launch of four-core, eight-thread Zen 2-based Ryzen 3 chips. Coming in at £95 for the Ryzen 3 3100 and £115 for the 3300X, AMD is taking aim at Intel's current Core i3 and lower-end Core i5 offerings whilst also sending a warning shot across the bow of Intel's Comet Lake-S launch vehicle.

Watch via our Vimeo Channel (Below) or over on YouTube at 2160p HERE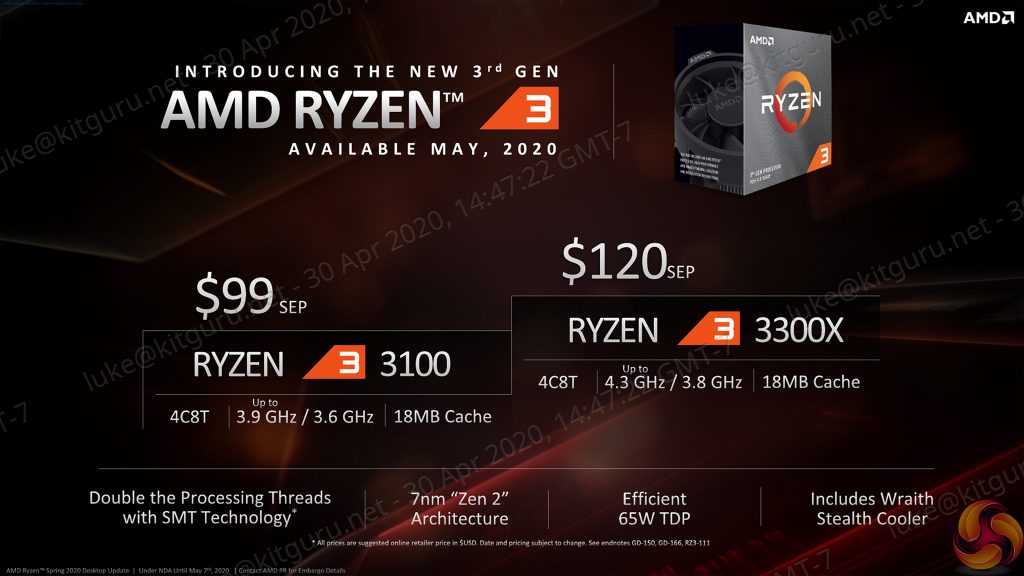 The Ryzen 3 3100 and 3300X are Zen 2 -based four core, eight thread processors built on TSMC's 7nm process technology. Entering the market at £95 in the UK, the Ryzen 3 3100 clocks in at 3.6GHz base and up to 3.9GHz boost frequency. The £115 Ryzen 3 3300X ups its base speed to 3.8GHz and offers a strong maximum boost frequency of 4.3GHz.
There is more to the differences between the parts than simply frequency and naming, though; Ryzen 3 3300X is a single-CCX design whereas the 3100 uses two CCXs. Given the pricing, AMD is clearly gunning for Intel's current 9th Gen Core i3 and the lower-end Core i5 options.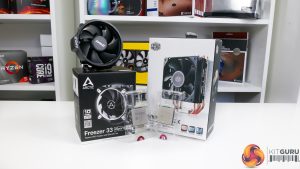 AMD deploys a 65W TDP on both of these wallet-friendly CPUs. This allows them to pull up to 88W of package power under normal operation. You can also turn down the TDP to 45W using Eco Mode on compatible motherboards. Bundled cooling comes in the form of AMD's most entry-level option; the short Wraith Stealth heatsink and 2000 RPM fan unit.
And if you fancy playing about with overclocking, the unlocked core ratio multiplier found on all other Ryzen 3000 desktop processors is retained. Of course, a bump up in the cooling hardware is certainly a reasonable recommendation if you're aiming to maintain clock speeds beyond around 4.1GHz or so.
One clear area of differentiation is the Ryzen 3 3300X and its single-CCX design. The $120 chip gets a full Zen 2 CCX in its single CCD. This Core Complex serves up the full 16MB stack of L3 cache and that is likely to be a benefit for games.
By comparison, the Ryzen 3 3100 uses two crippled dual-core CCXs that communicate within the single core chiplet. The key difference is that 8MB of L3 cache is shared across the CCXs thus translating into a latency penalty when more than 8MB of L3 cache is accessed.
It will be interesting to see if this unique Ryzen 3 3300X 7nm, Zen 2-based quad-core is able to muster up noteworthy gaming performance thanks to the elimination of inter-CCX latency penalties.
As is obvious, these are both AM4 chips. You get 16+4+4 lanes of PCIe Gen 4 capability with a compatible motherboard. Dual-channel DDR4 memory is supported and we continue to recommend 3600MHz modules if affordable, or 3200MHz with decent timings as a sensible alternative.
The AM4 platform makes these chips compatible with current X570 and B450 motherboards with a BIOS update, if required. The obvious partner is a budget B450 offering, of which the market provides plenty of options. Or, if you're happy to wait a few weeks, AMD's new B550 chipset will be launching and the motherboard partners will have a raft of new PCIe Gen 4-equipped options flooding the market.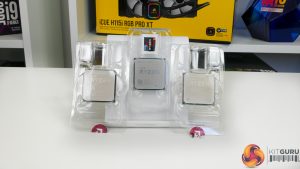 Intel's competition to the Ryzen 3 3100 and 3300X does not really exist at the price point. The 4C4T Core i3-9100F is cheaper at £70 and the 6C6T Core i5-9400F is more expensive at £140. The options in between make little sense from a value perspective for buyers with a dedicated GPU.
The toughest competitor, therefore, is clearly AMD's own Ryzen 5 1600 AF. This 12nm-fabbed Zen+ processor features six cores and twelve threads and, despite its confusing naming, is basically a slightly slower version of the Ryzen 5 2600. Priced at around £99 in the UK when we bought our unit last week, the 1600 AF will be a tough contender. Thankfully for the new Ryzen 3 chips, however, the older Zen+ hexacore is getting increasingly difficult to find in stock or at its reasonable sub-£100 price.
Let's see how the new Ryzen 3 processors compare against the Ryzen 5 1600 AF, their higher-end Ryzen 5 3600X sibling, Intel's Core i3-9100F, and the Core i5-9400F. We also throw in comparison against the venerable and incredibly popular Core i7-7700K quad core for good measure, of course.
Be sure to check out our sponsors store EKWB here