We leave the system to idle on the Windows 10 desktop for 10 minutes before taking a power draw reading. For CPU load results, we read the power draw while producing five minutes' worth of runs of the Cinebench R20 multi-threaded test. We also run the Blender Classroom rendering stress test for five minutes.
The power consumption of our entire test system (at the wall) is shown in the chart. The same test parameters were used for temperature readings.
Power Consumption
Power draw readings are accurate to around +/-5W under heavy load due to instantaneous fluctuations in the value. We use a Titanium-rated Seasonic 1000W Prime PSU.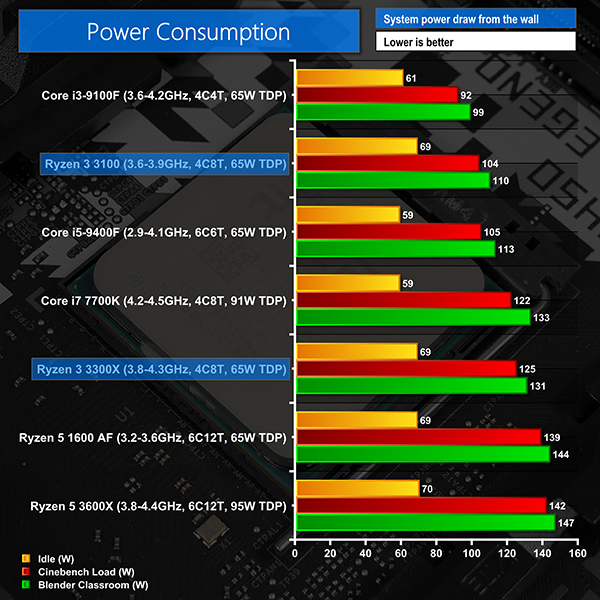 CPU compute performance on the Ryzen 3 3100 was overall slightly better than that of the Core i5-9400F, even though both chips draw roughly the same power.
Looking at the Ryzen 3 3300X, we see similar power numbers to the 4.5GHz Core i7-7700K but AMD's Zen 2 quad-core is notably faster in our CPU compute tasks.
As far as power efficiency goes, this is a clear area where the new 7nm Ryzen 3 chips manage to beat the Ryzen 5 1600 AF and its 12nm fabrication node.
Worth noting is that neither Ryzen 3 processor used its full 88W CPU package power allowance, as dictated by the 65W TDP. That brings about the option for running the chips in a 45W TDP Eco Mode configuration with relatively little drop off in performance for the Ryzen 3 3100 in particular.
Cinebench nT performance per Watt comparisons clearly favour higher multi-threading so it is impressive to see the quad-core Ryzen 3 parts doing particularly well. Ryzen 3 3100 offers comparable performance efficiency to Intel's Core i5-9400F but the higher-clocked 3300X leverages more energy.
Temperatures
Temperature recordings were taken using the Arctic Freezer 33 eSports One CPU cooler at full fan speed. Ambient temperatures were around 24-25°C.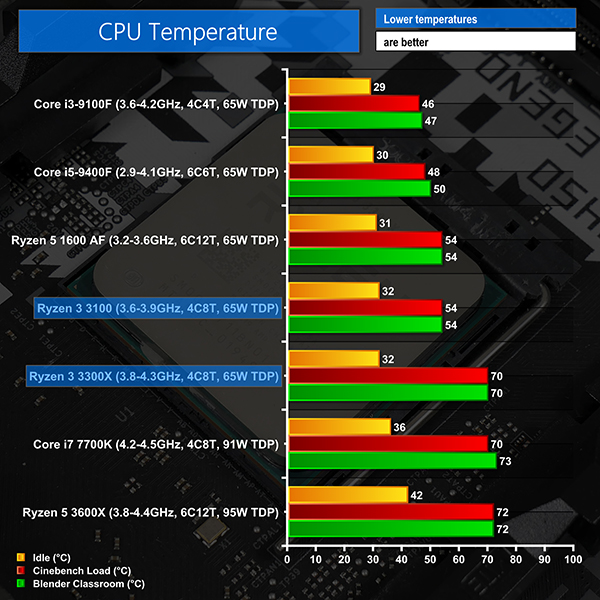 As proven by our use of a bargain basement £20 air cooler, it does not take a lot to cool any of these reasonable core count processors at stock clock speeds.
Ryzen 3 3100 runs significantly cooler thanks to its roughly 400MHz clock speed deficit versus the 3300X. We have observed time and time again that Zen 2 starts to get increasingly hot when pushed beyond 4GHz clock speed.
AMD's four-core, eight-thread part is just as easy to cool as the 9th Gen Intel processors above and below its price point. The same comparison holds true for the Ryzen 5 1600 AF and its mid-3GHz operating speed.
While we used a budget aftermarket CPU cooler to extract maximum performance from the Ryzen processors and to make temperatures comparable across AMD and Intel platforms, we were keen to see how the boxed Wraith Stealth cooler would perform.
At 100% fan speed on our open-air test bench, the Wraith Stealth only dropped around 50MHz off the Precision Boost 2 all-core frequency for the Ryzen 3 3100. That came with the penalty of a 16°C increase in operating temperature.
Switch from our Arctic Freezer 33 eSports One to the 3300X's included Wraith Stealth heatsink and you can expect to lose around 150MHz on the Precision Boost 2 algorithm when running extended all-core loads. The temperature also increased by 12°C to a rather toasty 85°C.
Put simply, the included Wraith Stealth heatsink is perfectly adequate. However, when aiming to maintain frequencies beyond 4.1GHz under all-core loading, even a budget £20 tower cooler proves a worthy upgrade.