3DMark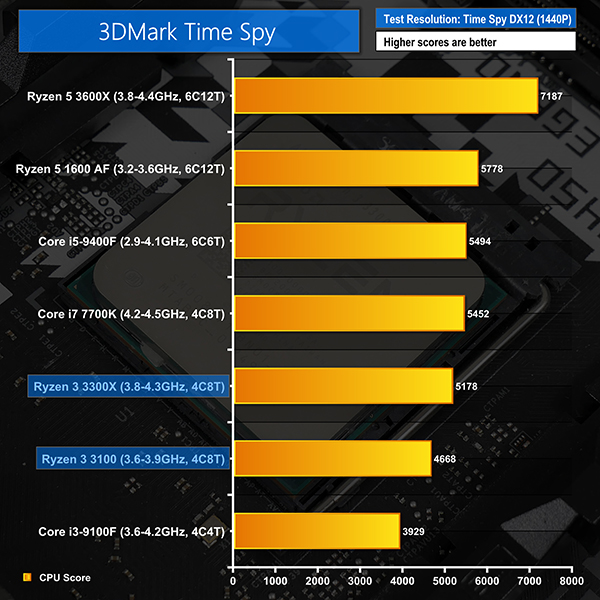 F1 2019

We run the game quality set to Ultra High.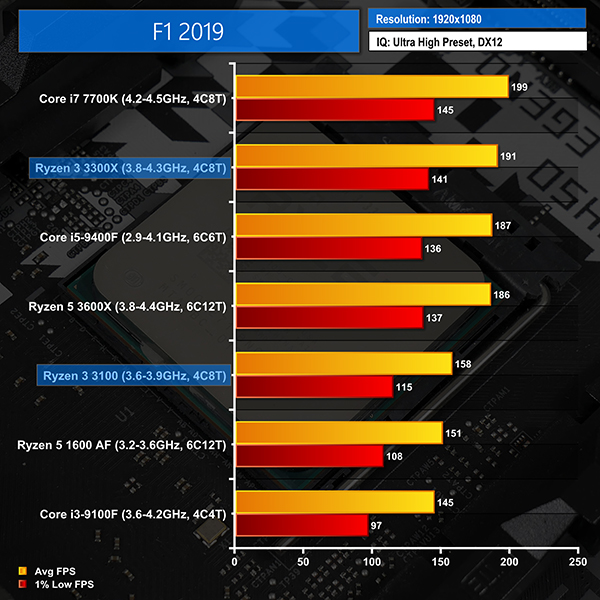 Starting our gaming comparisons with F1 2019, we see the Ryzen 3 3300X putting in a superb showing thanks to its Zen 2 architecture and lofty clock speeds that hold stable thanks to relatively light cooling requirements.
Intel's competing Core i5-9400F is no slouch in this test; it manages to outperform the 3.9GHz Ryzen 3 3100 and is very close to the speedier 3300X. It is also more expensive than both, though, and therefore steals money from a graphics card purchase.
Ryzen 5 1600 AF still does well in this test, but the newer Zen 2 chips are tangibly faster if you are a high refresh rate 1080P gamer.
Grand Theft Auto V

We run the game using generally Maximum quality settings (including Advanced Graphics).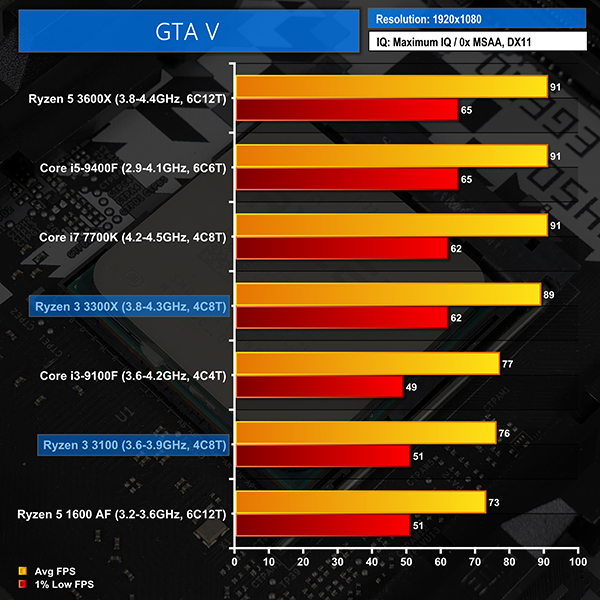 Old but still immensely popular… and tough to get running at high frame rates, Grand Theft Auto V is next up. The Ryzen 3 3300X does well in this older DX11 title that clearly favours a mix of threads and, more importantly, frequency. GTA V also favours the Intel architecture, which is not all that surprising given its age.
As such, we see the Core i5-9400F outperforming the cheaper Ryzen 3 3300X, albeit by a negligible margin. We also see the lower-cost Core i3-9100F roughly matching the stock-clocked Ryzen 3 3100. The key difference between the four-core, four-thread Core i3 and AMD's eight-thread competitor is that the latter has some amount of CPU headroom still available. The Core i3, by comparison, is glued to 100% usage and therefore had limited ability to deal with background operations.
There are positives to be taken from GTA V; the new £115 Ryzen 3 3300X is about as quick as a gaming elite from generations gone by – the 4.5GHz Core i7-7700K. The Zen+ Ryzen 5 1600 AF is clearly a less than ideal choice in this title – a statement that holds true for the £95 Ryzen 3 3100.