AMD's four-core, eight-thread Ryzen 3 3100 and 3300X are clearly the final pieces to AMD's Zen 2-based Ryzen 3000 puzzle. This sub-£120 area of the market is one in which Intel's current generation line-up competed against AMD's older architecture prior to today's launch. Zen 2 is now affordable to budget system builders who simply want a basic yet proficient processor with modern architecture, reasonable frequencies, and the inherent benefits that the 7nm process node provides. Ryzen 3 3000 delivers on those fronts.
Strong gaming performance and productivity numbers that clearly punch above their weight are the overriding takeaways from the Ryzen 3 parts. The 3300X in particular looks to be a strong gaming option in this market segment thanks to its Zen 2 architecture, high out-of-the-box frequencies, and single CCX design.
Couple in the superb AM4 platform with cost effective motherboards, high-speed memory support, and unlocked multipliers across the board and the Ryzen 3 3100 and 3300X are clearly superior to Intel's 9th Gen price competitors.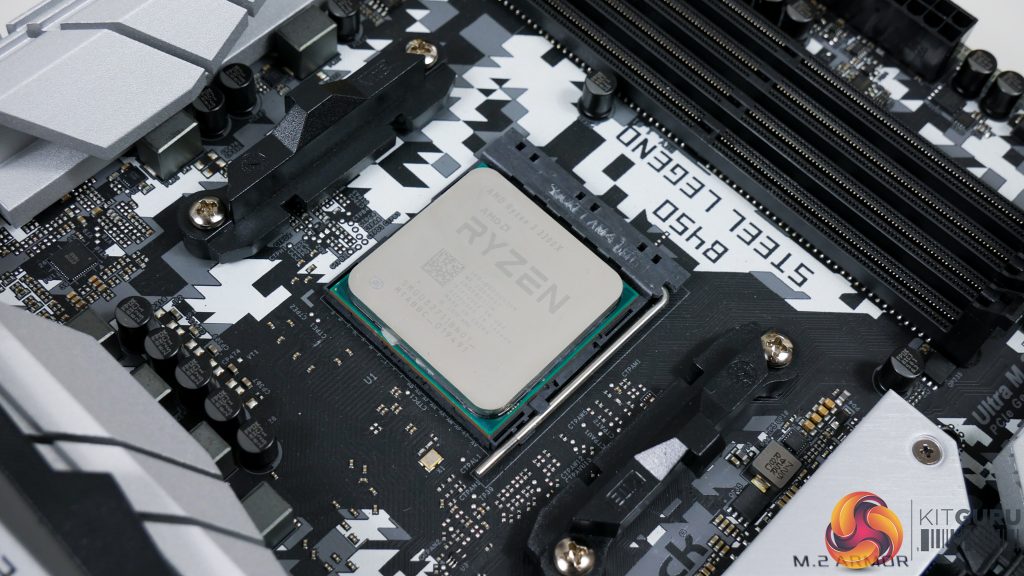 However, it is clear that the Zen+ Ryzen 5 1600 AF with its twelve processing threads is a value champion that remains impossible to beat at around £90-100. Even the newer, budget friendly Ryzen 3 chips with their £95-115 price tags and Zen 2 architecture cannot match the multi-threadedness of the 1600 AF. Of course, frequency advantages brought about by TSMC's 7nm technology help the Ryzen 3 3300X and 3100 comfortably outperform the 1600 AF in lightly threaded tasks. Plus, the Zen 2 architecture is more efficient in other areas such as AVX2 performance.
And competing against the 1600 AF in gaming is a tough task for the new Zen 2 offerings. Ryzen 3 3300X is able to comfortably outperform the 1600 AF most of the time, thanks in large to its high out-of-the-box frequency coupled with the excellent Zen 2 architecture. The equally priced Ryzen 3 3100, however, has a far tougher time fighting against the sub-£100 Zen+ six-core in games.
Add the approaching launch of Intel's rumoured four-core, eight-thread Comet Lake-S Core i3 processors and the budget CPU segment of the market is getting highly competitive all of a sudden. According to Intel's 1KU pricing, those Intel chips should price roughly around the Ryzen 3 3300X level. It will be interesting to see Zen 2 versus Comet Lake-S fight it out on a basis with core, price, and frequency parity. Of course, the AM4 platform and upcoming B550 chipset motherboards could well be the deal-sealer in that battle, but we will have to wait and see.
For now, AMD's Zen 2-based Ryzen 3 chips are welcomed additions to the budget segment of the market. They are clearly superior options to Intel's current 9th Gen line-up at the sub-£150 mark, but the upcoming Comet Lake-S CPUs will likely bring an interesting fight to the table. AMD's own Zen+ Ryzen 5 1600 AF also remains a particularly tough competitor, but I would personally be happy to pay the extra £15-20 for the Ryzen 3 3300X's improved gaming performance and newer Zen 2 architecture.

The Ryzen 3 3100 will sell for £94.99 MSRP. The Ryzen 3 3300X is £114.99 MSRP. Availability will be during May on e-tailers such as Overclockers UK.
Discuss on our Facebook page HERE.
Pros:
Good gaming performance, especially from the 3300X.
Strong compute performance compared to 9th Gen Intel competitors.
Decent out of the box frequencies for the market segment.
Solid overclocking headroom and very few cooling concerns.
Bundled Wraith Stealth cooler does well on the 3100.
Excellent capabilities from the AM4 platform – PCIe Gen 4, high-speed DDR4 support, affordable motherboards.
Strong and clear upgrade paths thanks to the AM4 platform.
Cons:
Ryzen 5 1600 AF is a tough option to compete against at £100 (if you can find availability).
Ryzen 3 3100 sees a gaming performance drop-off due to its CCX topology.
Wraith Stealth cooler not great for the highly clocked 3300X.
KitGuru says: AMD's Ryzen 3 3100 and 3300X bring strong performance Zen 2 quad-cores to the sub-£120 market segment. Gaming frame rates are strong, especially on the 3300X, and compute performance punches well above the levels set by Intel competitors.

AMD Ryzen 3 3100:
AMD Ryzen 3 3300X: