Red Dead Redemption 2

We run the game with image settings manually set to High and the DirectX 12 mode enabled.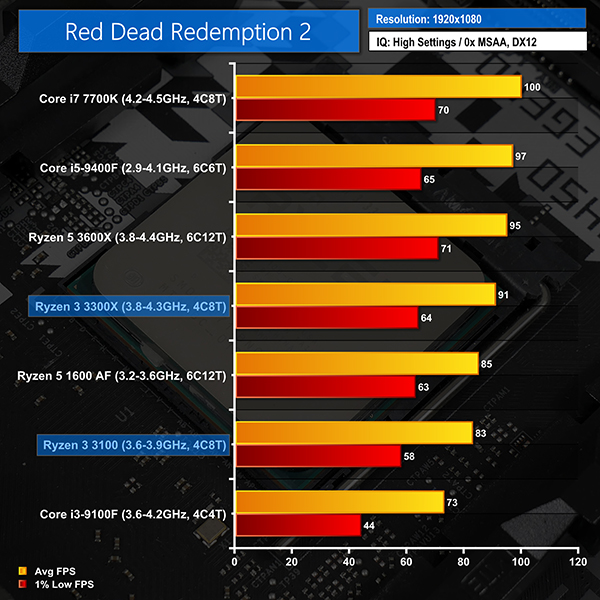 Given that GTA V and Red Dead Redemption 2 are both Rockstar titles, it comes as little surprise that a similar performance hierarchy is observed. The preference for Intel Skylake-based architecture is evident again.
Ryzen 3 3300X does pretty well to get within 10% of the high refresh rate performance offered by the more expensive 9400F and the resilient 7700K. This time around, Ryzen 5 1600 AF and its dozen Zen+ threads prove slightly quicker than the Ryzen 3 3100, which in itself is vastly superior to the stuttering four-core, four-thread Core i3-9100F.
Overall, Ryzen 3 3300X looks to be a good choice for higher-than-60-FPS gaming in Red Dead Redemption 2, especially given its cost decrease versus the Core i5-9400F. Not to be ignored though, the slightly cheaper Ryzen 5 1600 AF puts up a solid fight and manages to narrowly outperform the similarly priced Ryzen 3 3100.
Shadow of the Tomb Raider

We use the DirectX 12 mode, anti-aliasing disabled, and the Highest quality preset.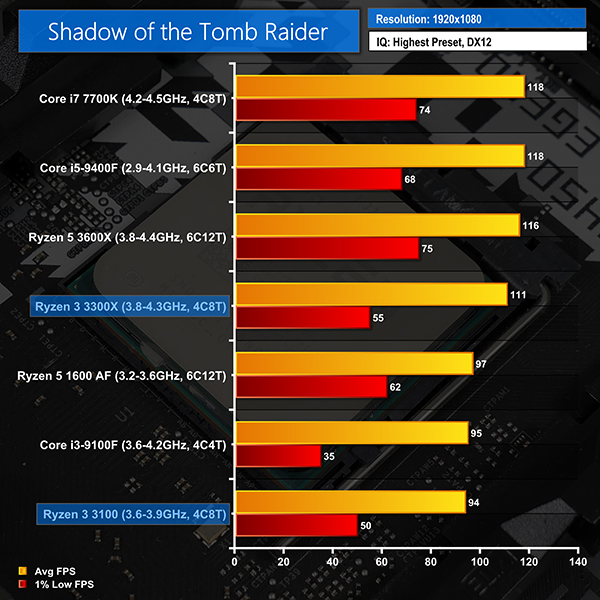 Ryzen 3 3300X hangs reasonably close to the top position in Shadow of the Tomb Raider. With that said, its reduction in frequency or cores versus the parts sitting above it do force a quite significant drop-off in 1% low FPS values.
The Ryzen 5 1600 AF is slower in terms of average FPS but does offer higher 1% low numbers, which implies solid gaming consistency on that older six-core alternative.
Ryzen 3 3100 actually sits at the bottom of the chart when ordered by average FPS. But this is highly misleading as the Core i3-9100F is a stuttering mess, as shown by its 1% low value, and is an unpleasant gaming experience at these settings. And that doesn't even reference the significant level loading times and texture pop-ins for Intel's cheap four-thread chip that we did not observe on any other processors.
In this title, the Ryzen 5 1600 AF is hard to beat from a value perspective, but the extra £15 for the new Ryzen 3 3300X will net higher average FPS numbers if your monitor goes past 100 Hz.
The Division 2
We run the game with quality set to Ultra, VSync disabled, and DX12 mode.
Ryzen 3 3300X is about as fast as it gets in The Division 2. Both the average and 1% low FPS numbers are excellent even for high refresh rate 1080P gamers. The more expensive Core i5-9400F is a little slower, albeit by a small margin.
Switching focus to the Ryzen 3 3100, we see it battling closely with the £99 Ryzen 5 1600 AF yet again. Average FPS numbers are comparable between the two, but the twelve-thread Zen+ chip has the advantage in 1% low performance.