Cinebench R20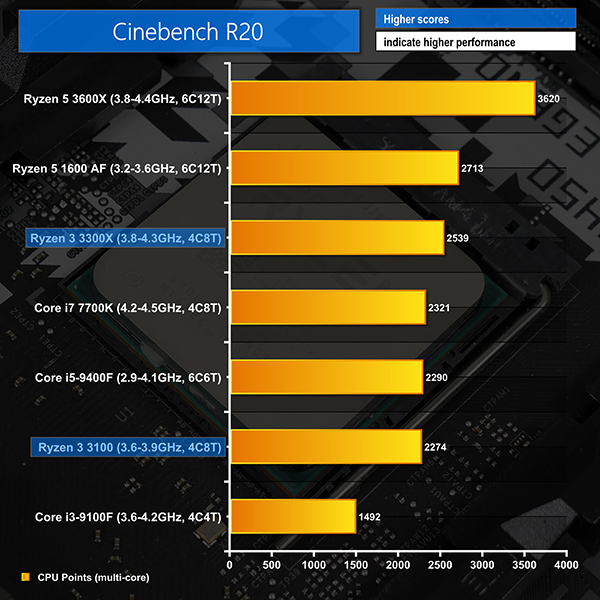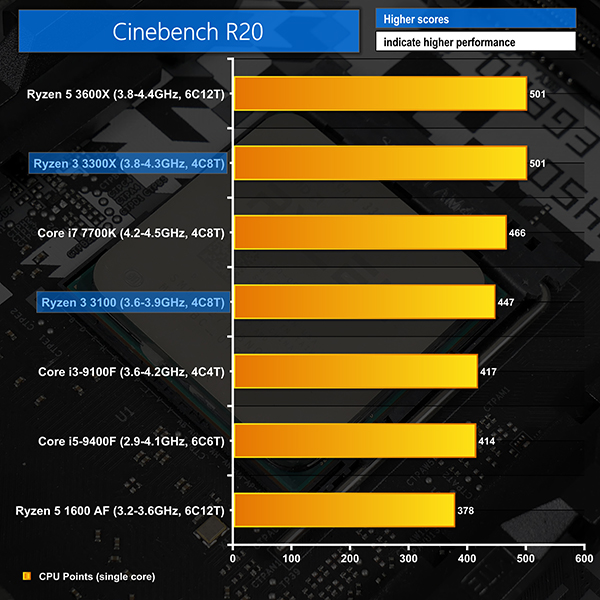 Cinebench R20 gives us a first look at the four-core, eight-thread Ryzen 3 Zen 2 chips. Multi-core performance is clearly a strength with AMD's new value processors; the 3100 keeps pace with the more expensive Core i5-9400F hexacore and absolutely destroys the £70 Core i3-9100F. Meanwhile, the 3300X sees performance that is 9% quicker than the ageing but popular Core i7-7700K. If you want higher scores at this budget segment of the market, the £100 Ryzen 5 1600 AF proves strong despite its older Zen+ architecture. A good start for the Ryzen 3 chips, we'd say.
Clock speed wise, the Ryzen 3 3300X held stable at around 4.2-4.3GHz throughout our Cinebench runs with the Arctic cooler. The 3100 was happy at its maximum boost value of 3.9GHz.
Thanks to its lofty 4.3GHz boost frequency, the 3300X hits joint-top position with just over 500 points in 1T testing. Around a 10% drop-off is observed when switching to the 3.9GHz Ryzen 3 3100. But that $99 part still beats out the similarly priced Ryzen 5 1600 AF, as well as the Intel competitors that run at comparable clock speeds.
Blender BMW Benchmark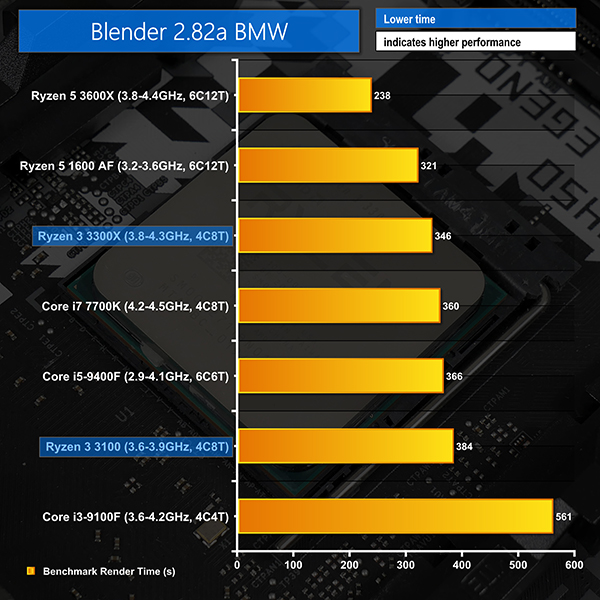 Ryzen 3 3300X in particular puts in another stellar display when looking at Blender's BMW test. It will take a six-core Ryzen 5 1600 AF on the older Zen+ architecture to outperform the 3300X at this price point; Intel's current competitors are significantly slower and even the trusty old 7700K cannot keep pace at stock clocks.
We see the Ryzen 3 3100 offering competitive performance versus the £140 Core i5-9400F but not quite matching that six-core part. AMD's new value option does, however, comfortably outperform the cheaper Core i3-9100F. Clearly, there is a performance void that Intel needs to fill with Comet Lake-S around the £100-120 price point.