We leave the system to idle on the Windows 10 desktop for 10 minutes before taking a power draw reading. For CPU load results, we read the power draw while producing approximately 5 minutes worth of runs of the Cinebench R20 multi-threaded test. We also run the Blender Classroom Rendering stress test.
Both Cinebench and Blender are used instead of synthetic stress tests such as AIDA64. This is because some CPUs – most notably Intel's HEDT Core processors when operating under default turbo conditions – will heavily reduce their clock speed with the AVX-based AIDA64 workload, thus giving an unrepresentative reading.
The power consumption of our entire test system (at the wall) is shown in the chart. The same test parameters were used for temperature readings.

Power Consumption
Power draw readings are accurate to around +/-5W under heavy load due to instantaneous fluctuations in the value. We use a Titanium-rated Seasonic 1000W Prime PSU (with 8-pin plus 4-pin or 8-pin plus 8-pin power connectors where possible). We do not yet have full data for our new Blender Classroom reading for all comparison CPUs.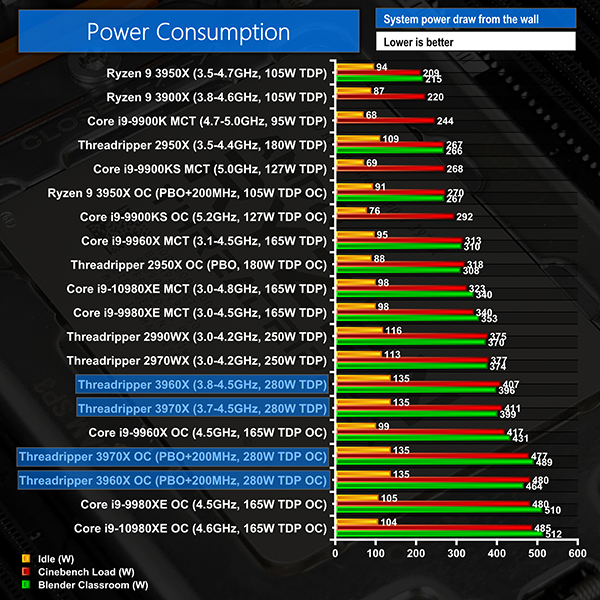 We know that the combination of AMD's Zen 2 architecture and TSMC's 7nm process technology can make for an efficient pairing, but Threadripper's focus is performance across many cores.
The 280W TDP chips demand around 410W system-wide power from the wall when running Cinebench R20, and just under 400W for the Blender Classroom render. This puts their power consumption numbers higher than the 250W TDP 2970WX and 2990WX they replace, albeit with significantly higher operating clocks.
Compared to Intel's 36-thread Core i9-10980XE operating in its 3.8GHz multi-core turbo mode that is applied when XMP is enabled, both Threadripper parts command around 80W more system-wide power. That's quite a sizeable chunk of additional energy, though it must be viewed with reference to AMD's higher Cinebench performance, also.
Overclocking the HEDT chips forces Intel's 18-core parts to the bottom of the chart, with our 4.6GHz Core i9-10980XE sample registering over 500W system-wide power draw running Blender. The Threadripper 3000 chips weren't far behind, with their Cinebench numbers hitting around 480W system-wide and software reporting 345-365W CPU package power draw.
Put simply, AMD's Threadripper 3960X and 3970X demand a lot of power which puts emphasis on a quality motherboard VRM, CPU cooler, and power supply. And that's without factoring in a chassis that can happily flush away more than 400W of heat.
Performance Per Watt – Cinebench R20 nT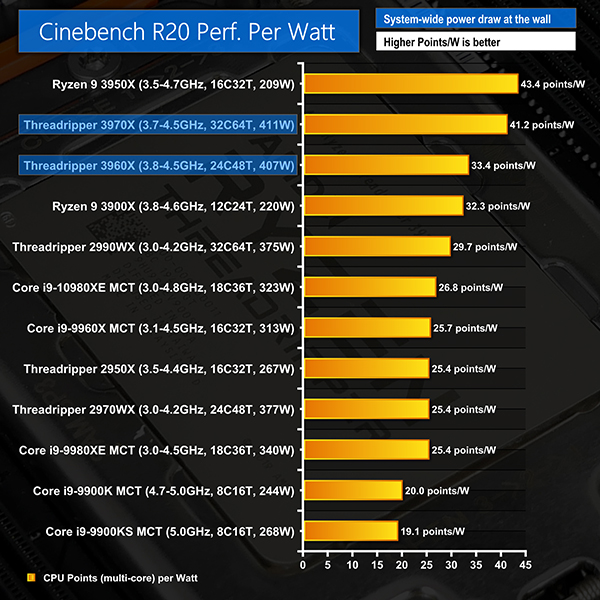 Factoring in performance for those sizeable power requirements, both Threadripper chips show the superb efficiency that we have come to expect from Zen 2 and 7nm. The power efficiency improvements for Threadripper 3000 versus Intel's cheaper Cascade Lake-X flagship are sizeable in Cinebench. Even the 24-core 3960X registers as higher efficiency than the Core i9-10980XE. And that AMD chip is likely to use lesser binned silicon and spends more of its power budget chasing frequency, rather than sitting within an operating window for peak efficiency.
While electricity prices generally aren't significant enough to sway an individual's purchase between CPUs, that thought process may change for HEDT chips such as these that will be put to use inside workstations. Perhaps a design consultancy has a team of 50 engineers, all of whom push their workstations hard on a daily basis. That logic starts to place more emphasis on the value of the compute efficiency offered by Threadripper 3000.
Getting more work done per unit power is rarely a bad thing.
Performance Per £ (price efficiency) – Cinebench R20 nT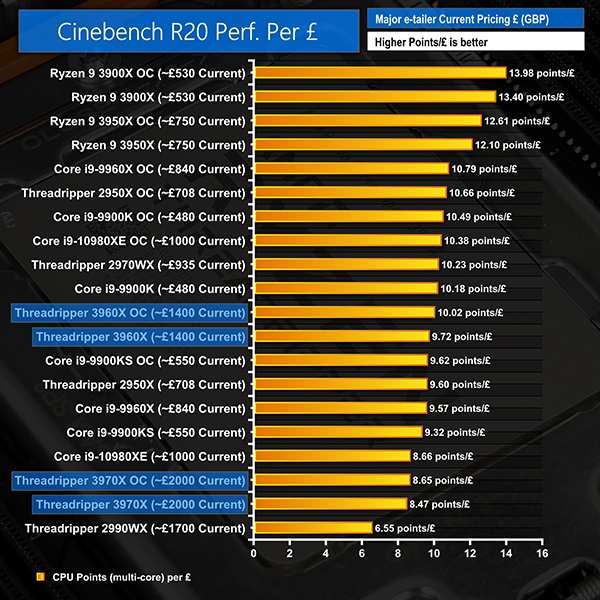 Based on retail prices in the UK, as of week commencing 18th November 2019, we can see that the performance per £ for Threadripper 3000 is pretty low, given the high asking prices. This is stark contrast to AM4 Ryzen 3000 that generally offers superb performance value using our Cinebench data.
Clearly, AMD is charging a price premium for such high core count processors. This chart also doesn't factor additional value-added features, such as PCIe lanes and memory capacity, all of which command a price premium but do not contribute to Cinebench scoring.
Whichever way you look at it, AMD's Ryzen Threadripper 3000 processors offer highly competitive performance, but AMD most certainly expects you to pay appropriately for that privilege. You'd have to be in a situation where increased compute performance brings more profit to your business in order to offset the reduced performance per £ of the Threadripper 3970X and 3960X.
Temperatures
Temperature recordings were taken using a Cooler Master Wraith Ripper TR4-specific air cooler. Ambient temperatures were around 24°C. We do not yet have full data for our new Blender Classroom reading for all comparison CPUs. Competing CPUs without the asterisk in the chart were tested with a Corsair H100X 240mm AIO and are therefore not directly comparable.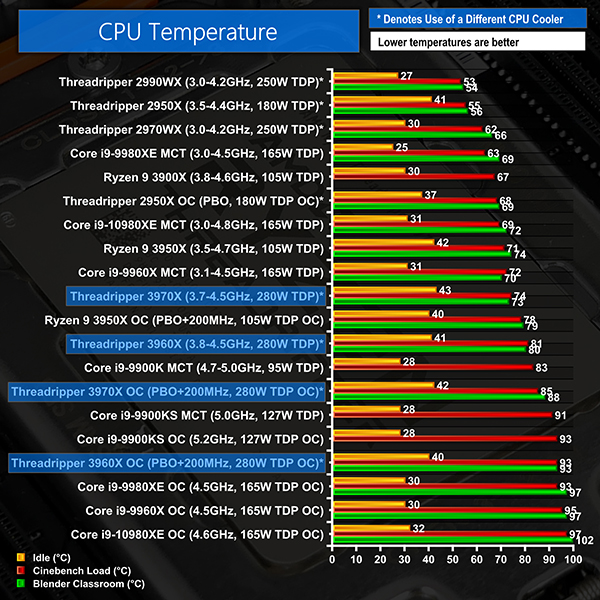 We use the Cooler Master Wraith Ripper air cooler as its base plate is designed specifically to provide full coverage on Threadripper. We also feel that air cooling makes a lot of sense for HEDT workstation parts such as these, where the added potential points of failure from liquid cooling perhaps do not justify any additional performance that may be obtainable.
Despite the toasty 280W TDP for both Threadripper 3000 CPUs, their operating temperatures at stock are very reasonable. With stock temperatures at around 80C or below, there is clearly headroom to push the chips a little further by opening up the power budget.
Precision Boost Overdrive feeds extra power and elevates the clock speeds, but this starts to put us into territory where we're paying closer attention to temperatures, especially with the 24-core 3960X's 93C result.
Staying below 95C, even when overclocked, proves that you don't need to break the bank when budgeting for cooling of these 24- and 32-core processors. Our £120 Wraith Ripper did a solid job, but we'd wager that Noctua's £75 U14S TR4 would deliver equally stellar cooling.