Cinebench R15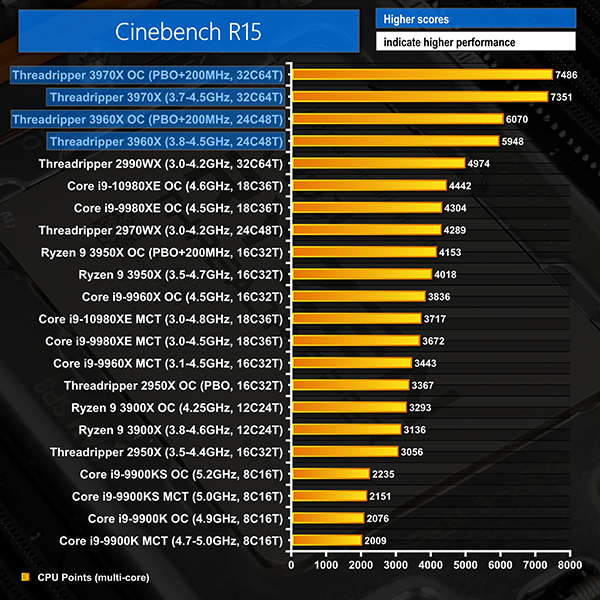 Starting off with Cinebench R15, we see AMD continue its highly competitive performance in well multi-threaded tile-based rendering software. Both the 3960X and 3970X set new levels of performance in this application, comfortably outperforming the best Intel and previous-gen AMD HEDT competitors.

Stock versus stock, the 32-core Zen 2 part outperforms its 32-core Zen+ predecessor by an impressive 48%. 24-core versus 24-core, the 3960X wins by 39%. These victories are driven by architectural improvements for Zen 2 and, more importantly, higher operating frequencies that the efficient 7nm process enables.
Versus Intel's $1000 flagship Core i9-10980XE, the stock versus stock performance lift is 60% for the 3960X and 98% for the 3970X. OC versus OC, AMD's new 24-core is now 37% quicker than Intel's i9 and the 32-core flagship is 69% better.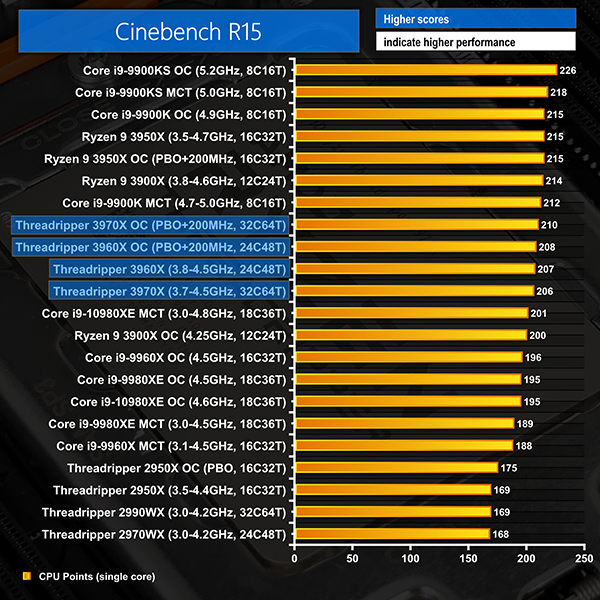 Single-threaded performance in Cinebench R15 is strong, just as we have seen with other Zen 2-based processors. AMD's HEDT chips are able to boost to 4.5GHz (or slightly higher when overclocked with PBO), allowing them to throw a reasonable clock frequency at the workload. The higher clocked Intel Coffee Lake and Ryzen 3000 mainstream processors still rule the 1T chart thanks to higher operating speeds.
Compared to previous generation Threadripper, the performance increase is substantial at 22-23%. The Cascade Lake-X is beaten but its stock operating mode puts up a decent fight thanks to the lofty 4.8GHz maximum boost frequency for this single-thread test.
Cinebench R20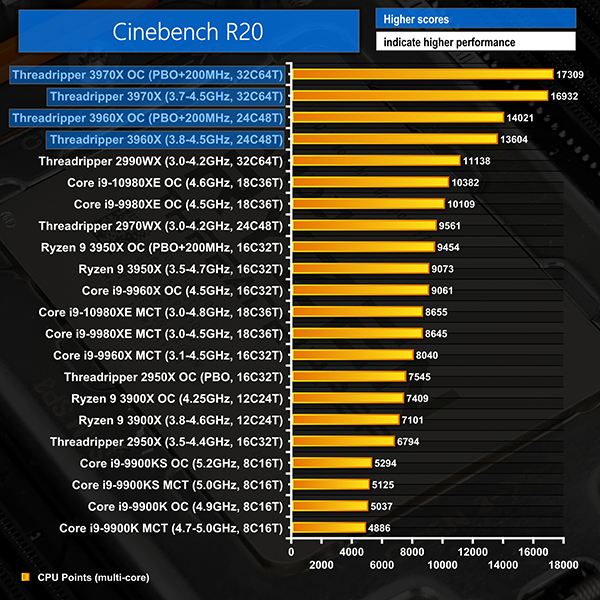 We see another performance demolition of the alternative processors by the new Threadripper parts in Cinebench R20. The 32-core 3970X hits almost 17,000 points out of the box, making it 52% faster than the 2990WX it replaces. The 3960X's lead over its 24-core predecessor is 42%.
Compared to the $1000 Intel i9-10980XE, the 40% pricier AMD 3960X is 57% faster stock versus stock and 35% better OC versus OC. AMD's 32-core flagship offers almost double the leading Intel Core i9 chip's performance out of the box. Worth noting is the solid fight that AMD's Ryzen 9 3950X mainstream chip puts up. Yes, the entry-level Threadripper 3000 chip is 50% faster but it also costs 87% more.
As a side note, our manual overclock to 4.25GHz with the 3960X netted a multi-core score of 14294 points, making it slightly faster than the PBO mode at the expense of power efficiency, stability concerns, and higher operating temperatures. That's not worth it, in our opinion, but you may disagree.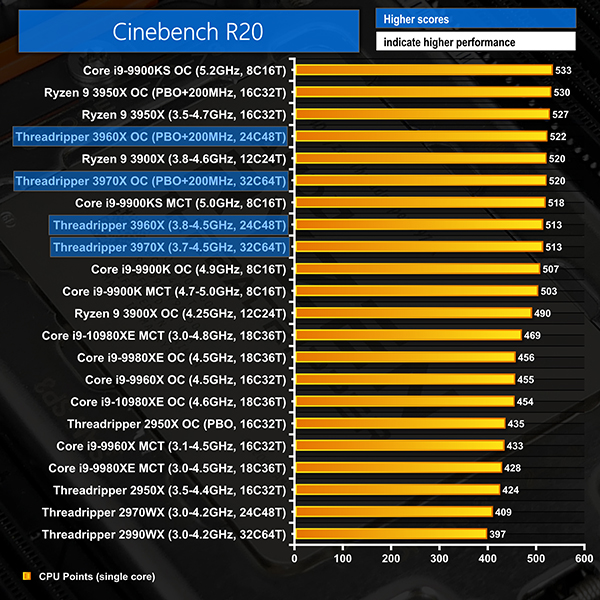 As we saw with R15, Cinebench R20 single-thread performance is strong with Threadripper 3000 thanks to the Zen 2 architecture and respectable boost frequencies. To beat out either of AMD's new HEDT flagships, you'll be looking at a highly clocked Ryzen 3000 AM4 processor or a 5GHz+ Coffee Lake chip. Even the Core i9-10980XE and its 4.8GHz maximum single-core clock speed is handily beaten by the new Threadripper chips. And the performance gap to last year's Threadripper Zen+ offering is significant.
As a side note, the manual 4.25GHz all-core overclock for the 3960X delivered 489 points, which is a significant decrease versus the stock and PBO results.
It is impressive to see these high core count parts offer market-leading performance in multi-threaded rendering workloads that is backed up by highly competitive single-threaded performance in Cinebench. We're so accustomed to choosing one or the other that it's almost bizarre to see the 24- and 32-core Threadripper processors so high in 1T testing charts. Precision Boost 2, combined with Zen 2, is clearly paying dividends.
Blender BMW Benchmark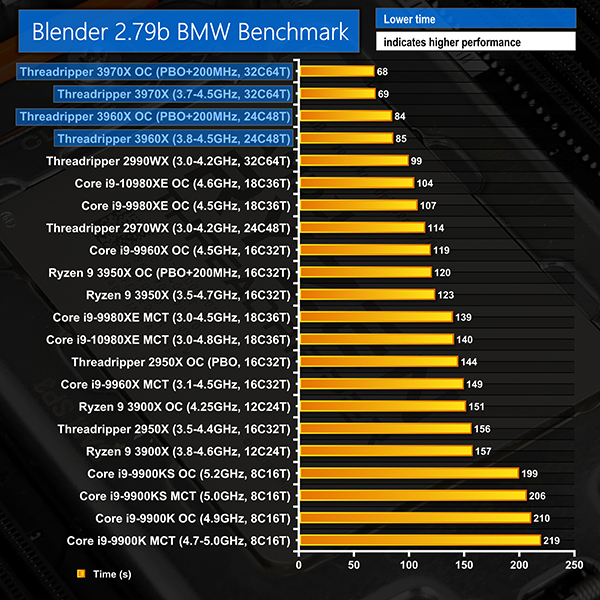 The 3970X takes top spot, beating its next closest competitor – the 24-core 3960X – by 19% stock versus stock (which converts to 23% higher performance). Generationally, the render time decrease from the 32-core 2990WX to the 32-core 3970X is a hefty 30 seconds or 30%. That converts into 43% higher performance for the 3970X. The 3960X's generational render time reduction versus its Zen+ predecessor is 29 seconds or 25%, which converts into 34% higher performance.
Compared to Intel's Core i9-10980XE, even the heavily overclocked Intel part cannot match AMD's Threadripper 3000 offerings, though AMD's chips are more expensive. The $1400 Threadripper 3960X is 39% faster than the Core i9-10980XE at stock, which spells 65% higher performance. That gap reduces to 19% when both chips are overclocked (which means AMD's 24-core is 24% higher performance). The flagship Threadripper 3970X delivers a render time just under half that of Intel's Cascade Lake-X flagship. Translate that into a numerical value and AMD's leader is delivering 103% more performance for its roughly 100% price increase.
If you do a lot of Blender rendering and make money from that work, AMD's Ryzen Threadripper 3000 processors may justify their hefty price tags by the unparalleled performance they offer.