With the Ryzen Threadripper 3970X, AMD has taken the performance crown in rather convincing fashion, beating out Intel's 18-core flagship in heavily multi-threaded, and even many lightly threaded, workloads. And the performance issues that made many potential buyers hesitant with last year's Threadripper 2990WX 32-core and 2970WX 24-core have been basically eliminated.
AMD's core chiplet and central IO die design for Zen 2 really has been a stroke of genius that has allowed performance to scale across the Ryzen 3000 and Threadripper 3000 lines, without the performance penalties previously seen for Zen+ Threadripper flagships. Even the $1400 24-core Ryzen Threadripper 3960X serves up hefty beatings for Intel's Core i9-10980XE in many workloads, albeit with a 40% price premium.
Put simply, Threadripper 3000 performs extremely well in tasks that can handle the large number of cores and threads. Tile-based rendering in Cinebench and Blender work superbly. Handbrake encoding for our x264 workload, where many cores can be leveraged, delivers strong performance. And the 7-Zip compression and decompression results are outstanding.
With that said, our Handbrake x265 and Adobe Media Encoder workloads show that there are still situations where it is difficult to leverage all 48 or 64 threads, even for what are generally perceived as demanding tasks. Situations such as this can be alleviated if you can stack work simultaneously, such as Handbrake converting your video to x265 whilst also exporting 4K YouTube content through Adobe Media Encoder. That's a smart use case for these high core count chips that are difficult to saturate with conventional workloads.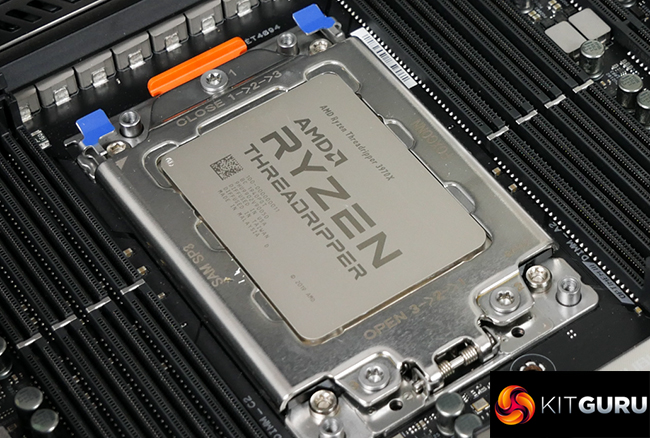 Precision Boost 2 means that both Ryzen Threadripper 3000 chips deliver most of their performance out of the box, provided you have a good motherboard and CPU cooler. Overclocking headroom is limited unless you have extremely high-end cooling, though Precision Boost Overdrive does deliver minor gains with very little downside.
Intel, however, still maintains an advantage when it comes to maximum frequency for all-core loads, and that's thanks to its refined 14nm process technology. Pushing the Core i9-10980XE to 4.6GHz allows it to offset some of its thread count deficit, and the high clock speeds prove beneficial in situations such as Handbrake video conversion, where not all of the cores can be completely utilised on Threadripper parts.
With that said, even at a lofty 4.6GHz clock speed, the Intel Cascade Lake-X flagship is realistically in a lower performance tier for workloads that utilise many threads efficiently.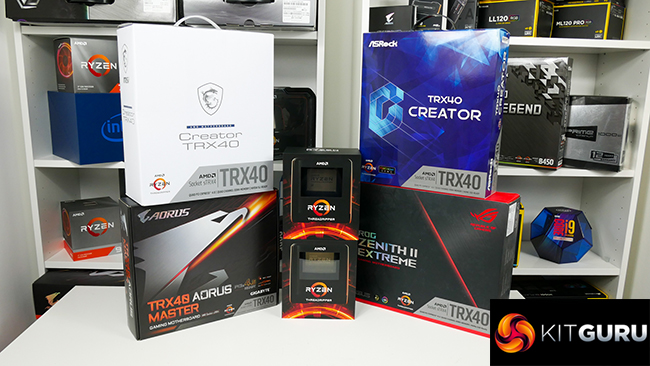 AMD's transition to a new socket will, no-doubt, annoy users who have invested heavily in an X399/TR4 motherboard. However, the sTRX4 socket is brought online to allow for the platform to scale to 64 cores in the near future and to provide elevated TDPs that minimise the constriction of Threadripper 3000 boost clocks. You also get the improved PCIe Gen 4 8-lane pipe to the feature-heavy TRX40 chipset, and I would expect the backwards compatibility headaches seen with Ryzen 3000 on AM4 to be avoided by launching new motherboards for Threadripper.
Yes, it's highly annoying that buyers will need to lay out more cash on an expensive TRX40 motherboard, especially when Intel's X299 HEDT approach is a stark contrast. But I feel that the aforementioned reasons are worthy of the compromise to one's wallet. This isn't a change of platform for the sake of it – you're getting more performance and functionality from a new motherboard and the new platform.
Threadripper and the TRX40 platform is expensive and AMD knows it. AMD is offering extreme compute performance via ludicrous high core count parts that Intel's HEDT platform cannot compete with, so AMD prices the platform accordingly. TRX40 with Threadripper 3000 is clearly the most premium HEDT/workstation platform. It's not cheap, but if you need or can justify the compute performance, memory support, and superb IO capability, Intel's HEDT competition cannot really compete even with more aggressive pricing for X299.
If time really is money for your demanding, heavily multi-threaded workloads, AMD's new Threadripper 3000 processors are the best options on the market.
The MSRP for the 24-core Ryzen Threadripper 3960X is set at $1399 USD, which AMD has confirmed should be £1349 in the UK. The MSRP for the 32-core Ryzen Threadripper 3970X is set at $1999 USD, which AMD has confirmed should be £1899 in the UK.

Update: the 3960X is now available to pre-order for £1349.99 HERE, and the 3970X is available to pre-order for £1889.99 HERE.
Discuss on our Facebook page HERE.
Pros:
Extreme multi-threaded performance.
High single-core performance.
Lofty all-core frequencies out of the box, thanks to Precision Boost 2.
Plentiful PCIe Gen 4 connectivity.
High-bandwidth CPU-to-TRX40 chipset link.
Reasonable power consumption and operating temperatures.
Strong power efficiency.
A whole new tier of HEDT/workstation performance to users who require it.
Cons:
Expensive, even in light of the performance on offer.
Some people will be disappointed by no TR4/X399 backwards-compatibility.
KitGuru says: AMD's Ryzen Threadripper 3970X and 3960X are clear market leaders and are basically unmatched in terms of heavy multi-threaded compute performance. If you have demanding multi-threaded workloads where higher performance will bring you better outcomes, whether that's more free time or increased profits, AMD's Ryzen Threadripper 3000 CPUs are exactly where your purchasing radar should be focussed.
Be sure to check out our sponsors store EKWB here