Cinebench
We used the 'CPU' test built into Cinebench R15.
Cinebench is effectively optimised to scale its workload across a CPU's threads. The benchmark also shows noticeable scaling with clock frequency and cache size.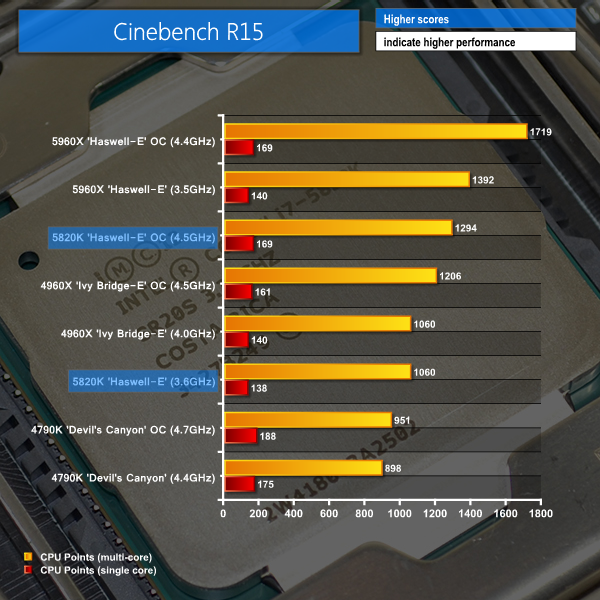 Super Pi
We used the 32M test in Super Pi to analyse single-threaded performance.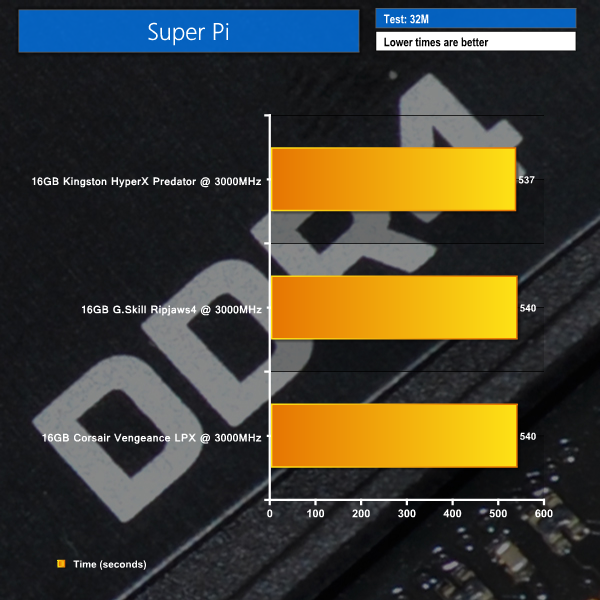 Handbrake Conversion
We measured the average frame rate achieved for a task of converting a 4.36GB 720P H.264 movie (in the MKV container) to one in the MP4 container.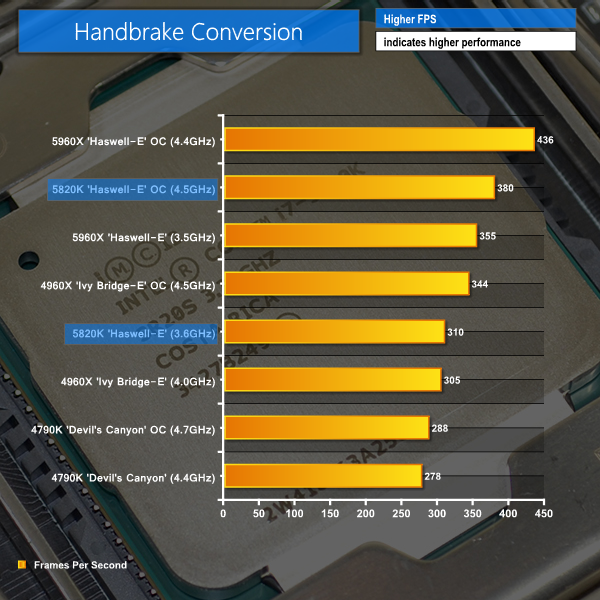 At its 3.6GHz MCT speed, the twelve-thread 5820K performs almost identically to IVB-E's flagship in Cinebench. Overclocked to the same frequency as our 4960X, and the Haswell micro-architecture shows its underlying improvements with performance gains in the single- and multi-threaded tests.
The 5820K outperforms a 4790K by about 18% in the stock multi-threaded test – a lead that extends to 36% when both chips are overclocked. High clock speed and fast, low-latency memory keep the Devil's Canyon chip out in front for the single-threaded test.
A low CPU clock speed and loose timings for its 2400MHz DDR4 hinder the 5820K's performance in Super Pi. Overclocking the chip to 4.5GHz does help it leapfrog the 4960X and 5960X flagships, but Devil's Canyon's speedy clock rate and high performance DDR3 keep it cemented to the top two positions. The 4790K is about seven-and-a-half percent faster than the 5820K when both are overclocked.
Handbrake's media conversion workload loves threads, speed, and cache, so it comes as no surprise to see Haswell-E chips leading the pack (excluding the stock-clocked 5820K). Two additional cores and 7MB more cache combine to overcome the 0.8GHz frequency deficit and give the stock-clocked 5820K an 11.5% performance lead over the reference 4790K.
Overclocking both chips extends the six-core Haswell-E part's lead to an impressive 32%. That means you can add a third onto the conversion time of your game and holiday videos when using an overclocked 4790K, as opposed to the 5820K.
The underlying story from our CPU-heavy tests is that an overclocked Haswell-E 5820K is considerably faster than a frequency-boosted 4790K in multi-threaded workloads. At stock speeds, the performance difference depends on a software suite's preference between cores/cache and frequency. And when (in reality, if) the CPU-centric workload relies on single-threaded performance, Devil's Canyon's fast clock rate should not be overlooked.