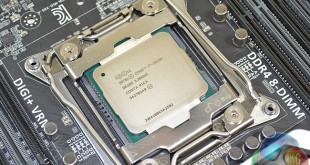 There's an interesting point in the processor market and that is the position right where many enthusiasts will draw a line when buying their shiny new chip. While the octa-core, £770 Core i7 5960X is an undeniable powerhouse, it is also considerably past the budget threshold of many consumers. The core-trimmed 5930K helps reduce that asking price below half-a-grand, but at £440, it's still a considerable investment in its own right.
That brings us on to the six-core 5820K and its £300 asking price. Three ton is still a sizable amount of money to drop on a processor, but it does mark a price-point that is reachable for a wider enthusiast audience, as has been proven in many previous CPU generations. Interestingly, its £300 availability puts the Haswell-E 5820K £40 above the price tag of mid-range Haswell's desktop flagship – the Devil's Canyon 4790K. We investigate if that 15% cost increase buys the LGA2011-3 5820K a worthwhile performance benefit.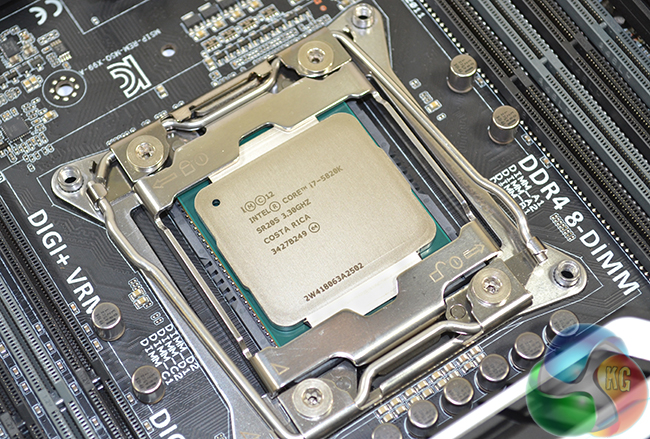 When Intel introduced the Ivy Bridge-E 4820K in September 2013, it was an interesting launch into the market. That 'K' suffix represented the first time in recent memory (we're talking pre-Bloomfield) that Intel's entry-level High-End Desktop (HEDT) processor shipped with an unlocked multiplier.
One feature alone was enough to make the chip a far more valuable proposition than its multiplier-locked predecessor. Four cores versus six on all other HEDT parts was, perhaps, the 4820K's critical flaw, not to mention strong competition from the already-released mid-range Haswell processors.
Skip forward twelve months and Intel has stepped up competition another notch by producing the entry-level Haswell-E 5820K with six hyper-threading cores. There's clear daylight between the six-core 5820K and the mid-range 4790K and its four Haswell-powered cores.
Clearly, one of the key features that 15% cost increase buys is two extra cores, but there's also an extra 7MB of cache to offset the 0.7-0.8GHz stock-clock compromise.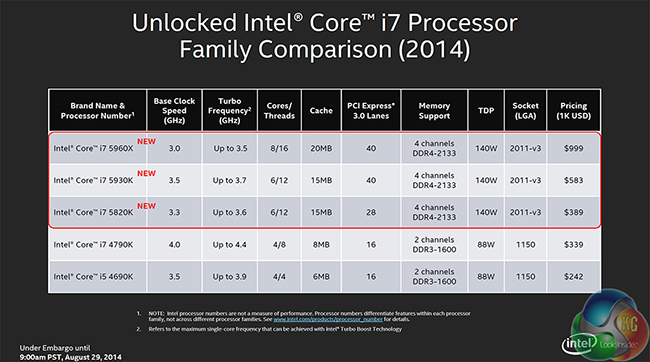 Two other critical differences come in the form of memory and PCIe connectivity. Haswell-E, and therefore the 5820K, supports quad-channel DDR4 memory, whereas the LGA1150-based 4790K utilises DDR3.
At the moment, support for the former is more of a hindrance than a benefit, with its availability still limited and pricing high. But production rates will ramp up, forcing prices down and module performance (most simplistically from speed increases) in the right direction.
Secondly, the 5820K provides 28 PCIe 3.0 lanes, as opposed to the 16 offered by the 4790K and other LGA1150 chips. That's a positive to gamers who want to use more than two graphics cards, or perhaps high-speed PCIe storage which triggers a bandwidth conundrum on many Z97 motherboards.
Three graphics cards running at PCIe x8 bandwidth (which gives a small performance hit in most games from our previous testing), in addition to a PCIe 3.0 x4-fed SSD capable of 32Gbps transfers, are supported by the 5820K's lanes.
A less relevant (to many gamers and enthusiasts) difference comes from the LGA1150 part's on-board graphics chip which provides display capability. None of Intel's HEDT processors feature display output capacity but, ignoring QuickSync functionality, this is unlikely to concern a market audience that is highly likely to exploit the performance of a discrete graphics card.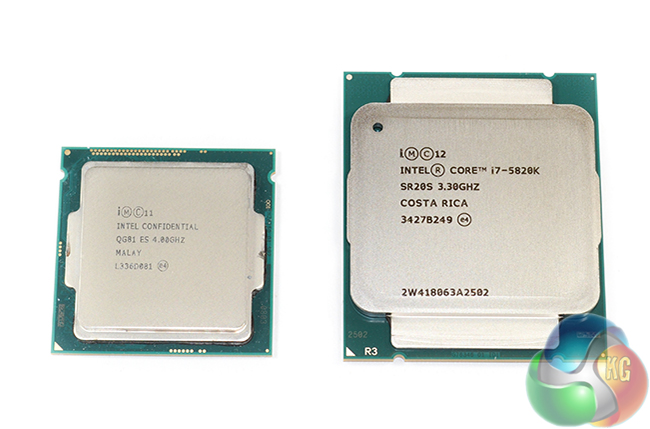 Arguably the biggest deterrence for a six-core 5820K-based system is the overall HEDT platform cost. We have already mentioned the expense of DDR4, which currently retails starting at £150 for an entry-level 16GB kit or £200 upwards for high-clocked modules with fancy heatsinks. Start at about £250 if you want something that gives fast (and commonly available) DDR3 kits a run for their money. And don't forget to reserve at least £160-200 for an entry-level, albeit feature-filled, X99 motherboard.
Conversely, it is not difficult to fit 16GB of high-speed DDR3 and a feature-heavy Z97 motherboard within a £300 budget. Constricting that to £250 isn't difficult either, provided motherboard features and memory speed can be compromised (as they are, to an extent, with our 5820K reference).
With a (roughly) £650-700 buy-in for the 5820K-based system, as opposed to about £500-550 for a comparable (motherboard and memory) 4790K alternative, the real question we find ourselves asking becomes; "is that extra £150 spend worth it?". What better way to find out than with a batch of speed, overclocking, and operational tests?