Bioshock Infinite
We used the Bioshock Infinite demanding 'Ultra' setting and a 1920×1080 resolution to push today's hardware. Our data was recorded using a section of the game, not the built-in benchmark.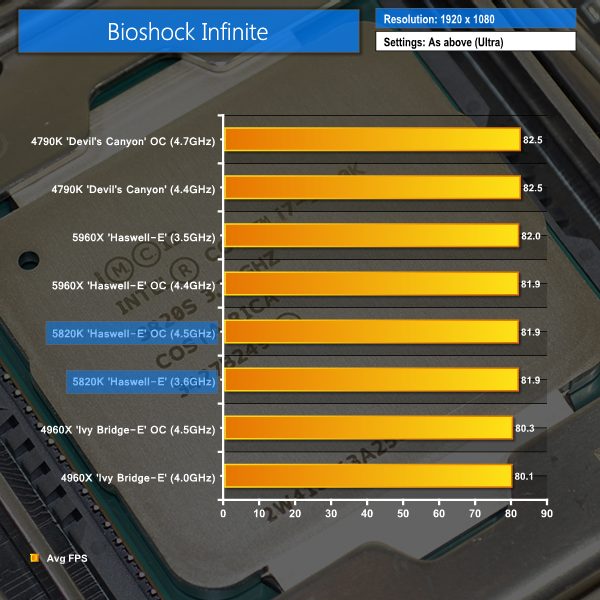 Metro: Last Light
We used a 1920×1080 resolution and the Metro: Last Light built-in benchmark set to 'High' quality to offer an intense challenge for the hardware while also making playable frame rates a possibility.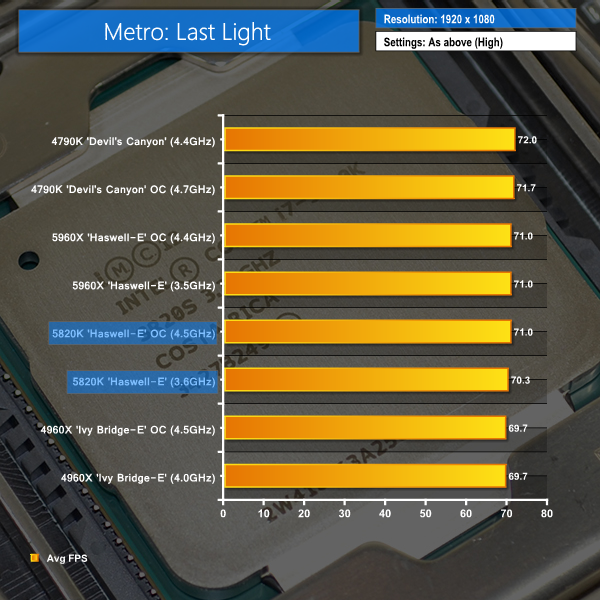 Tomb Raider
We used a 1920×1080 resolution and the Tomb Raider built-in benchmark set to 'Ultimate' quality.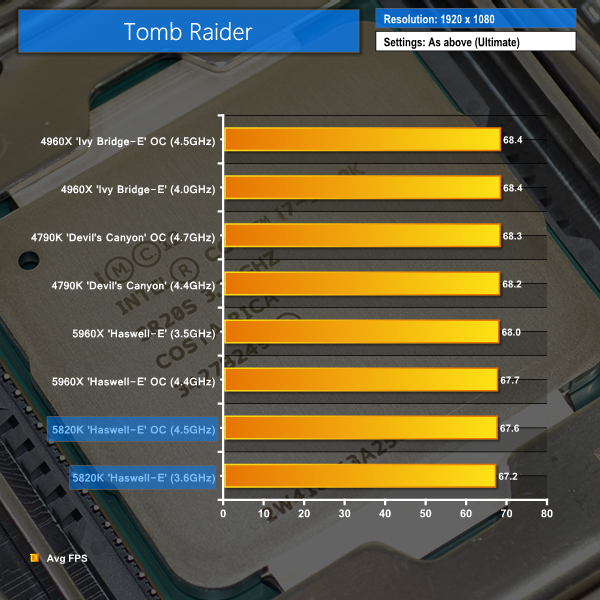 Our gaming tests all use a 1920×1080 resolution for the purpose of a realistic usage environment. While the 2 Megapixel image being rendered weighs heavily on GPU performance (almost negating CPU specification advantages in many cases), anything lower than 1920×1080 is simply non-representative of a gaming environment likely to be used with these chips.
In all honesty, an even higher test resolution would have been justifiable, given the processing power on show. The deciding factor was the 1920×1080 resolution's unparalleled market share, which dwarfs all other pixel configurations.
Be it at stock or overclocked speeds (which are both very close), the Devil's Canyon 4790K takes both top spots in the Bioshock Infinite and Metro: Last Light gaming tests. This is still difficult to explain, especially with the Haswell-E parts offering similar frequencies (when overclocked) and more cores and cache.
My best attempt at an explanation would be that the Z97 platform is to thank for minute frame rate differences. The back-to-back results for each chip in its stock and overclocked state acts as additional validation for the beneficial platform point.
Our data would suggest that Tomb Raider rewards greater memory performance with a few extra tenths of a frame. The high-latency DDR4 systems drop to the bottom spots, while Ivy Bridge-E and Devil's Canyon's fast and tight DDR3 kits give them the extra fractions needed for top-half finishes.
With all that said, the grouping for Haswell-powered processors remains within a tight ~0.7% for Bioshock Infinite, ~2.4% for Metro: Last Light, and ~1.6% for Tomb Raider. If you are only concerned with gaming, and do not need more than two-way SLI or CrossFire, the money saved by purchasing a 4790K will be better spent on increased graphics horsepower. We are hoping to look at other resolutions in the future to see if that suggestion remains consistent.