3DMark
We used 3DMark's 'Fire Strike' benchmark which is designed to be used on gaming PCs. We opted for the Normal setting, NOT the Extreme mode.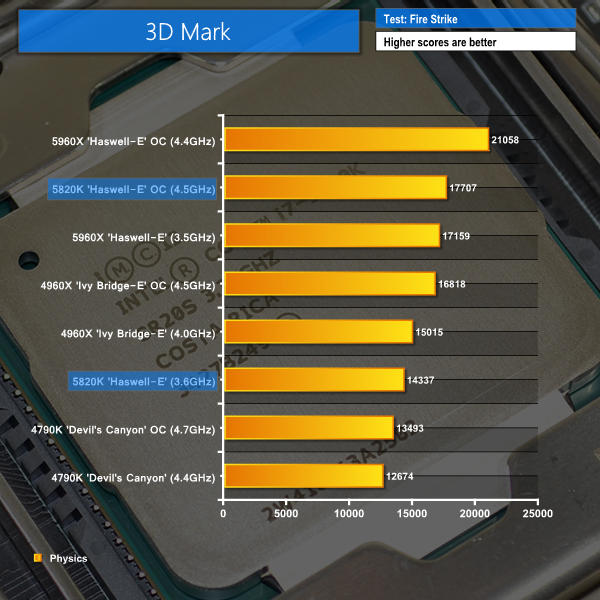 PCMark 8 v2
We used the 'Home' test in PCMark 8 v2 to analyse the general-usage performance of each processor configuration.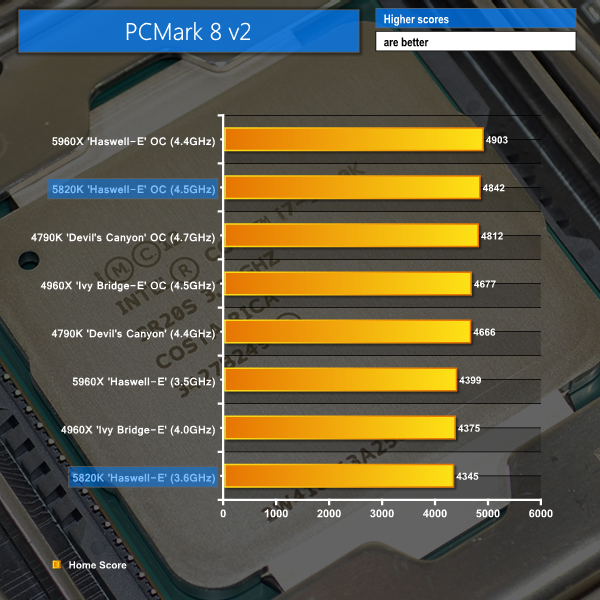 WinRAR
WinRAR's built in benchmark and hardware test can help us outline the performance differentials between each processor configuration. We record the amount of data processed after a 30-second run.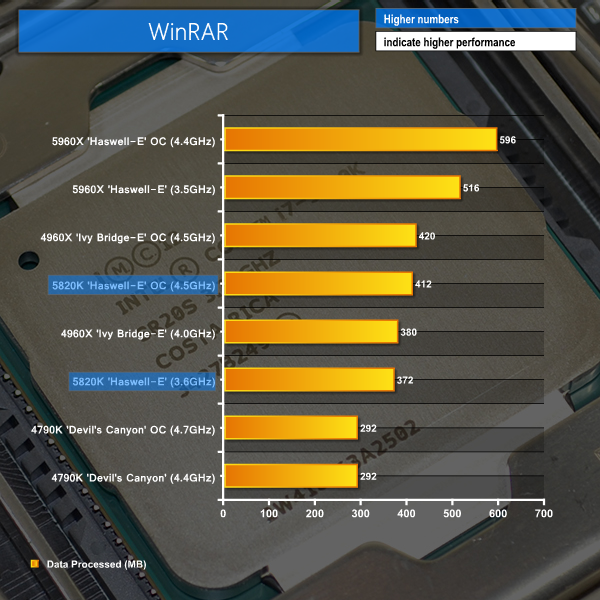 The Physics test in 3DMark shows a balanced fondness for cores, cache, and clocks. Micro-architectural advantages also weigh in on the scoring metric. Devil's Canyon's high operating frequency keeps it to within 2000 points of the stock-clocked Haswell-E hexa-core.
When both chips are overclocked, the 5820K pulls away from the Devil's Canyon part, opening up a 31% performance advantage over the quad-core.
PCMark 8 v2 seems heavily weighted towards processor frequency, with core count also showing some influence in the scoring. Devil's Canyon's high clock speeds, even at stock parameters, garner it solid results in the test. It takes a sizeable frequency boost for the 5820K to turn its 321-point stock vs stock deficit, against the 4790K, into a 30-point OC vs OC lead.
That said, other factors, such as SSD speed and memory performance, are also weighted in the PCMark 8 v2 scoring procedure, so these results should be interpreted with care.
Cores are the biggest deciding factor for WinRAR's archival performance. The reference-clocked, twelve-thread 5820K stamps its authority with a 27% performance advantage over the stock 4790K. Overclocking the Haswell-E hexa-core extends that lead to 41%.
That number is a little superficial due to WinRAR's inability to take advantage of 300MHz added onto the 4790K's already high clock speed (in our batch of repeated testing, at least). Lower memory latencies edge the 4960X in front of the 5820K when both chips are overclocked.