To answer our earlier question comparing a 5820K-based system to one built around the 4790K, 'is that extra £150 spend worth it?', I would reply with a 'yes'. Of course, that statement is open to interpretation, and it is heavily dependent upon your usage requirements. But I do feel that the extra performance offered by the 5820K in CPU-related environments is worth the ~30% higher buy-in price over Devil's Canyon's flagship.
At stock speeds, the six-core 5820K outperforms the 4790K's four cores in heavily threaded workloads. When clock speed is of greater importance, the 4790K struts its 4.4GHz stock (MCT) frequency into higher performance territory.
Stock-clocked gaming is consistently faster on the 4790K (albeit by a small margin), but that is also due to other factors, such as platform benefits.

With both chips overclocked is where the most meaningful comparison starts. Devil's Canyon can only push up to a handful of multiplier ratios past its 4.4GHz maximum turbo frequency. On the other hand, our (and many across the web) 5820K sample was able to push almost 1GHz above its highest stock clock.
With the two chips' frequency gap narrowed to 200MHz, the extra cores and cache of Haswell-E allow the 5820K to consistently outperform a 4790K in tests that leverage CPU performance.
If you're interested in video conversion, media creation, or file management, an overclocked 5820K system will net you performance improvements in the region of 30-45%, against an overclocked 4790K. 1920×1080 gaming performance, however, shows little care for CPU performance, making a 4790K-based system a solid choice for a gaming machine.
There is the caveat of extra heat and power to contend with when using an overclocked Haswell-E system. Corsair's H100i CPU cooler was forced to run at full fan speed (which is loud) to keep our 5820K sample below 80°C when it was fed 1.28V. Power usage for our overclocked 5820K system passed the 300W mark with a CPU-only load, which is about 100W higher than an overclocked 4790K-based setup.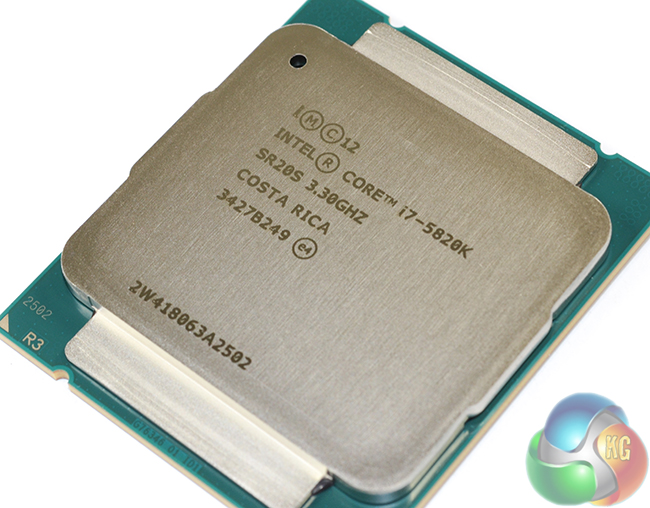 I think that technology is a big deciding factor for purchasing a 5820K-based Haswell-E system over a 4790K alternative. Intel's latest-and-greatest HEDT chips make use of DDR4 memory which, while currently experiencing a turbulent life-cycle introduction, is the future past DDR3. Frequencies on forthcoming (and current but expensive) modules will be high enough to offset DDR3's latency benefits.
And then there's the promise of a simple upgrade route. If a 5820K is not up to your standard in a few years time, you can simply go shopping for a drop-in replacement in the higher-end Haswell-E parts (or perhaps their successors, socket dependent).
With the 4790K, there is no upgrade route without switching to Intel's HEDT platform or a future mid-range chip. Either of those routes will require a new motherboard and DDR4 memory.
While on the topic of future compatibility, the 28 PCIe 3.0 lanes offered by Intel's 5820K are beneficial. Even if you do not require support for three graphics cards (which most people don't), the PCIe connectivity is useful for future devices, especially high-speed storage. Fast, PCIe 3.0-fed SSDs can be used without hassle on the X99 chipset, whereas that application discontinues SLI or high-bandwidth CrossFire support on Z97.
I actually think that the entry-level, £299.99 5820K is the best processor in Intel's current Haswell-E line-up. While the eight-core 5960X is nice, its eye-watering £770 price tag is questionable if money is finite. And I, personally, do not see the requirement to spend £140 more on the 5930K for 12 extra PCIe lanes and a 100MHz stock clock increase, unless you absolutely must have a pair of PCIe 3.0 x16 lanes for your graphics cards or need 4-way CrossFire/SLI.
We are by no means saying that the 4790K is a negative product – it offers strong performance on an affordable platform and has its place in the market. But if you are currently considering a system based around the LGA 1150 Core i7 flagship, the extra expenditure to get onto Intel's HEDT platform via the Core i7 5820K should be given serious consideration.
Computational performance benefits and an arguably more promising platform future are just some of the reasons to give the 5820K serious thought.
Discuss on our Facebook page, over HERE.
Pros:
Excellent multi-threaded performance.
Underlying capability of Haswell micro-architecture.
Strong overclocking capacity.
Enough PCIe lanes for three-card SLI/CrossFire and a PCIe 3.0-based SSD.
Works with high speed DDR4 memory modules.
Very competitively priced.
Cons:
Stock-clocked performance limited by 3.6GHz maximum speed.
X99 platform buy-in price is high.
KitGuru says: Intel has struck an excellent balance with the Core i7-5820K, making it what I consider to be the most attractive Haswell-E option currently available. A six-core, hyper-threading, Haswell-based processor for £299.99 represents excellent value for money.