We measured the idle temperatures and power consumption levels with the system resting at the Windows 7 desktop.
Processor temperature and the power consumption of our entire test system (at the wall) is measured while loading only the CPU using Prime95′s in-place large FFTs setting.
Asus' AI Suite 3 software delivered contradictory readings that were sometimes as much as 10°C lower than CPUID's HWMonitor. We opted for HWMonitor's 'worst-case scenario' readings as a safety measure.

Temperatures
Temperature recordings were taken with the Corsair H100i CPU cooler's fans running at full speed. Ambient temperature was maintained at a toasty 23°C.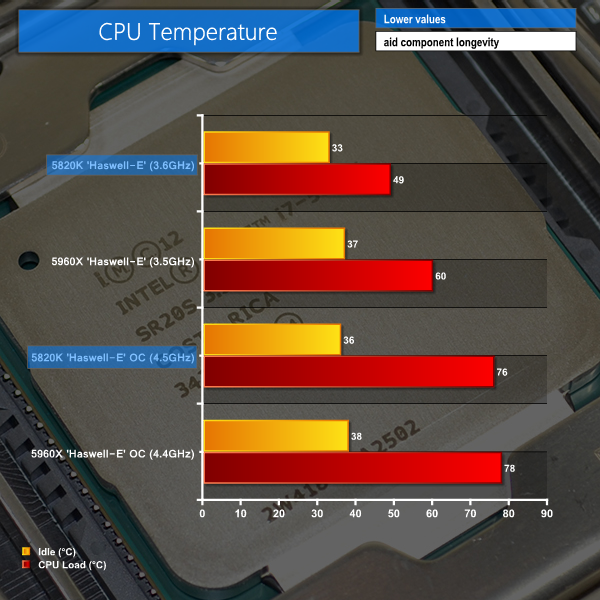 The low – 1.064V – multi-core turbo (MCT) operating VCore on Asus' X99-A motherboard gives the 5820K impressive thermal numbers at stock speeds. If you are not going to push any further than the 3.6GHz MCT frequency, your CPU cooler choice can be constricted to the budget section of the market (something like a Cooler Master Hyper 212 Evo would probably be fine).
Increasing the voltage and clock speed, unsurprisingly, causes a large jump in the processor's load temperature. Our Corsair H100i running at full fan speed was able to keep our 5820K sample at 76°C when fed with up to 1.28V, but the noise level was highly intrusive.
Backing down the fan speed to a more bearable level would cause the chip to pass the 80°C mark.
We ran a brief test with the chip pulling in 1.325V and saw the temperature quickly shoot towards 90°C when a Prime95 load was applied. If you plan on running the VCore at more than 1.325V, full-blooded watercooling should be given serious consideration. But do bear in mind that the silicon lottery also affects a chip's operating temperature.
Power Consumption
We must note that the Haswell-E systems were housed inside an NZXT Phantom 630 chassis with three case fans. The 4790K and 4960X were tested in an open-air environment hence the powering of fans was not required.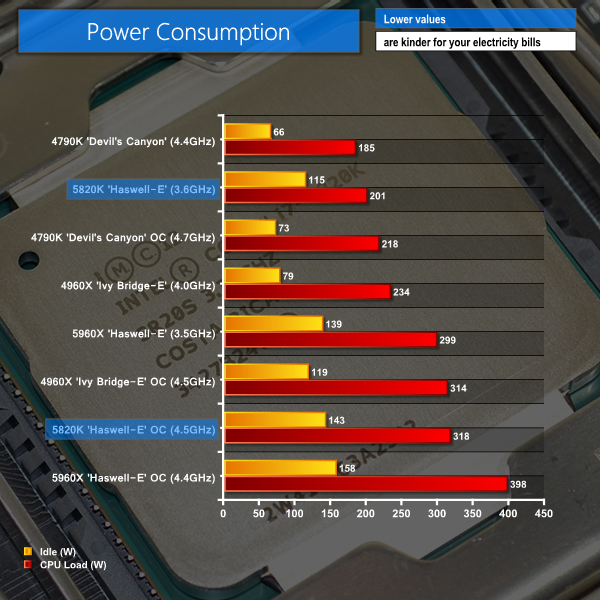 Stock (MCT) power consumption for the 5820K is particularly positive. Ignoring the high idle power consumption (which is largely a trait for the Asus X99 motherboard versus IVB-E and Devil's Canyon's MSI alternatives), the six-core Haswell-E chip shows promising load energy usage for such a high-performance part.
Cranking the voltage level is when Haswell-E shows its affection for energy. Load power usage for the 5820K increases by 58% when an additional 0.21V (and increased accompanying voltages) is fed through the chip. With the system pulling 318W from the wall when at full CPU load (and a completely idle graphics card), the importance of a high quality power supply is not to be underestimated when running an overclocked Haswell-E processor. High current on the PSU's 12V rail is also crucial in maintaining sufficient power delivery through the hard-working 8-pin EPS connector.
For the sake of comparison, the overclocked 4960X using a 1.425V VCore was able to pull less power than the voltage-boosted Haswell-E chips. Reports on the web have also shown that the VRM power losses on X99 motherboards are high, and we would not disagree (nor would my surprised index finger) after reading (and feeling) a 70+°C VRM temperature for Asus' loaded X99-A motherboard.