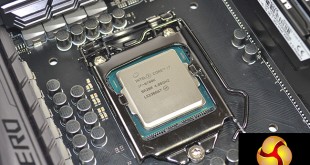 While Intel's High-End Desktop (HEDT) CPUs are fast and fun, it's on the mainstream platform where the chip manufacturing company really shifts volumes to gamers and DIY enthusiasts. Multiplier-unlocked Core i5 and i7 variants of the latest mainstream micro-architecture are the popularity champions on an annual basis; an affordable platform with good enough gaming and general performance from the CPUs translates into a recipe for success. Intel's latest-and-greatest in desktop CPU technology – Skylake – aims to continue that trend, but this time with a platform that is designed to drive the market forward.
Given that Broadwell was so late and, quite frankly, unpopular on the DIY builder scene, let's compare specifically to the Haswell-based predecessors (which includes Devil's Canyon chips). Skylake offers a process node shrinkage from 22nm to 14nm and sprinkles a new architecture into the pudding. The multiplier-unlocked i5 and i7 Skylake CPUs are still largely similar to their Haswell predecessors, however there should be an IPC improvement if Intel has crunched the numbers correctly.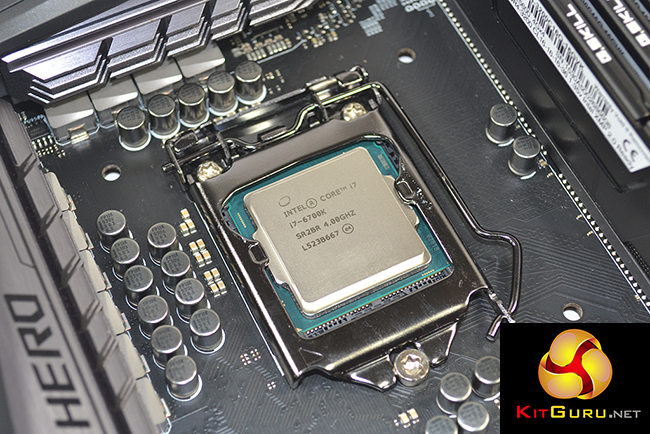 Intel hit somewhat of a recent sweet spot with last year's Devil's Canyon CPUs. High out-of-the-box clock speeds and consistent overclocking gains, tied in with a feature-healthy platform, made up for the relative disappointment that many people had with the initial hot and hard-work Haswell CPUs. Why is that important to Skylake? Because Intel has applied the same logic to its processor launch party.
But there's a lot more to the current situation than just the newly-released CPUs. Windows 10 has been met with open arms and there's also the promise of better utilisation of CPU horsepower with DirectX 12 once the first few games using the new API trickle to market this fall. SSD cost-per-GB ratios are lower than ever before and the same can be said for DDR4, which is now as closely priced to DDR3 as it has been since last year's inception of the memory technology.
Those factors are critical in driving the keenness of many DIY system builders to upgrade their 3+ year-old platform to something more in line with today's requirements. And that's where Intel is trying to cash-in with Skylake. But to reap the rewards of eager builders, performance has to be enough to tempt users away from their ageing, but possibly still satisfactory, platform.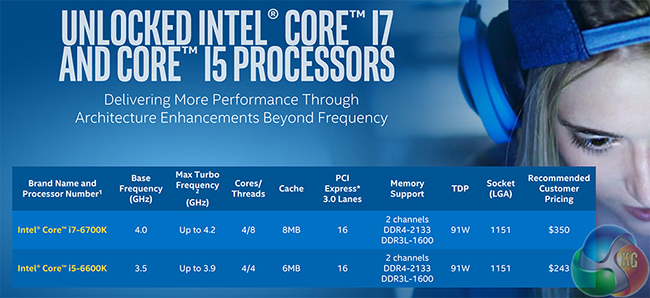 As a testament to the company's gaming focus, or so Intel suggests, the Skylake launch party consists of a pair of gamers' favourite SKUs. The supporting cast of desktop and high-performance laptop chips are expected to follow in the coming months.
Starting with the flagship Core i7-6700K, Intel dishes out a base frequency of 4.0GHz on all four hyper-threading cores with a maximum boost clock speed of 4.2GHz. That's the same base speed but a 200MHz boost deficit when comparing to the Devil's Canyon 4790K. There's the 8MB of cache that has become commonplace for Intel's mainstream unlocked Core i7 SKUs, and the chip commands a 91W TDP.
Switching focus to the Core i5-6600K, the comparison to last year's Devil's Canyon i5 becomes a lot closer. Base frequency is rated at 3.5GHz across all four cores with a maximum turbo speed of 3.9GHz. Factor in the 6MB of cache and the CPU's three main characteristics are identical to those for the i5-4690K.
With 91W TDPs, the chips' power consumption numbers are up 3W over the Devil's Canyon comparisons even though the process node has been switched to 14nm transistors and maximum clock speed is down by 200MHz for the i7. We asked Intel why this was and the somewhat hesitant indication was that the higher-performance on-chip GPU commands more power.
Dual-channel memory is supported, but this time in DDR3L and DDR4 types. More on that later. There's still the same set of sixteen PCIe 3.0 lanes built into the CPU. Skylake processors use an entirely new LGA 1151 socket, making them incompatible with previous generation motherboards. We will explain Intel's mindset on the constant demand for new sockets on the next page.
Retail pricing is almost identical to the Haswell and Devil's Canyon unlocked i5 and i7 SKUs. Expect the i5-6600K to sell for around £190-210 and the i7-6700K for around £290-320.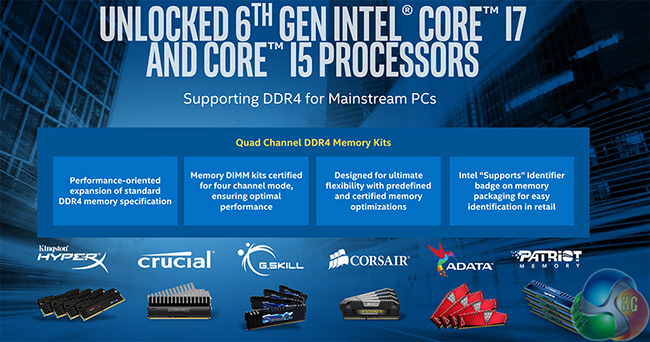 One of the biggest advancements brought to the table by Skylake is the introduction of DDR4 memory support to the mainstream platforms. Since August 2014, desktop-grade DDR4 has only been useful to consumers who invested in the more expensive X99-based HEDT platform. With the new memory technology being introduced to mainstream desktop platforms, the surge in demand should help to drive prices southwards.
In short, DDR4 has significantly greater operating frequencies than DDR3 but with a penalty of higher latency. The 288-pin DIMMs operate at a lower voltage than is standard for DDR3 (1.20V vs. 1.50V) and support higher capacity chips, such as the 16GB sticks currently available.
All of the major memory vendors have DDR4 kits available for Skylake's launch. Corsair and G.Skill, for example, have 3200MHz 16GB (4x4GB) kits available, spelling some of the highest-speed sets of memory that we have seen on general sale to date.
Perhaps to ease the upgrade cost to users jumping from an older platform, Skylake CPUs retain support for DDR3 memory in its low voltage – 1.35V – form. Intel and motherboard vendors are keen to push consumers towards DDR4 memory, but we have seen talk of some Z170 motherboards supporting DDR3. We haven't yet had a chance to examine DDR3L memory support for Skylake, but we are told that the 1.35V ceiling is pretty much fixed, so the chosen memory sticks must be able to operate at the lower-than-standard level.
This reminds me of the time when we were all told that 1.65V DDR3 would damage Sandy Bridge processors and 1.50V kits should be purchased. Nothing came of that, and 1.65V DDR3 memory proceeded to function correctly with Sandy Bridge CPUs, so it will be interesting for us to take a closer examination of Skylake's DDR3 support in a future article.
Without hesitation, let's take a closer look at the Skylake processors and the platform features.
Features (Core i7-6700K):
4.0GHz base frequency (up to 4.2GHz turbo frequency).
Unlocked core ratio multiplier.
Full range of BCLK tuning with 1MHz granularity.
4 cores, 8 threads.
8MB Intel Smart Cache.
Dual-channel DDR4-2133MHz and DDR3L-1600MHz native memory support.
16 PCIe 3.0 lanes.
Intel HD 530 GPU (1150MHz).
91W TDP.
LGA 1151 socket.
$350 recommended customer pricing.
Features (Core i5-6600K):
3.5GHz base frequency (up to 3.9GHz turbo frequency).
Unlocked core ratio multiplier.
Full range of BCLK tuning with 1MHz granularity.
4 cores, 4 threads.
6MB Intel Smart Cache.
Dual-channel DDR4-2133MHz and DDR3L-1600MHz native memory support.
16 PCIe 3.0 lanes.
Intel HD 530 GPU.
91W TDP.
LGA 1151 socket.
$243 recommended customer pricing.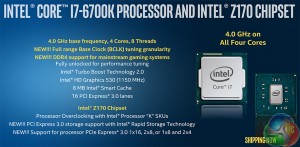 While the slide specifically references the Core i7-6700K, many of its points are true for the Z170 platform as a whole.
One of the key differentiators when it comes to overclocking is that Intel has decoupled the CPU BCLK and the PCIe clock for Skylake. With Sandy Bridge's 2011 introduction, Intel effectively locked down the BCLK and prevented its overclocking capacity. This gave users a very limited freedom (typical less than 8%) to adjust the BCLK, forcing reliance upon the CPU core ratios for overclocking. Intel has been a little more open about BCLK adjustments in recent generations – the 100MHz, 125MHz, 167MHz BCLK straps for Haswell and Ivy Bridge-E were useful.
Skylake's clock decoupling allows full adjustment of the CPU BCLK without having a negative effect on other system components. There's a full range of capabilities with 1MHz increments, which means that good 'ol fashioned BCLK overclocking is well-and-truly back. Some of the older overclockers accustomed to Intel's pre-Sandy Bridge platforms will be glad to see the return.
And to those who have delved into the scene of overclocking since the release of Sandy Bridge, the straightforward core ratio overclocking procedure still exists thanks to an unlocked multiplier for K series SKUs.
The Core i7-6700K uses Intel's HD 530 on-chip GPU. We do not actually have much information relating to the GPU, although we know that it is clocked at 1150MHz and is likely to be faster (and consume more power) than Devil's Canyon's iGPU. We aren't going to focus on iGPU performance today as the vast majority of gamers and enthusiasts will be opting for a dedicated graphics card.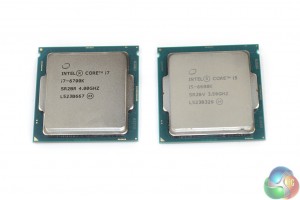 Another of the key differences when it comes to CPU operation is that Intel has pulled the on-chip voltage regulator (known as the Fully-Integrated Voltage Regulator, or FIVR for short) out of the CPU and handed this control back to motherboard manufacturers. This removes the requirement for a separate input voltage that drives the FIVR and therefore simplifies overclocking by removing one of the voltage settings.
Unlike the HEDT chips, Intel's mainstream CPUs, Skylake included, utilise Thermal Interface Material (TIM) rather than solder to bond the CPU die and heatspreader. This manufacturing method reared its ugly head with the initial Haswell CPUs which suffered from high operating temperatures due to the limited heat transfer capacity of the TIM and heatspreader/die bond.
Intel fixed the Haswell problem by implementing its Next-Generation Polymer Thermal Interface Material (NGPTIM) on Devil's Canyon, which resulted in a temperature decrease of more than 10% in our testing. That still doesn't deviate from the point that any form of polymer TIM is, almost certainly, less thermally conductive and effective than the solder that HEDT chips use.
With that said, we would hope that the shrink to 14nm transistors and lessons learned with Devil's Canyon will help Skylake to manage its thermal performance better than initial Haswell processors did.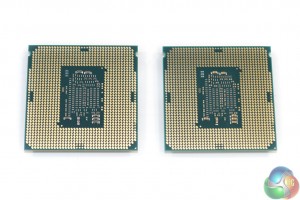 Skylake CPUs fit into Intel's newly-released LGA 1151 socket. Yes, that is a single extra pin over the LGA 1150 socket that it replaces. Consumers show frustration regarding Intel's short-lived CPU socket progression, so the company addressed this point at the Skylake press seminar.
The new socket forces users to invest in the accompanying motherboard (which will feature the latest chipset and its partnering features) if they want to upgrade their CPU, rather than just drop the new chip into an older motherboard. Everybody will have an opinion on this mindset, however Intel pointed out that their engineers and architects design the platform as a whole rather than segregate the CPU and motherboard (socket and chipset). That point is more understandable from a technological advancement perspective – it may be just one pin on the face of the situation, but there are significant under-the-hood changes to the CPU and platform.
Using a legacy motherboard with its older power delivery design and PCB traces could potentially make it impossible for some of the platform changes to be implemented. I highly doubt that Skylake's significant power delivery change, for example, would have been possible if reapplication of LGA 1150 motherboards designed for Haswell's FIVR was made a design criteria.
From left to right: Devils' Canyon i7-4790K, Haswell-E i7-5820K, Haswell-E i7-5960X, Broadwell i7-5775C, Skylake i5-6600K, Skylake i7-6700K.
Skylake's CPU sizing is practically identical to previous mainstream processors. That's important because it means that mITX motherboard designs are actually possible and can be recycled for the Z170 platform. The physically large Haswell-E CPUs present a significant challenge for motherboard vendors attempting to make a mITX X99 motherboard.
The only other significant physical differences between the LGA 1150 and LGA 1151 CPUs are a change to notch positioning and a significantly more dense power delivery system for Skylake chips.
There's also the cluster of extra pins (overlapping the area of pin absence on each side of the CPU) that could be used to unlock additional settings as we have seen with Asus' OC Socket design for LGA 2011-3 CPUs. A recent news article pointed towards LGA 1151 OC Socket designs, which will indeed be incorporated on Asus' higher-end SKUs. The effectiveness of such a design depends on whether or not motherboard vendors can extract any useful benefits from the pins.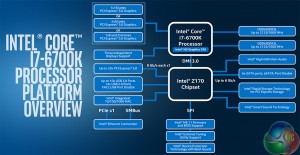 At the heart of the platform is the LGA 1151 Skylake CPU. Memory support is provided for DDR4-2133MHz and 1.35V DDR3L-1600MHz officially, however DDR4 speeds and DRAM divider support of up to 4133MHz have been claimed possible by Intel. This is the mainstream platform, so memory runs in dual-channel operation and most mATX and ATX motherboards will support up to four DIMM operation.
One of the most substantial upgrades comes from Intel's application of DMI 3.0. The latest version of the CPU-to-chipset Direct Media Interface uses PCIe 3.0 lanes which offer double the bandwidth of their PCIe 2.0 predecessors. Although Intel could not give us the official link speed, a look inside Asus' Z170 UEFI implies (we cannot certify it) that DMI 3.0 operates at a total bandwidth of 32Gbps via four 8GT/s lanes. If true, that translates into a 4GBps connection between the CPU and chipset, which is roughly enough speed to satisfy a pair of Intel SSD 750 PCIe drives in RAID 0. On that same point, the Z170 chipset and latest RST drivers support RAID for PCIe storage drives.
Running off the feature-healthy Z170 chipset are six SATA 6Gbps ports, up to 14 USB ports in total (up to ten of which can be USB 3.0), and up to twenty PCIe 3.0 lanes. Intel uses its flexible IO ports (FlexIO) to allow motherboard vendors to choose the combination of outputs that best suits their specific SKU. Intel told us that up to 26 of these flexible lanes are available, although the limitations as to the minimum number of a certain output were not disclosed. So, in theory, a configuration along the lines of six SATA 6Gbps connectors, four USB 3.0 ports, and 16 PCIe 3.0 lanes may be plausible. That opens up multi-GPU potential through the chipset's PCIe 3.0 lanes.
We asked Intel why USB 3.1 wasn't baked onto the chipset by default and the response was because they think that Thunderbolt 3 is the better solution. Obviously motherboard vendors disagree as the vast majority of their boards use add-on USB 3.1 chipsets from the likes of ASMedia, Intel, and EtronTech.
The Skylake CPUs support sixteen PCIe 3.0 lanes. That bank of sixteen can be deployed as 1×16, 2×8, or 1×8 + 2×4, making 2-card SLI (which demands a minimum x8 link) and 3-card CrossFire possible. That, if you ask me, is not a particularly future-proof decision on Intel's part. Users wanting 2-card SLI or high-bandwidth CrossFire in addition to a PCIe 3.0 x4 NVMe SSD (which are set to become far more commonplace over this platform's life-cycle), will be forced to handicap the ultra-fast storage drive by running it through the higher-latency chipset-fed PCIe 3.0 lanes. Outfitting the CPU with 20 PCIe 3.0 lanes would have been a smarter move.
Put simply, if you want to use two graphics cards with a PCIe 3.0 NVMe SSD, or more than two GPUs, the X99 platform and its plentiful PCIe connectivity is perhaps the best way to go.
The overall platform adjustments are, arguably, where Skylake shows its greatest improvements. While the platform may have its shortfalls, the chipset is a significant and welcomed improvement over yesteryear's Z97 offering. It is refreshing to see that Intel is finally equipping the chipset with PCIe 3.0 lanes, as this gives motherboard vendors extra flexibility to deploy add-on controllers (high-speed storage, USB 3.1, Thunderbolt, etc.) without siphoning off the CPU's limited number of lanes.
I'm going to say this straight away – overclocking with Skylake is fun! Intel's decisions to remove the voltage regulator from the CPU and also completely open up the BCLK make for plenty of overclocking and tweaking possibilities with a variety of approaches.
The constricted time scale that we had to work with our Skylake samples forced us to gravitate our overclocking testing around the core ratio route with a static 100MHz BCLK. This is the most straightforward way of overclocking and is likely to be used by those who want quick, simple gains with very little effort expenditure.
Overclocking enthusiasts will mix their efforts between adjusting the BCLK and CPU core ratios in order to squeeze as much performance as possible from a chip. That is something that we will look at in future articles.
Intel Core i7-6700K Overclocking
We tested a variety overclocking configurations to find the best settings for our chip. In order to keep temperatures in check and maintain voltages at what we are told are safe levels for 24/7 usage, the maximum CPU Core voltage was set at 1.40V. Empirical testing showed that Asus' level 5 LLC profile resulted in a load core voltage closest to our selected 1.40V level – the 6700K chip was delivered 1.392V under full load with a 1.40V Core voltage and level 5 LLC settings.
Gains can be had from running the PCH voltage at 1.1V, and increasing the CPU standby and PLL voltages to around 1.20V and 1.45V, respectively. With that said, we found that simply applying a manual VCore level, adjusting the LLC settings, and removing power delivery thresholds resulted in equally-good overclocking gains.
It is also worth noting that the CPU cache is now driven by the single core voltage level, so finding a voltage sweet-spot for that setting is not required. Overclocking headroom allows the cache frequency to be run very closely to the increased CPU frequency.

We managed a comfortable 4.8GHz from our retail 6700K chip while using a 1.4V core voltage (which translated into 1.392V under load with our LLC settings). This frequency was perfectly stable for extended periods of stress testing and temperature levels were well below the worrying 90°C mark.
Speaking to other system integrators with Skylake overclocking experience, around 4.7-4.8GHz with a 1.4V core voltage seems to be a comfortable level for many Core i7-6700K chips. Knocking the voltage down towards the 1.35V level should deliver 4.5GHz comfortably. The i7 overclocking gains seem consistent, controllable from a temperature perspective, and fairly straightforward to manage.
It's worth pointing out that both of the CPUs we tested are retail version, not engineering samples that have shown differing overclocking gains with past processor generations (Haswell).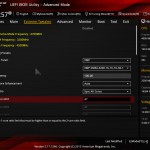 In order to make a direct comparison with our 4.7GHz Devil's Canyon chip, we decided to run our Core i7-6700K testing at 4.7GHz. This used the same settings as the 4.8GHz profile mentioned about – 1.40V Core voltage, level 5 LLC, and removed power thresholds.
We set the CPU cache frequency at 4.5GHz in order to open performance gains but not push it to a point where stability is compromised.
Note: CPU-Z does not identify the correct CPU core voltage 100% of the time. We recommend using the motherboard vendor's software utility to record system voltages until a new release of CPU-Z launches.
Intel Core i5-6600K Overclocking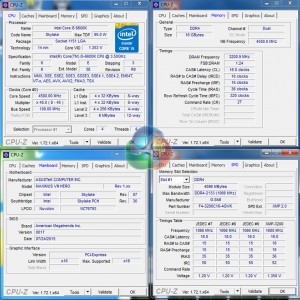 Overclocking our Core i5-6600K CPU was less effective than the i7-6700K. Despite being fed with 1.4V initially, the chip would not hold stability on all cores at a frequency of 4.6GHz via the 46x100MHz route. There was an occasional drop in load from one of the four cores, indicating that the overclock was not fully stable.
We accepted the frequency limit of 4.5GHz and were able to dial down CPU core voltage to 1.35V. CPU cache frequency was set at 4.5GHz.
Skylake is the 'tock' phase for Intel's 14nm manufacturing process. What that means is that Skylake introduces a new architecture based on a manufacturing process node introduced by its predecessor (Broadwell).
But Broadwell was very much a mobile-first chip design, so Skylake's most potent competitors are likely to be the venerable Devil's Canyon chips and their Haswell architecture, notably the i7-4790K.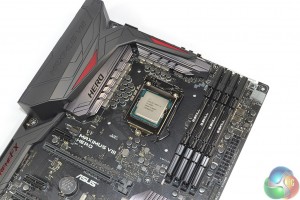 We will be outlining the Skylake Core i7-6700K and Core i5-6600K CPUs' performance while using an Asus Maximus VIII Hero Z170 motherboard. We expect the Skylake 6700K to show slight performance improvements over the Devil's Canyon 4790K thanks to the former's newer architecture. It will be interesting to see how the i7-6700K competes with the closely-priced Haswell-E 5820K and its six hyper-threading cores.
A 16GB (4x4GB) kit of G.Skill's new Ripjaws V DDR4 memory serves our test system. The kit's rated frequency of 3200MHz with CL16 timings should ensure that memory-induced bottlenecks are removed.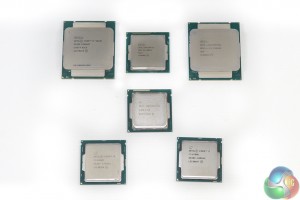 Today's comparison processors come in the form of a Devil's Canyon i7-4790K, Haswell-E i7-5820K, and Haswell-E 5960X. These form some of the best and most popular CPUs in their respective pricing ranges and product hierarchies.
We would have liked to include comparison data from Intel's recently-released 14nm Broadwell Core i7-5775C CPU, as well as some older Ivy Bridge Core i5 and Sandy Bridge Core i7 models. Unfortunately the compressed time scale that these product launches take place in meant that we simply had not enough time to test those additional comparison models.
As such, we will be producing a follow-up article which focuses on a few points, such as gaming, and includes comparisons from a broader range of CPUs. Check back soon for that piece.
CPU-Z has trouble tracking the CPU's voltage, so instead we carefully used Asus' AI Suite 3 software to gather recordings. AI Suite 3 reported stock-clocked voltage levels of 1.20-1.25V depending on whether the CPU was idling or under heavy load.
Applying XMP settings with Asus' motherboard gives the option for multi-core turbo (MCT) to be enabled. MCT locks all of the CPU cores at the maximum turbo frequency at all times. This provides greater performance at the expense of increased power consumption and load temperatures. We tested using MCT settings for all of the CPUs.
CPU Test System Common Components:
Graphics Card: Nvidia GeForce GTX 980Ti.
CPU Cooler: Corsair H100i.
Power Supply: Seasonic Platinum 1000W.
Operating System: Windows 7 Professional with SP1 64-bit (and latest updates).
Corsair's H100i and the Seasonic 1000W Platinum provide ample cooling and power to really push the CPU overclocks. Nvidia's GTX 980Ti is, excluding the Titan X, the fastest gaming GPU on the planet, making it ideal to alleviate GPU-induced bottlenecks.
Polls on our main site and discussion on the Facebook page have shown that Windows 8 (and 8.1) has been incredibly unpopular amongst our readers. That left us with the decision between Windows 7 and Windows 10 for our test system. With the CPU benchmarking being conducted so close to Windows 10's launch, we decided that playing-it-safe with the tried-and-tested Windows 7 OS was the best way of ensuring consistent, accurate, bug-free test results.
Skylake 6600K & 6700K System:

6600K CPU: Intel Core i5-6600K 'Skylake' (Retail) 4 cores, 4 threads (3.9GHz stock MCT & 4.5GHz @ 1.35V overclocked).
6700K CPU: Intel Core i7-6700K 'Skylake' (Retail) 4 cores, 8 threads (4.2GHz stock MCT & 4.7GHz @ 1.40V overclocked).
Motherboard: Asus Maximus VIII Hero (LGA 1151, Z170).
Memory: 16GB (4x4GB) G.Skill Ripjaws V 3200MHz 16-16-16-36 DDR4 @ 1.35V.
System Drive: Crucial BX100 250GB.
Haswell-E 5820K System:

Haswell-E 5960X System:

Devil's Canyon 4790K System:

Software:
Asus Maximus VIII Hero BIOS v0017 (latest).
GeForce 353.30 VGA drivers.
Tests:

Super Pi – 32M test (CPU)
Cinebench R15 – All-core & single-core CPU benchmark (CPU)
7-Zip 15.05 beta – Built-in benchmark and manual video archival (CPU)
HandBrake 0.10.2 – Convert 1.23GB 1080P game recording using the High Profile setting and MP4 container (CPU)
SiSoft Sandra 2015 SP2b (v2142) – Processor arithmetic, cryptography, memory bandwidth (CPU & Memory)
3DMark 1.5.915 – Fire Strike Ultra (System)
PCMark 8 v2.4.304 – Home – OpenCL accelerated (System)
Grand Theft Auto V – 1920 x 1080, near-maximum quality (Gaming)
Middle Earth: Shadow of Mordor – 1920 x 1080, ultra quality (Gaming)
Metro: Last Light – 1920 x 1080, very high quality (Gaming)
Tomb Raider – 1920 x 1080, maximum quality, TressFX disabled (Gaming)
Cinebench
We used the 'CPU' test built into Cinebench R15 to test single and multi-core performance.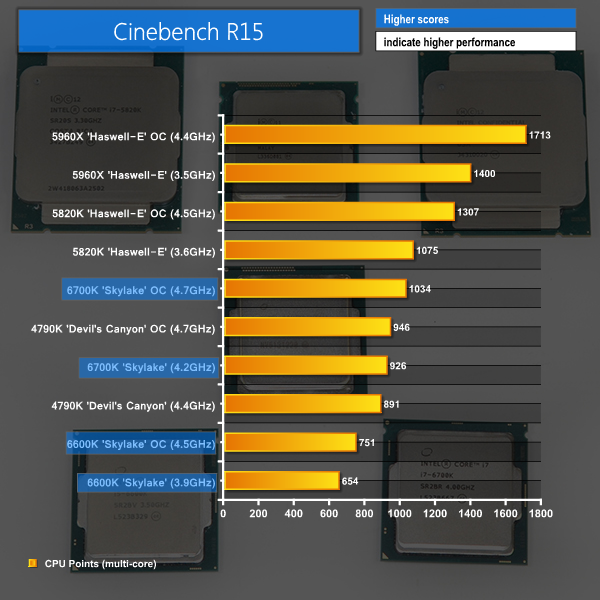 We used the 32M test in Super Pi to analyse single-threaded performance.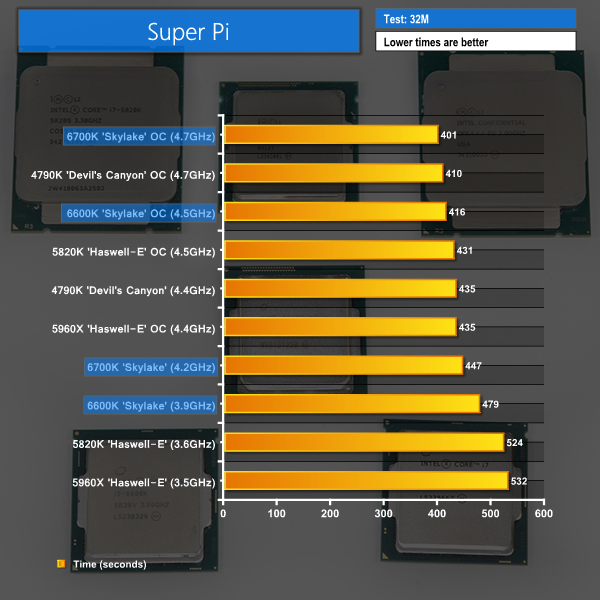 Handbrake Conversion
We measured the average frame rate achieved for a task of converting a 1.23GB 1080P game recording using the High Profile setting and MP4 container.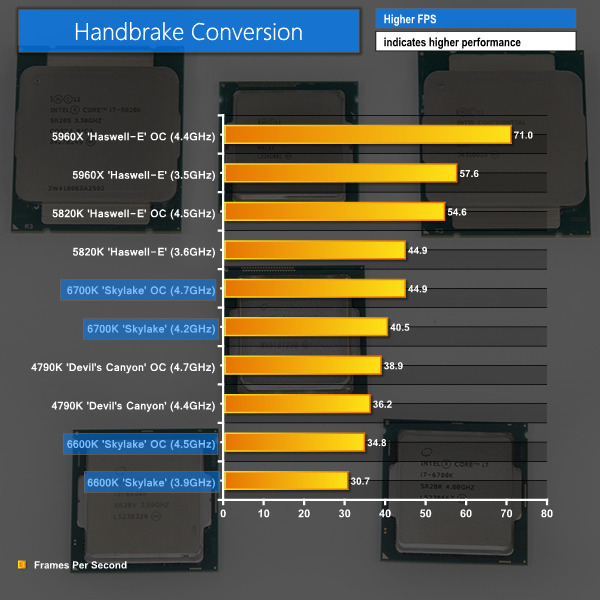 7-Zip
We used the built in benchmark to indicate theoretical 7-Zip performance and we also manually archive a 1.23GB MP4 game recording.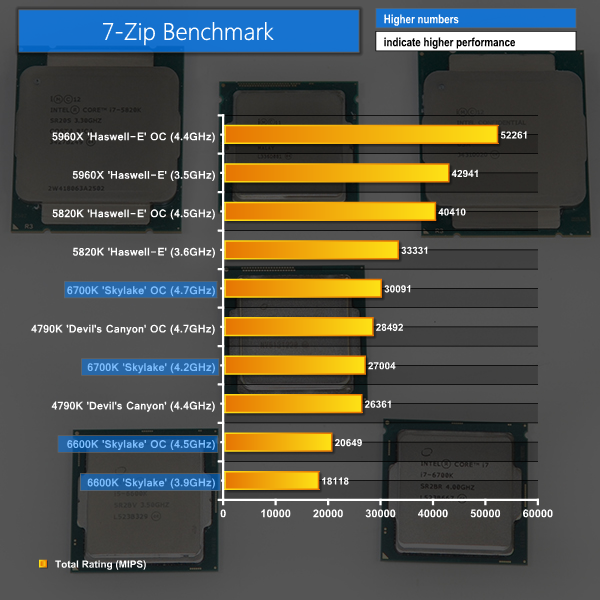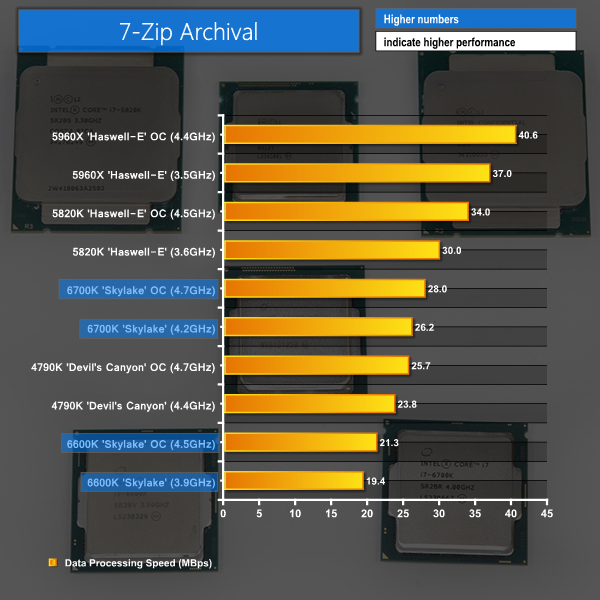 The Skylake CPUs make a positive start in Cinebench's multi-core rendering test. Despite its 200MHz speed deficit, the stock-clocked 6700K manages to outperform the Devil's Canyon 4790K by 4%. With the Skylake and Devil's Canyon i7 CPUs both overclocked to 4.7GHz, Intel's new 14nm part outperforms yesteryear's LGA 1150 fan favourite by just over 9%. The i5 puts in positive numbers, although Cinebench shows off the benefit that extra cache and hyper-threading cores deliver to rendering workloads.
Cinebench's single-core rendering test is perhaps one of the best ways to show Skylake's IPC improvements. The highly-overclocked 6600K and 6700K chips take assertive performance leads with only a 4.7GHz 4790K left to split them from the stock-clocked 6700K. Skylake's architectural benefits are indicated by the 3.9GHz i5-6600K nearing the performance of an £800 4.4GHz 5960X and the 6700K almost matching the overclocked 4790K while sporting a 500MHz speed deficit.
Super Pi's single-threaded workload continues to shine a positive light on the Skylake architecture. A high operating frequency wins the game with Super Pi, but Skylake manages to open a clock-for-clock lead over the Haswell architecture.
Our Handbrake conversion test registers the Skylake i7 with a distinctive performance lead over Devil's Canyon's 4790K. Pushed forward by its newer micro-architecture, the overclocked four-core i5-6600K is nipping at the heels of a stock-clocked, hyper-threading 4790K. Switching the reference point to pricing similarities, it takes a 1.1GHz operating speed benefit for the almost identically-priced 6700K to match the performance of a stock-clocked Haswell-E 5820K. Remove the frequency shackles from Haswell-E's lowest-cost, six-core chip and the beast opens up a comfortable performance lead of 22%.
7-Zip loves fast cores and functions well with hyper-threading. Unsurprisingly, the six- and eight-core Haswell-E chips top the performance chart, however Skylake's modern architecture and support for fast DDR4 memory allow the stock-clocked 6700K to leapfrog the overclocked 4790K in our archival test. The i5-6600K cannot match the performance of hyper-threading Core i7s, however its target audience is not necessarily consumers who will be running heavy, multi-threaded workloads on a regular occurrence.
Sandra Processor Arithmetic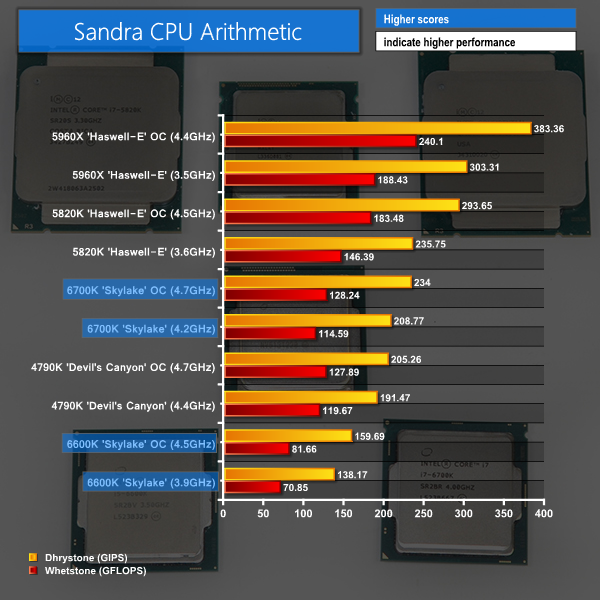 Sandra Cryptographic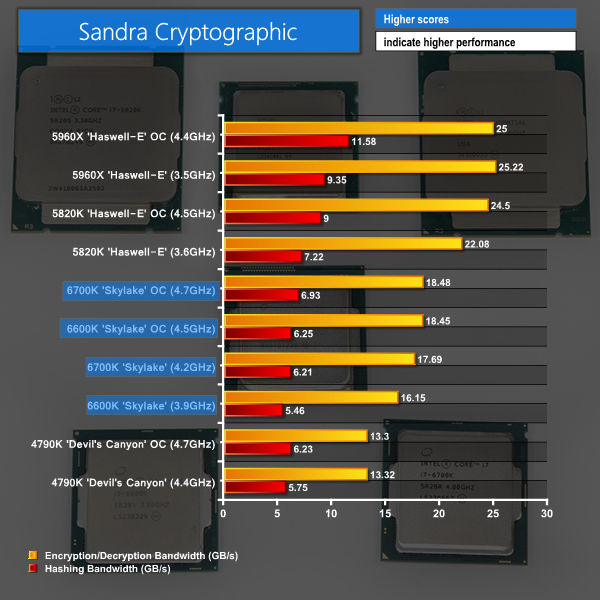 Sandra Memory Bandwidth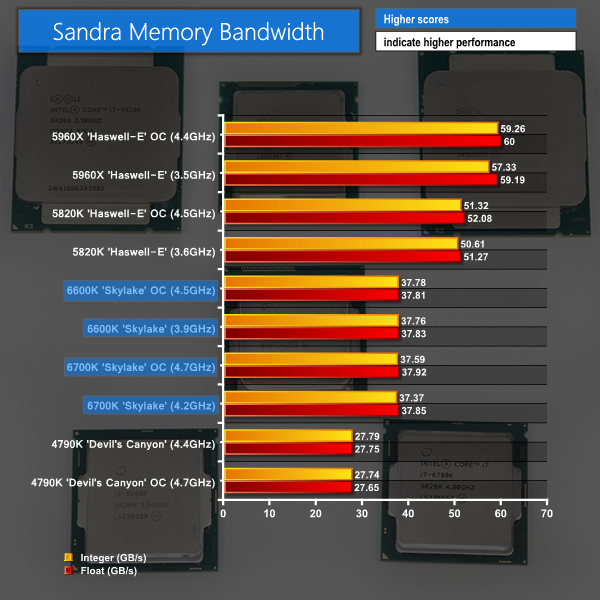 Synthetic benchmarks show very little deviation from the real-world performance that we have already observed. A 4.2GHz i7-6700K can't quite match the performance of a 4.7GHz 4790K in CPU number-crunching workloads, and it takes a 1.1GHz speed benefit for the Skylake i7 to near 5820K-level performance. Encryption and decryption processes show preference towards the Skylake architecture, irrelevant of how many threads are thrown at the task.
The application of high-speed DDR4 memory, for the first time on Intel's mainstream platform, provides substantial gains to system memory bandwidth. Almost 40GBps of bandwidth from four sticks of G.Skill's 3200MHz CL16 DDR4 memory is an improvement of nearly 40% over a fast pair of Corsair's 2400MHz CL10 DDR3 DIMMs.
The numbers suggest that Skylake has under-the-hood improvements in the way it handles memory resource allocation. Both Haswell-E chips used a similarly-fast 3200MHz CL16 kit of DDR4 memory but could 'only' manage a bandwidth increase of around 35% (5820K) and 60% (5960X) for 100% more memory channels.
3DMark
We used 3DMark's 'Fire Strike Ultra' benchmark which is designed to be used on high-resolution gaming PCs.
PCMark 8
We used the 'Home' test with OpenCL acceleration in PCMark 8 to analyse the general-usage performance of each processor configuration.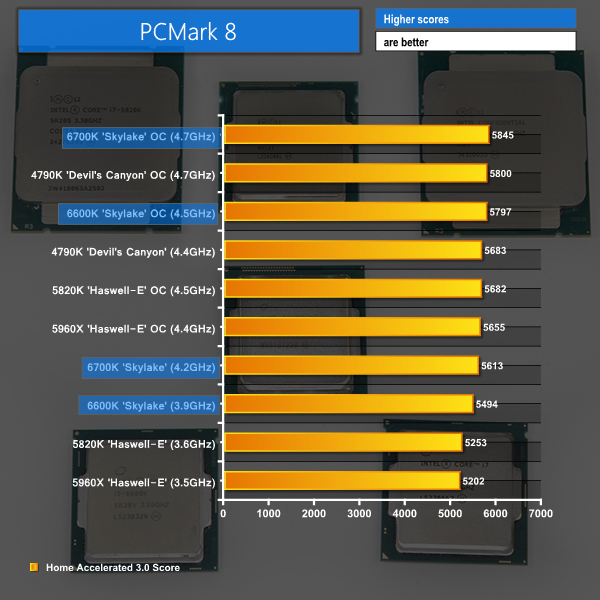 3DMark's Physics score rewards a greater number of fast cores. IPC benefits for Skylake take the 4.7GHz 6700K's physics score clear of that shown by the overclocked 4790K. Those same architectural improvements manage to offset two fewer cores for the 6700K with a 1.1GHz speed boost over the 5820K and allow the Skylake flagship to outperform Haswell-E's popular chip.
The i5-6600K and its flat-four threads put in a solid 3DMark Physics result at both stock and overclocked speeds, although the numbers cannot compete with those set by hyper-threading Core i7 chips. With the promise of greater CPU resource utilisation, one of which ways is by allowing a significantly greater number of draw calls, 3DMark's Physics scores may be a useful insight to what CPUs will offer upcoming DX12 games. On the other hand, that assumes that game developers will actually be able to leverage hyper-threading in an efficient, performance-boosting manner.
PCMark 8 and its OpenCL accelerated Home set of tests magnetise towards clock speed. The general workloads undertaken show very little care for cores or cache, but instead indicate that simplistic everyday tasks will run more effectively with a highly-clocked CPU (the 4.7GHz 6700K or 4.5GHz 6600K) than one with lots of cores (the stock-clocked 5960X).
Metro: Last Light
We used a 1920×1080 resolution and the Metro: Last Light built-in benchmark set to 'Very High' quality to offer an intense challenge for the hardware.
We have heard of additional comments suggesting that Metro: Last Light has a software bug that is hampering its performance with the Skylake-based platform by inducing consistent stuttering. We certified that this issue relates to Skylake platform drivers by running the same benchmark on a separate SSD that utilises our Z97 system drivers, not the Skylake/Z170-specific ones, and the performance was 113.0 FPS, which is roughly what we would expect.
The Z170 platform launch and new driver updates should fix the stuttering problem to restore CPU performance.
Update 13/08/2015: We have tested the i7-6700K CPU using ASRock's Fatal1ty Z170 Gaming K6+ motherboard and recorded an average frame rate of 117.7 FPS for Metro: Last Light. It looks like the necessary software issue has either been solved by an update, or is limited to a bug for the Asus motherboard. You can read the review HERE.
Grand Theft Auto V

We apply very near maximum settings in Grand Theft Auto V and a 1920×1080 resolution to push today's hardware. Our data was recorded using the built-in benchmark.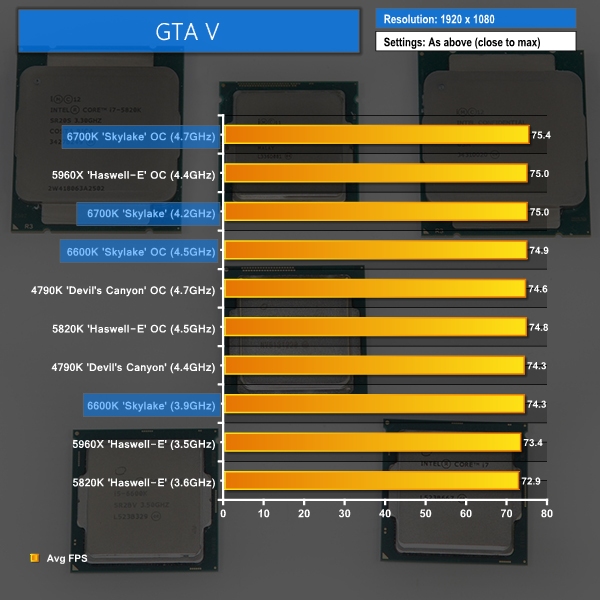 Middle Earth: Shadow of Mordor
We used a 1920×1080 resolution and the Middle Earth: Shadow of Mordor built-in benchmark set to 'Ultra' quality.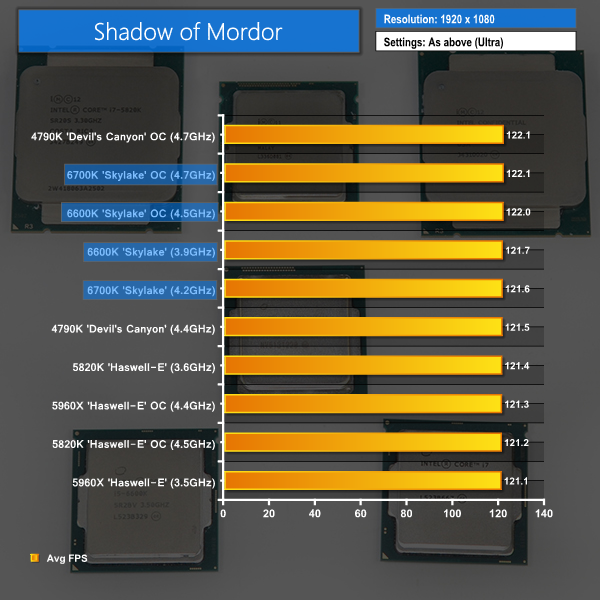 Tomb Raider
We used a 1920×1080 resolution and the Tomb Raider built-in benchmark set to maximum quality, with TressFX disabled.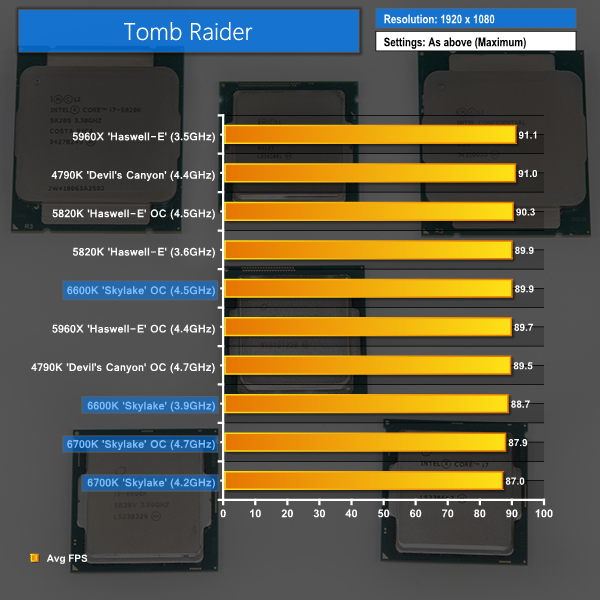 The Grand Theft Auto V game engine is, quite simply, a work of art. Hardware optimisations are excellent – we recorded the game spreading its workload across 10 threads on the 5960X and 5820K in order to reduce the utilisation of each core. But when tasked with a four-core, four-thread chip like the i5-6600K, the game is equally happy cramming its workload into the compute resources available.
GTA V's performance numbers suggest that the game likes fast cores. At 1920×1080, all CPUs achieve more-or-less the same performance. CPU utilisation varied drastically, however, with the i5-6600K regularly seeing 90%+ utilisation across all four of its cores, while the game engine's thread-balancing optimisations present a utilisation more towards 30-60% for the six and eight hyper-threading cores of Haswell-E CPUs.
Crank up the resolution and you increase the amount of AI interaction on-screen and therefore the amount of computational operations being processed. That's important to higher-than-1080P gamers and is something that we will examine to a greater extent in a future article.
What higher CPU utilisation of fewer cores, rather than lower utilisation of many threads, also spells is diversified difficulty for thermal and overclocking management. When running a CPU near its frequency limit, it is harder to maintain the stability of heavily loaded cores than it is for more threads running at a lower utilisation. That's also important when deciding which CPU satisfies your GTA V requirements.
Shadow of Mordor shows a fondness for the Skylake architecture but this only translates into a small performance improvement that is likely to be within the benchmark's margin of error.
Although not to the same extent as Metro: Last Light, Tomb Raider seemed to take a minor disliking to the early drivers on our Skylake test system. Frame rates were consistently slower, although only by small margins. The Tomb Raider benchmark can show differences of around 3-4% between consecutive runs, so that is also worth understanding when addressing the game's performance numbers.
What our gaming numbers show (accounting for early driver bugs) is that both Skylake CPUs are potent contenders when it comes to 1920×1080 gaming. At that resolution the i5-6600K comes out as a clear price-vs-performance winner and doesn't serve as a bottleneck to even the lightning-quick GTX 980 Ti GPU. But the computational demands of Grand Theft Auto V are clearly pushing the gaming-centric i5 very close to its limit in certain areas. It will be interesting to revisit this set of CPUs when we start seeing DX12 titles enter the market.
We measured the idle temperatures and power consumption levels with the system resting at the Windows 7 desktop.
The temperature of the Skylake CPUs and power consumption of our entire test system (at the wall) is measured while loading only the CPU using Prime95′s in-place large FFTs setting.
Temperature recordings were taken using CPUID HWMonitor. Asus' AI Suite 3 software delivered different readings that were sometimes more than 10°C lower than the CPUID software. This shows that CPUID and Asus software are reading from different sensor positions in the CPU area.
Temperatures
Temperature recordings were taken with the Corsair H100i CPU cooler's fans running at full speed. Ambient temperature was maintained at a toasty 25°C.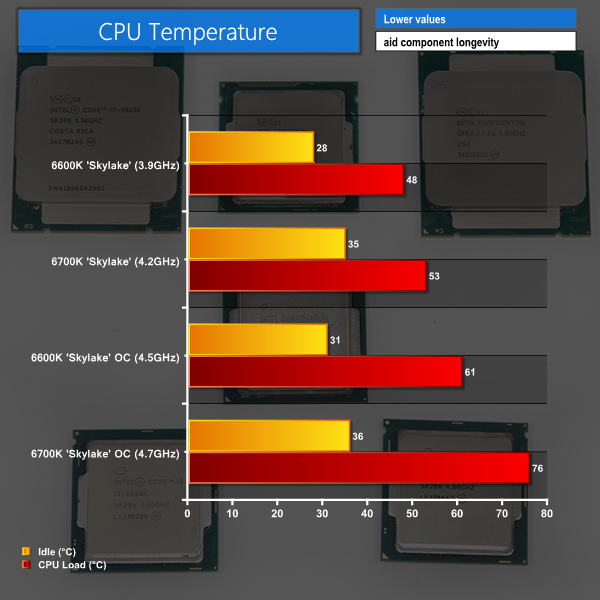 Thermal performance of the Skylake CPUs is generally positive, despite the heatspreader relying upon a TIM bond rather than solder. Stock-clocked voltage levels of 1.20-1.25V are straightforward to handle with modest CPU cooling hardware. That's very important because gamers on a budget want to invest the greatest amount possible in their GPU. After buying a Core i5 CPU, being permitted to save money by opting for a basic CPU cooler is deemed a clear positive.  Hyper-threading, increased clock speed, and a greater serving of cache force higher temperatures on the Core i7 SKU, although this is nothing new.
It is worth pointing out that Intel does not supply the 6700K and 6600K CPUs with a stock CPU cooler. The cost of an after-market CPU cooler must be factored in, although that is very rarely an issue for consumers buying a multiplier-unlocked, overclocking CPU. Something like the venerable legendary £25 Cooler Master Hyper 212 EVO is a good choice, although Raijintek also have some good low-cost offerings.
I am happy to admit my surprise by the capacity of Intel's Skylake chips to handle significantly higher voltage levels than recent CPU generations. Both the i5-6600K and i7-6700K were happy to receive 1.40V and run at full – Prime95 and AIDA64 Stability Test – load while maintaining sub-90°C temperatures. And that was using a Noctua NH-D14 CPU cooler – the Corsair H100i shaved another 5-10°C off the near-90°C 1.40V load temperatures. Just over 60°C for a fully-loaded i5-6600K running at 4.5GHz with 1.35V being fed speaks volumes for CPU temperature capacity. And it opens up headroom for solid overclocking gains in SFF systems without forcing the CPU into a throttling state.
It's not necessarily all positive though. We spoke to 8Pack and he pointed out that Skylake's solid temperature performance with air and water cooling does not translate effectively to sub-zero liquid nitrogen testing. Although we haven't tested sub-zero cooling ourselves, it is possible that the TIM found under the heatspreader simply doesn't work very efficiently towards the extreme-end of sub-zero temperature levels.
Power Consumption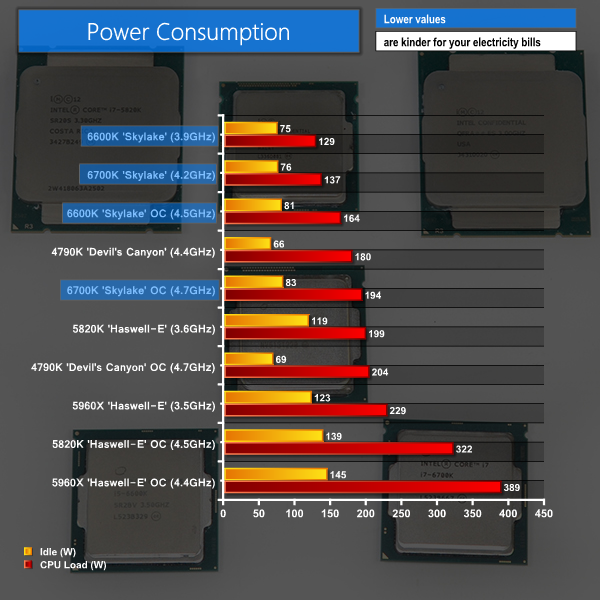 Power consumption is another positive showing for the Skylake CPUs. Despite the chips' higher – 91W TDP – power consumption levels are noticeably lower than those of a Devil's Canyon-based system, not to mention one featuring energy-hungry Haswell-E chips.
Although I cannot confirm the exact reasons, I would wager that the lower power consumption numbers, despite higher rated TDPs, are related to the greater emphasis placed on iGPU resources for the Skylake chips. If Intel's TDP rating factors in iGPU load, removing its functionality from the equation may translate into a CPU portion of the die that demands less power than 22nm Haswell-based chips thanks to its 14nm process node.
Our results factor in system-wide power consumption levels, so it is difficult to pinpoint the exact CPU power usage numbers. But the reduction in energy usage for a stock-clocked i7-6700K against the i7-4790K, as well as the lower power consumption for a 1.40V 6700K against the 1.30V 4790K, gives strong indication that Skylake is indeed a more energy-efficient architecture than Haswell was.
While a load energy usage reduction of little more than a light bulb is largely uninteresting when comparing the 6700K to the 4790K, there is more to power consumption levels than a quarterly bill may suggest. Low power consumption for the CPU translates directly into less heat being thrown into a chassis (or room). This directly affects the environment in which the CPUs can operate – SFF systems, for example, have a stronger chance of operating at full speed for extended time periods because there is less thermal energy to continuously remove from a miniature chassis. There's also the point for potentially reduced stress on VRM components and less stringent PSU requirements.
With clear IPC gains over the popular Haswell micro-architecture that it realistically replaces, the suggestion of consistently greater overclocking headroom, and the lure of a new feature-heavy platform chipset, it is easy to respect the improvements that Intel's Skylake processors bring to the market.
Let's not fool ourselves – Skylake's IPC gains over yesteryear's Devil's Canyon and its Haswell micro-architecture are nowhere near the same levels that we saw Sandy Bridge bullishly fetch to market all those years ago. But the Devil's Canyon iterations of Haswell were fast, powerful processors in their own right, so performance improvements towards a level of 10% are positive to see. Those performance boosts are significant enough to allow a stock-clocked Skylake Core i7-6700K to outperform a stock-clocked Devil's Canyon 4790K despite the former's 200MHz frequency deficit.
On the other hand, it could be argued that IPC improvements towards a level of 10% do not exactly spell huge innovation for a new architecture, process node shrinkage to 14nm, and a 2-year later release when comparing to Haswell.
Overclocking potential of the Skylake processors is very good. We managed to hit a straightforward 4.8GHz with our i7-6700K which, from what we have discussed, seems to be a consistent level for the i7 when a 1.4V core voltage is used. Our i5-6600K sample was a little less favourable on the overclocking gains, although 4.5GHz is a solid result and 4.6GHz was on the brink of stability. Our result seemed a little below the average. The new processors' ability to handle higher voltage levels without causing temperature concerns is a positive for overclockers, although that may not hold true for sub-zero usage.
And speaking of positives for overclockers, full control over the CPU BCLK brings back the old days of overclocking. There's now more overclocking control than we have seen at any time in the past four mainstream CPU generations. To many enthusiasts, Skylake will be the chips that put the fun back into overclocking. And for those who simply want to boost their system performance, the two launch chips both feature unlocked multipliers for straightforward frequency boosts.
The biggest improvement that I think Skylake provides is from the platform as a whole. The new Z170 chipset is excellent and its application of PCIe 3.0 lanes, albeit at a potentially higher latency than CPU-direct ones, is welcomed with open arms. Intel's new 8GT/s DMI 3.0 lanes for the processor-to-chipset link is also a sizeable, and long overdue, improvement over previous iterations found on the Z97 and X99 platforms. A pair of Intel NVMe SSD 750 drives, for example, can operate via the chipset PCIe lanes without being worryingly bottlenecked by the DMI.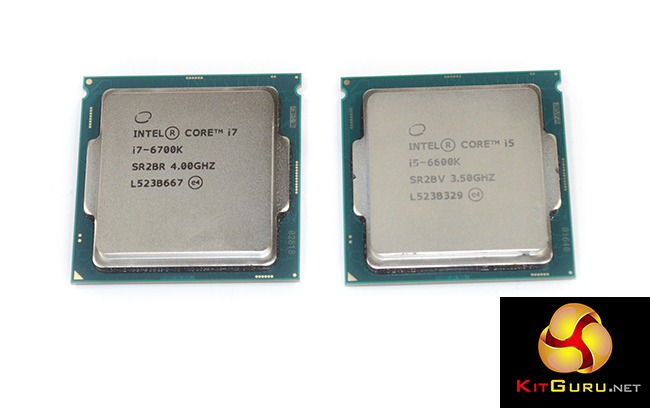 With Skylake introducing DDR4 to the mainstream platform, the processors open up a price conundrum of sorts. Since Haswell-E's August 2014 launch, one of the biggest deterrents from the X99 platform has been the expense of DDR4. That point is no longer true and it could translate into a difficult sell for many consumers considering the i7-6700K. With the CPU pricing almost identical to that of the faster six-core 5820K, users considering the 6700K, a 16GB kit of DDR4 memory, and a mid-range Z170 motherboard are likely to be better served opting for a 5820K and the X99 platform.
Differences in the i7 processor and DDR4 memory pricing are practically non-existent, so that only leaves a slightly higher cost motherboard for the X99 chipset as a point of additional investment. OverclockersUK's X99 motherboard range starts at £169.99 which is pretty much identical to Asus' £171.99 Maximus VIII Hero that we used for today's Skylake review. The lower starting price of Z170 motherboards is a benefit for buyers considering the mainstream chipset.
With a very small pricing difference between an i7-6700K system and one based around the i7-5820K, consumers must decide carefully whether they prefer the greater core count and PCIe connectivity of Haswell-E or the overclocking headroom and modern chipset for Skylake. For gamers, that's a tough choice. But to users with heavy workloads that benefit from CPU cores, the Haswell-E chip is the smarter buy.
Intel's focus on gaming enthusiasts is clear with the Skylake launch. As it does is every generation, the multiplier-unlocked Core i5 processor will be a fan-favourite amongst gaming users who want high frame rates and an easily overclockable CPU, without siphoning too much cash away from their graphics card budget. The Core i5-6600K delivers on those requirements and isn't hampered by its lack of hyper-threading when using a 1920×1080 resolution (although GTA V gives it a tough run).
The flagship Core i7 SKU will appeal to consumers who conduct fairly intensive work on their system, in addition to gaming. But that's not to say that the i7-6700K is a simple choice – the Skylake flagship has more competition right now from its similarly-priced HEDT competitor than any of its predecessors dating back to the Sandy Bridge days have experienced. The Haswell-E 5820K has cores, cache and PCIe connectivity on its side while the Skylake 6700K flaunts higher overclocked speeds, lower power usage, and a fundamentally better chipset.
The CPU guy inside me says go for the 5820K while the platform guy points towards the 6700K and Z170 chipset. It's a tough choice.

There are suggestions that supply of the Skylake processors is short, so it may be advisable to brace for a tough few weeks on the point of pricing and stock levels. OCUK have the Core i5-6600K available for £209.00 and the Core i7-6700K for £319.99. Z170 motherboards are likely to start at sub-£100 levels for entry-level SKUs, with the feature-packed mid-range parts occupying the £110-190 price brackets.
Skylake is faster than Haswell on a clock-for-clock basis, has lower power consumption, and brings with it a healthy new platform with DDR4 and enhanced PCIe 3.0 support. The Core i5-6600K is smart buy to gamers and users with less computationally-demanding workloads, while the Core i7-6700K will appeal to those who can make use of hyper-threading and extra cache. The latter, however, faces stiff competition from Intel's faster six-core i7-5820K and relies upon the excellent, more cost-effective Z170 chipset to put up a stern fight.
Discuss on our Facebook page HERE.
Pros:
Faster IPC than Haswell-based micro-architecture (which includes Devil's Canyon).
Largely consistent and positive overclocking frequency limits.
Plenty of options to tweak the CPU speed – fully unlocked BCLK and core multiplier.
Stable at higher voltage levels than Haswell and Devil's Canyon – 1.4V Core voltage can be cooled relatively easily.
Good air- and water-cooled thermal performance, despite using TIM under the heatspreader.
The Skylake/Z170 platform is excellent , especially the new DMI and chipset PCIe 3.0 lanes.
Support for DDR4, as well as DDR3 in its low-voltage flavour.
Good performance in gaming (excluding early software bugs), especially when factoring in the i5-6600K's pricing.
Cons:
i7-6700K has a very tough battle against the faster, six-core i7-5820K.
Resources and budget are still allocated to an iGPU that many gamers and enthusiasts will ignore.
20 PCIe 3.0 lanes on the CPU would have been better for two graphics cards and a low-latency PCIe SSD.
KitGuru says: Skylake is towards 10% faster than the Haswell architecture and offers consistently positive overclocking gains. Despite tough pricing competition for the flagship i7-6700K, the overall platform and its capabilities are where Skylake shines.