We test the iGPU to see how its performance has matured since the Haswell-era 4790K CPU. This also gives an indication of the type of gaming performance achieved by the iGPU and whether it is sufficiently playable or not.
3DMark Fire Strike (iGPU)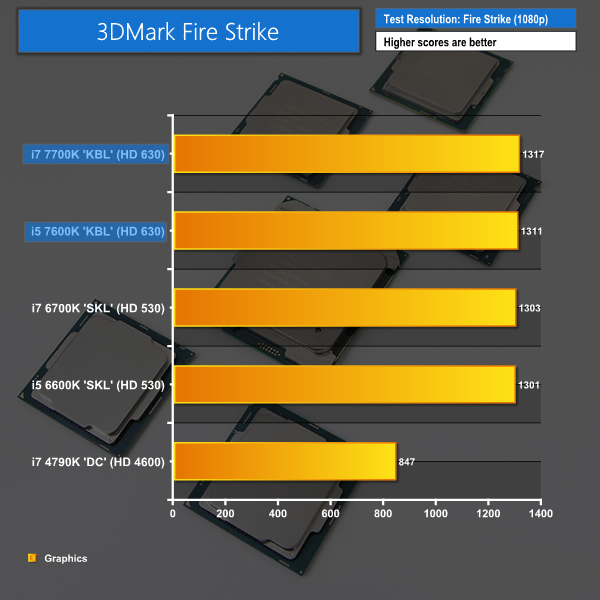 Rise of the Tomb Raider (iGPU)

The Low (not Lowest) preset and a 1920×1080 resolution are selected.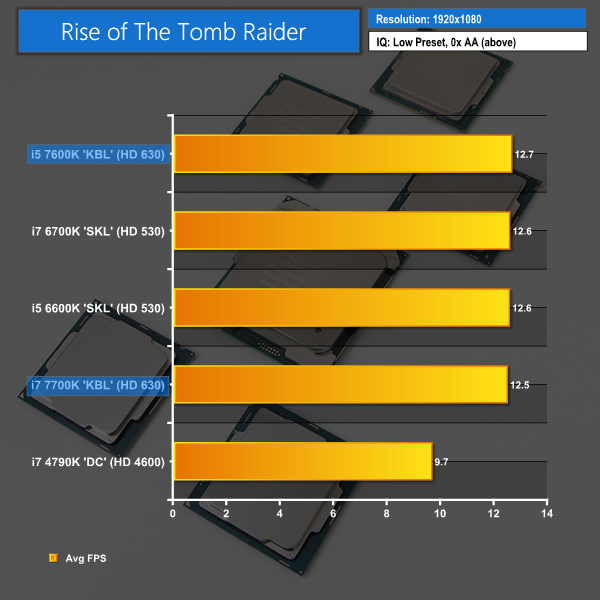 Don't expect to do any form of meaningful gaming on the iGPU of Kaby Lake CPUs. The average frame rate in Rise of the Tomb Raider is less than 13 FPS across-the-board. Lowering the resolution to 720p is an option but this still likely to be insufficient for achieving playable frame rates in modern titles.
The HD 630 iGPU used in Kaby Lake is more than 50% faster than the 4790K's HD 4600 iGPU. Kaby Lake has a ~30% lead in Rise of the Tomb Raider. Those performance increases are significant and are worthy of credit. But percentage increases are of little relevance if the absolute performance is still inadequate for smooth gaming frame rates.
Worth noting is the performance difference (or lack of) between the HD 530 GPU for Skylake and the HD 630 for Kaby Lake. This doesn't come as much surprise given that the latter is only really improved by virtue of its media engine and codec support for 4K content consumption.
Be sure to check out our sponsors store EKWB here