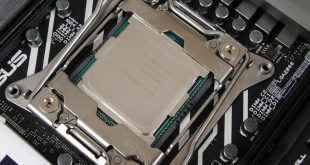 Intel's new Skylake-X series of processors, including the current flagship Core i9-7900X being tested in this review, has been one of those launches where everybody has had a strong opinion since the announcement. Whether it's through stiff competition from AMD, anger at Intel's seemingly-intentional aggressive product segmentation, or the overall launch that seems to have been rushed, X299 and Skylake-X have been hot topics for several weeks.

We finally got our hands on the new 10-core, 20-thread Core i9-7900X processor that serves as the X299 platform's and, by extension, Intel's consumer CPU flagship… for the next couple of months, at least. How will the new $999 part based on Intel's fast Skylake architecture perform?

Watch via our Vimeo Channel (Below) or over on YouTube at 2160p HERE
That's correct – we said $999. Quite a reduction compared to the ridiculous $1723-$1743 price point that Intel's previous 10-core flagship – the Broadwell-E Core i7-6950X – sold for. Then there's the naming, of course. In a move that strikes me as long overdue, Intel will be using the Core i9 branding for some of its higher-performance high-end desktop (HEDT) CPUs.
Personally, I see that as a reasonable move that reduces the complexity of the product stack to consumers – Core i9 should be everything that Core i7 is, and more.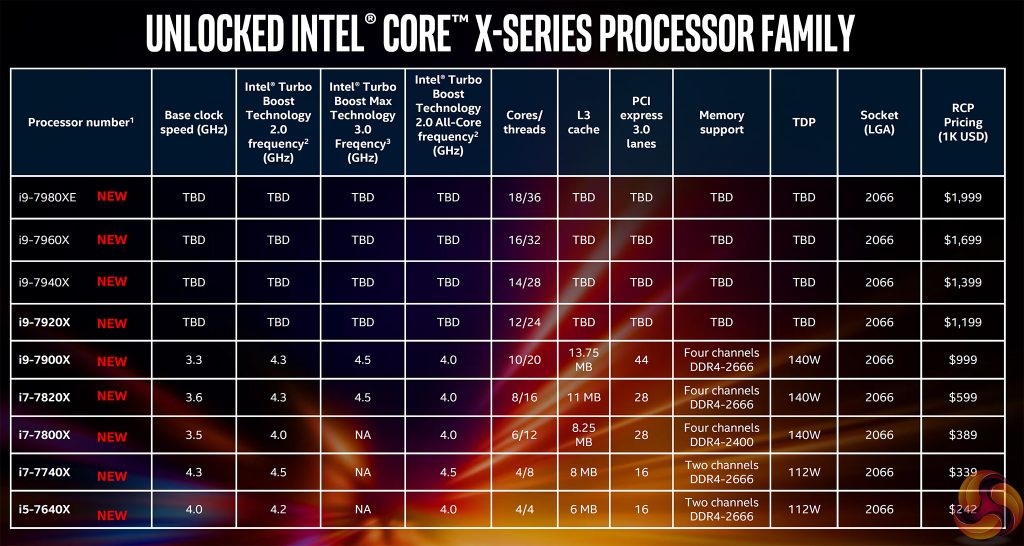 However, it looks like Intel has chosen PCIe lane count to be the dividing point for HEDT Core i7 and Core i9 CPUs, rather than something more closely tied to performance metrics, such as core count. As it stands, the 6C12T and 8C16T Skylake-X CPUs with 28 PCIe lanes are called Core i7 whereas the sole (for now) 44 lane offering – the 10C20T part – gets Core i9 branding.
That's a harsh sucker-punch to enthusiasts who value more than 28 PCIe lanes with the cost for such connectivity now starting at $999 compared to $617 for the 40-lane Broadwell-E Core i7-6850K. Upcoming 12, 14, 16, and 18 core chips will also be called Core i9 but their details, other than pricing of course, are still non-existent.
That leads nicely onto the next point; what's the deal with three Skylake-X CPUs at launch and four more due in the coming months (as far forward as October)? That's unusual for a recent platform launch from Intel which generally sees a high percentage of the line-up available on the day 1.
It is almost blatantly obvious by now that the higher core count models are a reaction to AMD's forthcoming up to 16-core Ryzen Threadripper competitors. That's where a substantial proportion of the criticism has stemmed – consumers are reading into the situation as Intel being happy to push another slight boost to performance and small uplift in core count until the company is forced into a corner by AMD and must draw on the big guns as a reactionary measure, not a drive-the-market-forward measure.
| | | | | | | | |
| --- | --- | --- | --- | --- | --- | --- | --- |
| CPU | Intel Core i9 7900X | AMD Ryzen 7 1800X | AMD Ryzen 7 1700 | Intel Core i7 6950X | Intel Core i7 6900K | Intel Core i7 6800K | Intel Core i7 7700K |
| CPU Codename | Skylake-X | Zen | Zen | Broadwell-E | Broadwell-E | Broadwell-E | Kaby Lake |
| Core / Threads | 10 / 20 | 8 / 16 | 8 / 16 | 10 / 20 | 8 / 16 | 6 / 12 | 4 / 8 |
| Base Frequency | 3.3GHz | 3.6GHz | 3.0GHz | 3.0GHz | 3.2GHz | 3.4GHz | 4.2GHz |
| Boost Frequency | 4.3GHz | 4.0GHz | 3.7GHz | 3.5GHz | 3.7GHz | 3.6GHz | 4.5GHz |
| Maximum Frequency | 4.5GHz (TBM 3.0) | 4.1GHz (XFR) | 3.75GHz (XFR) | 4.0GHz (TBM 3.0) | 4.0GHz (TBM 3.0) | 3.8GHz (TBM 3.0) | n/a |
| Unlocked Core Multiplier | Yes (x1 granularity) | Yes (x0.25 granularity) | Yes (x0.25 granularity) | Yes (x1 granularity) | Yes (x1 granularity) | Yes (x1 granularity) | Yes (x1 granularity) |
| L3 Cache | 13.75MB | 16MB | 16MB | 25MB | 20MB | 15MB | 8MB |
| Max. Memory Channels | 4 (DDR4) | 2 (DDR4) | 2 (DDR4) | 4 (DDR4) | 4 (DDR4) | 4 (DDR4) | 2 (DDR4 & DDR3L) |
| Max. Memory Frequency | 2666MHz | 1866 to 2667MHz | 1866 to 2667MHz | 2400MHz | 2400MHz | 2400MHz | 2400MHz / 1600MHz |
| PCIe Lanes | 44 | 16+4+4 | 16+4+4 | 40 | 40 | 28 | 16 |
| CPU Socket | LGA 2066 | AM4 | AM4 | LGA 2011-3 | LGA 2011-3 | LGA 2011-3 | LGA 1151 |
| Manufacturing Process | 14nm | 14nm | 14nm | 14nm | 14nm | 14nm | 14nm |
| TDP | 140W | 95W | 65W | 140W | 140W | 140W | 91W |
| MSRP | $999 | $499 | $329 | $1723-1743 | $1089-1109 | $434-441 | $339-350 |
| UK Street Price (June 2017) | Approx. £950 | Approx. £450 | Approx. £300 | Approx. £1300 | Approx. £800 | Approx. £330 | Approx. £330 |
With the scene set for Skylake-X and the X299 platform, let's look at the specifications of the Core i9-7900X. The 10-core, 20-thread CPU is built on a 14nm process node and fits into the new LGA 2066 socket (which handily uses LGA 2011 mounting points allowing for re-use of CPU coolers). TDP is rated at the same 140W as Broadwell-E HEDT CPUs, though do not confuse this metric with power consumption – a different characteristic that is only loosely related.
You get quad-channel memory support, as one has come to expect from HEDT CPUs (ignoring Kaby Lake-X…), and Intel has bumped up the native frequency support to DDR4-2666MHz. Motherboard and memory vendors have shown off significantly higher operating frequencies which are well into the 3GHz range. Up to 128GB of that stuff should be a tasty proposition for many workstation prosumers.
The base clock speed is rated at 3.3GHz, which is only ever really utilised in heavy throttling situations or when running at high-performance idle, while the more important all-core frequency is a lofty 4.0GHz. Turbo Boost 2.0 can take any of the cores as high as 4.3GHz in lightly-threaded workloads, while Turbo Boost Max 3.0 (also seen on the Broadwell-E predecessors) can clock the two best cores up to 4.5GHz.
TBM 3.0 is now natively supported in Windows 10 Anniversary Edition, as well as 2017 Linux distributions, and the specific pair of cores that can boost up to 4.5GHz is determined on a chip-by-chip basis. Perhaps most importantly, all X-series processors feature an unlocked core ratio multiplier that allows for easy overclocking by end users.
You may have noticed the reduction in overall cache capacity compared to previous Intel HEDT processors and that's because Intel has 'rebalanced' the cache for Skylake-X. Level 3 cache ('LLC' – Last Level Cache, as Intel likes to describe it) is reduced to 'up to' 1.375MB of non-inclusive cache per core (vs 'up to' 2.5MB of inclusive cache per core for Haswell-E and Broadwell-E). To 'rebalance' the reduction in LLC capacity, Intel has quadrupled Level 2 cache ('MLC' – Mid Level Cache, as Intel likes to describe it) from 256KB per core (for Haswell-E and Broadwell-E) to 1MB per core for Skylake-X.
So, you get a 45% reduction in LLC but a 300% increase in MLC. Overall cache capacity is reduced due to the bias towards capacity for L3 cache. But there is a greater quantity of cache one step closer to the CPU, at the MLC level.
Intel's Skylake-X and Kaby Lake-X processors form part of the new X299 platform. The new 200-series chipset gives the HEDT space useful features that have been present on 100-series and 200-series mainstream chipsets for a long time. Those features include use of a faster DMI 3.0 (compared to DMI 2.0 on X99) link, significantly-enhanced PCIe connectivity through the PCH, and support for RAID of PCIe NVMe SSDs. The chipset is given up to 30 high-speed I/O lanes, up to 24 of which can be used for PCIe 3.0 connectivity, up to eight for SATA 6Gbps, and up to ten for USB 3.0 5Gbps. Intel's I219 NIC is supported as well as Optane memory (not that anybody buying this level of platform should care about Optane memory caching in the slightest).
Support for RAID of up to three PCIe NVMe SSDs is a positive of the 200-series chipset but the DMI 3.0 bandwidth becomes a limiting factor in that equation. That's where Virtual RAID On CPU (VROC) comes in. Details are still scarce for VROC but it is essentially a method of allowing consumers to use multiple PCIe 3.0 lanes directly from the CPU to feed bandwidth-hungry RAID arrays. That could be very useful for users who want 2+ PCIe NVMe SSDs in a performance-enhancing RAID (0 or 5, for example) where the DMI 3.0 bandwidth would serve as a bottleneck to a PCH-fed solution.
The caveat is that Intel will force the use of a hardware key and is expected to charge in the order of one hundred to hundreds of dollars for RAID 1 and RAID 5 support. The solution is also expected to be limited to Intel's own PCIe NVMe SSDs for boot support, which is a real shame for users licking their lips at multiple Samsung 960 Pros in an array. We cannot comment more on Intel VROC technology yet as the details are unclear but we consider it important enough to include in this piece, despite the relative lack of information.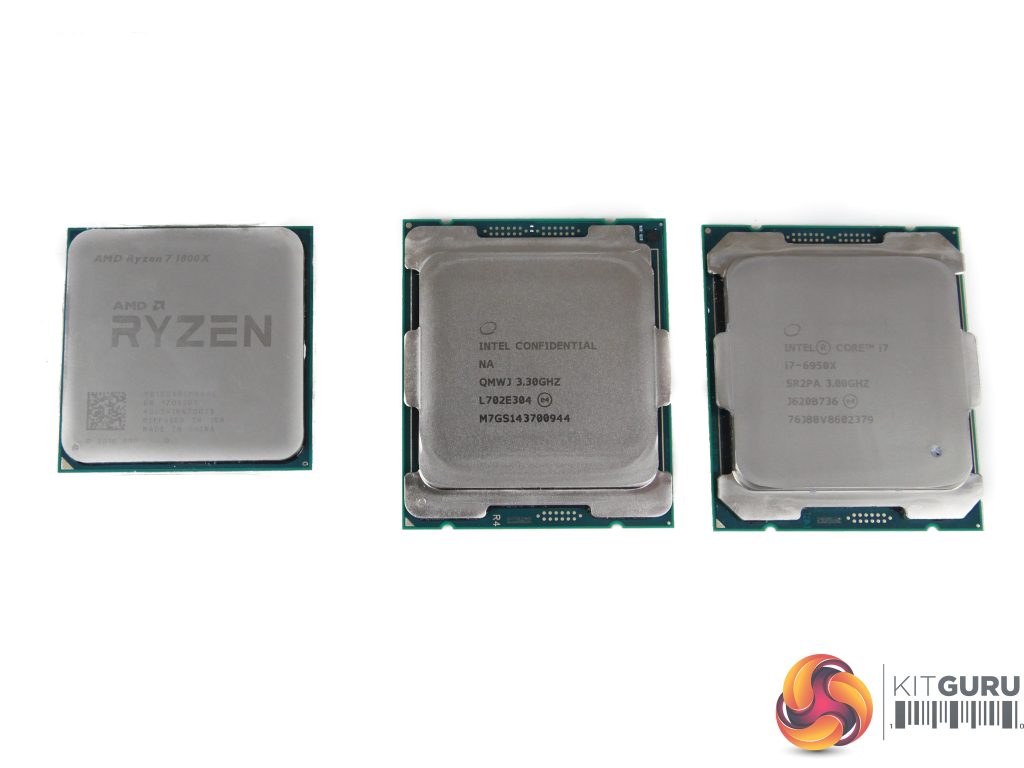 Primary competition for the 10C20T Core i9-7900X will come from its Broadwell-E predecessor – the 10C20T Core i7-6950X – as well as AMD's 8C16T Ryzen 7 chips, such as the flagship 1800X. AMD is highly-likely to win the overall value comparison given Ryzen 7 and the AM4 platform's distinct cost advantage. However, the Core i9-7900X is likely to show the strongest multi-threaded performance despite its significant price reduction compared to the Core i7-6950X.
Without further ado, let's move on to overclocking and performance testing.
Our objective with CPU overclocking is to hit frequencies that we think will be achievable for daily use by the platform's buyers. As such, we test with sensible cooling hardware in the Noctua NH-D15 and Corsair H110i GT 280mm AIO. We also used sensible voltages that lead to manageable thermal results (well, somewhat manageable as is the case for Skylake-X).
Stability is confirmed by running multiple Cinebench tests, Handbrake video conversion, and AIDA64 CPU, FPU, and Cache stress test for at least 1 hour. We do not use Prime95 as we have found it to be overly demanding as a stress test application with the more recent AVX-capable versions.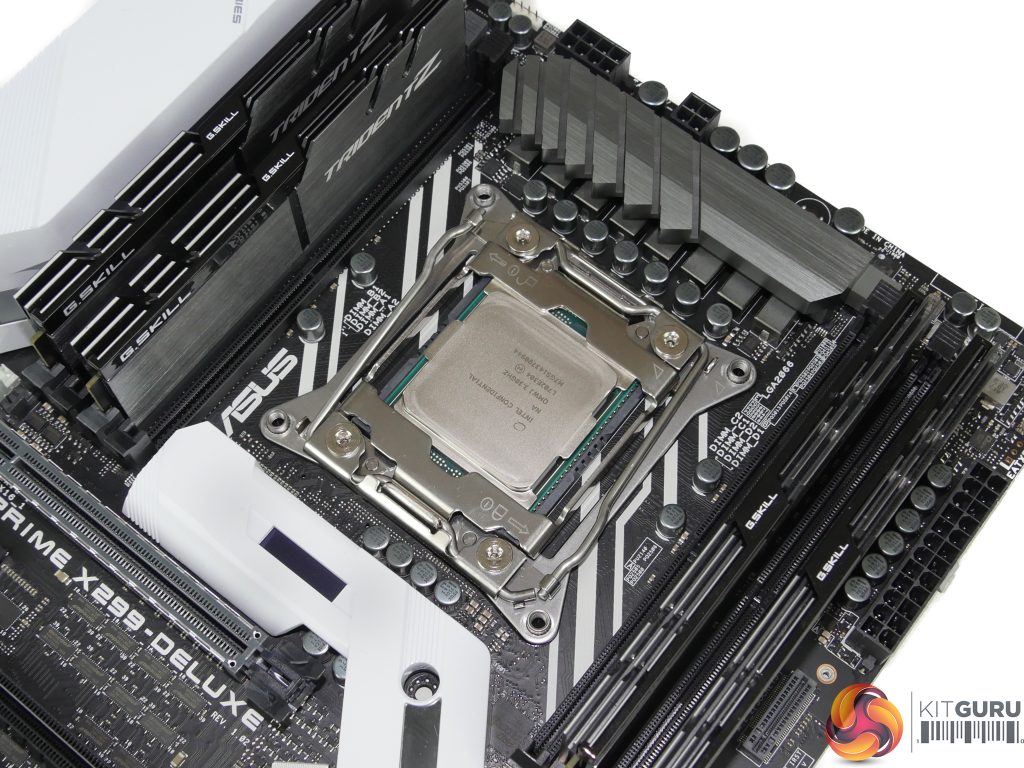 The partnering hardware of choice is the ASUS X299-Deluxe motherboard, 32GB of G.SKILL TridentZ 3200MHz CL14 DDR4, and a Seasonic 760W Platinum PSU. We chose the ASUS motherboard due to its strong power delivery system based around International Rectifiers MOSFETs and, importantly, the ability to connect an 8-pin plus a 4-pin CPU power connector.
That added 4-pin power connector gives extra peace of mind when overclocking the very power-hungry Core i9-7900X. We also point a 100mm Antec Spot Cool at the VRM heatsink to provide direct airflow for cooling, as is important when shifting such high levels of power through the MOSFETs.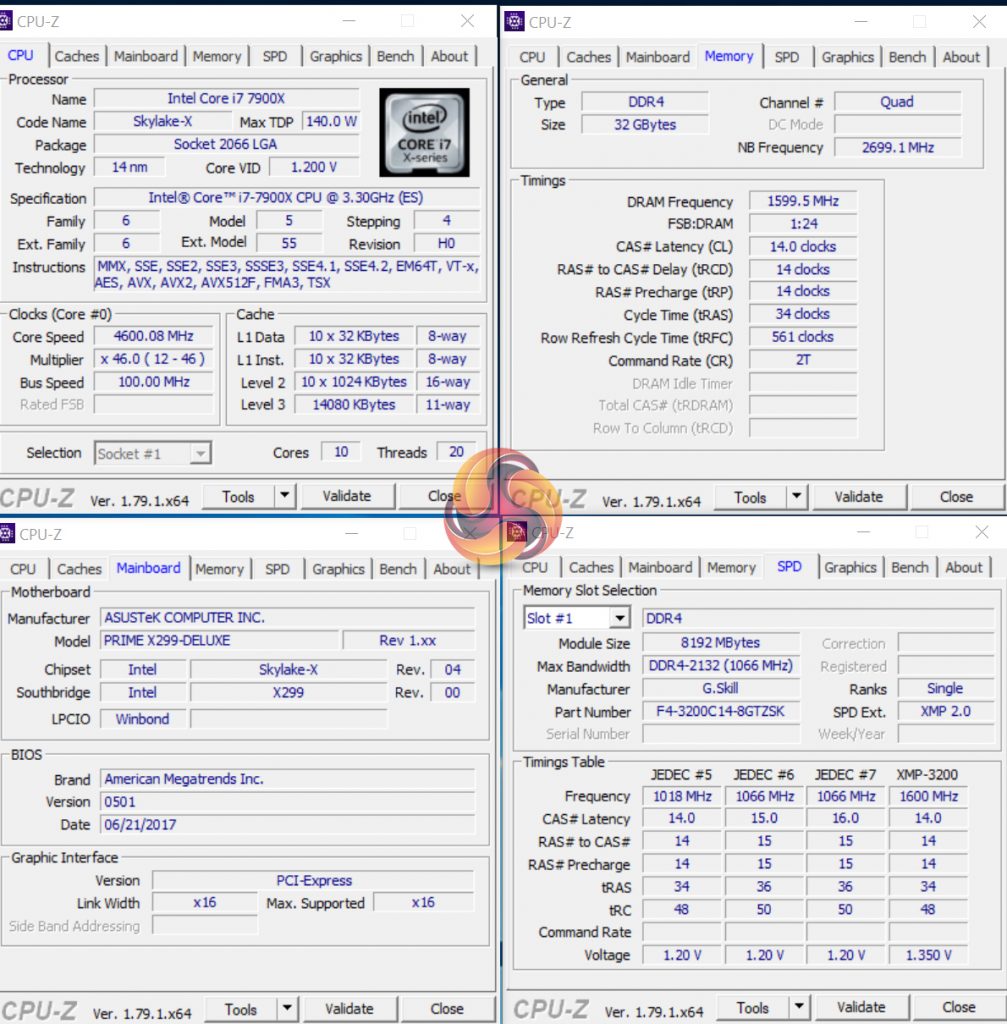 The Skylake-X Core i9-7900X is both fun and frustrating to overclock. It is fun in the sense that a relatively low voltage (1.20V in our case) yields clock speeds that are very high for a 10-core chip. The frustrating part is the thermal performance which is poor thanks to Intel's decision to use TIM under the heatspreader, rather than solder. In our testing, overclocking is limited by awful thermal performance, not the capability of the chip. A better heatspreader design would likely lead to enhanced overclocking results by being able to cool higher voltage levels.
We settled on 4.6GHz at a very low 1.20V as our best overclocking result. 1.20V is particularly low for a 4.6GHz clock frequency, even for the 7900X, but the chip was perfectly stable for extended sessions of AIDA64 stress test as well as multiple runs of our entire benchmark suite. This result was not Prime95 stable with an AVX workload and dropping down to 4.5GHz for Prime95 testing resulted in thermal throttling within seconds.
To achieve 4.6GHz at 1.20V, we were forced to use the 280mm Corsair H110i GT AIO with its fans operating at full speed (very loud). The Noctua NH-D15 could not keep the chip below 90°C which is higher than we were happy with. Backing down to 4.5GHz at 1.20V was slightly better for the D15 and would be borderline usable for daily usage, based on our preference for operating temperatures.
Pushing up to 1.25V in search of higher speeds resulted in load temperatures rushing well past 90°C, which we were not satisfied with. Put simply, if you want to push voltages to a point where higher than 4.6GHz may be possible, you are likely to need one of the best AIO liquid coolers on the market or a custom loop. That's without bringing de-lidding into the equation, of course, which is risky business on a $999 CPU!
In short, our final Core i9-7900X overclocking settings using an ASUS X299-Deluxe motherboard were:
4.6GHz on all cores.
1.20V CPU VCore.
Level 3 LLC (1.20V load VCore in OS, according to software readings).
Multiple Cinebench R15 multi-core runs to validate stability, as well as AIDA64 CPU stress test.
DDR4-3200MHz 14-14-14-34 @ 1.35V.
Overclocking comments:
The Core i9-7900X is a strong overclocker that should be capable of 4.5GHz+ on all ten cores, provided you can cool the beast and power it. Thermal performance is limited by the poor TIM used by Intel, so pushing voltages to a level where you can comfortably surpass 4.6GHz is likely to require a custom liquid cooling loop or de-lidding of the $999 processor(!).
We found that air cooling, even with the sizeable Noctua NH-D15, will start to struggle at 1.20V and 4.5GHz on our chip. The Corsair H110i GT 280mm AIO kept 1.20V in check for frequency to be increased to 4.6GHz but a voltage uplift of 25-50mV pushes load temperatures past 90°C on the loud liquid cooler.
We will be outlining the Core i9-7900X CPU's performance while using an ASUS X299-Deluxe LGA 2066 motherboard. A 32GB (4x8GB) kit of G.Skill's Trident Z 3200MHz CL14 DDR4 memory serves our test system.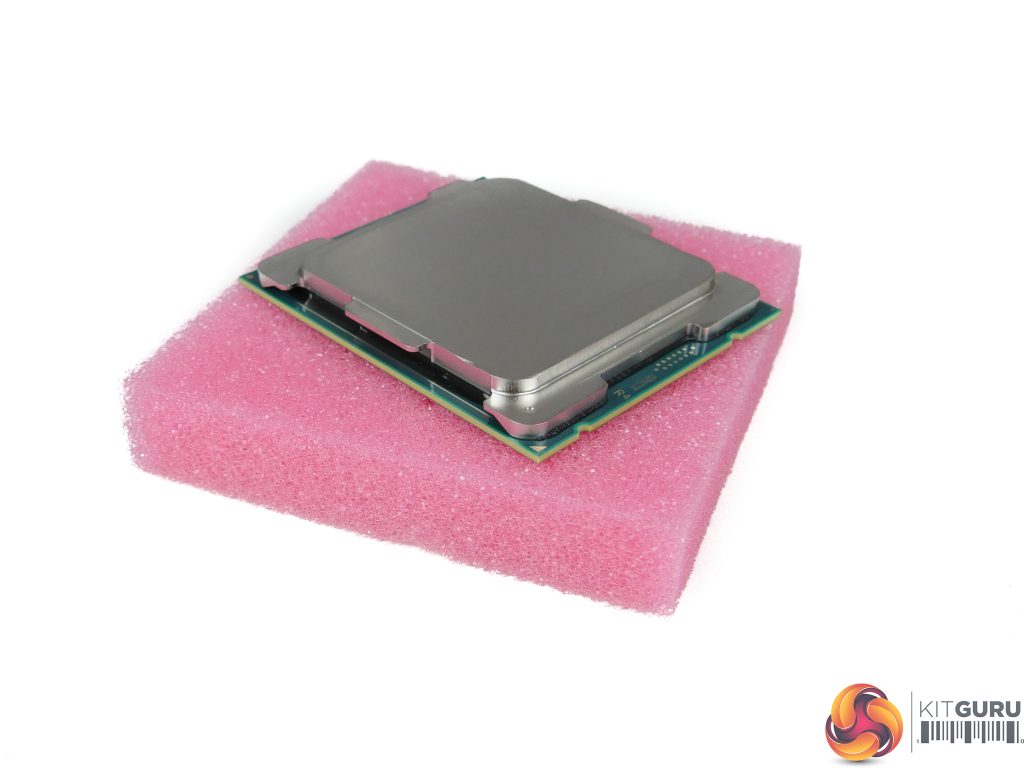 Today's comparison processors come in the form of:
Broadwell-E i7-6800K (6C12T) and i7-6950X (10C20T).
Kaby Lake's i7-7700K (4C8T).
Ryzen 7's 1800X (8C16T).
Each processor is tested at its default out-of-the-box settings and when overclocked to a reasonable level. For the Intel CPUs, we ensured that forced-turbo was disabled so that Intel's defined Turbo Boost parameters were functioning correctly. As such, all-core load frequencies for the tested chips are as follows:
Core i9-7900X = 4.0GHz (most of the time, with Handbrake or synthetic stress tests as an exception).
Core i7-6950X = 3.4GHz (most of the time, with Handbrake or synthetic stress tests as an exception).
Core i7-6800K = 3.5GHz.
Core i7-7700K = 4.4GHz.
Ryzen 7 1800X = 3.7GHz.
CPU Test System Common Components:
Graphics Card: Nvidia GeForce GTX 1080 Ti Founders Edition (custom fan curve to eliminate thermal throttling).
CPU Cooler: Noctua NH-D15 & Corsair H110i GT.
Games SSD: SK hynix SE3010 SATA 6Gbps 960GB.
Power Supply: Seasonic Platinum 760W.
Operating System: Windows 10 Pro 64-bit (Creators Edition).
Skylake-X LGA 2066 System (i9-7900X):

7900X CPU: Intel Core i9 7900X 'Skylake-X' (ES) 10 cores, 20 threads (4.6GHz @ 1.20V overclocked).
Motherboard: ASUS X299-Deluxe (LGA 2066, X299).
Memory: 32GB (4x8GB) G.Skill Trident Z 3200MHz 14-14-14-34 DDR4 @ 1.35V.
System Drive: Samsung 840 500GB.
Ryzen AM4 System (Ryzen 7 1800X):

1800X CPU: AMD Ryzen 7 1800X 'Summit Ridge' 8 cores, 16 threads (4.05GHz @ 1.425V overclocked).
Motherboard: Gigabyte Aorus AX370-Gaming 5 & ASUS Crosshair VI Hero (AM4, X370, AGESA 1006).
Memory: 16GB (2x8GB) G.Skill FlareX 3200MHz 14-14-14-34 DDR4 @ 1.35V.
System Drive: SanDisk Ultra Plus 256GB.
Kaby Lake LGA 1151 System (i7-7700K):

7700K CPU: Intel Core i7-7700K 'Kaby Lake' (Retail) 4 cores, 8 threads (4.8GHz @ 1.35V overclocked).
Motherboard: ASUS Maximus VIII Hero (LGA 1151, Z170).
Memory: 16GB (2x8GB) G.Skill FlareX 3200MHz 14-14-14-34 DDR4 @ 1.35V.
System Drive: Micron M600 256GB.
Broadwell-E LGA 2011-3 System (i7-6800K, i7-6950X):

6800K CPU: Intel Core i7 6800K 'Broadwell-E' (Retail) 6 cores, 12 threads (4.2GHz @ 1.275V overclocked).
6950X CPU: Intel Core i7 6950X 'Broadwell-E' (Retail) 10 cores, 20 threads (4.2GHz @ 1.275V overclocked).
Motherboard: ASUS ROG Strix X99 Gaming (LGA 2011-v3, X99).
Memory: 32GB (4x8GB) G.Skill Trident Z 3200MHz 14-14-14-34 DDR4 @ 1.35V (at 3000MHz for the 6800K due to IMC weakness).
System Drive: SanDisk Ultra Plus 256GB.
Software:
ASUS X299-Deluxe BIOS v0501 (pre-release).
GeForce 382.33 VGA drivers.
Tests:

Productivity-related:
Cinebench R15 – All-core & single-core CPU benchmark (CPU)
HandBrake – Convert 6.27GB 4K video recording using the Normal Profile setting and MP4 container (CPU)
Mozilla Kraken – Browser-based JavaScript benchmark (CPU)
x265 Benchmark – 1080p H.265/HEVC encoding benchmark (CPU)
7-Zip – Built-in 7-Zip benchmark test (CPU & Memory)
SiSoft Sandra – Memory bandwidth (Memory)
Gaming-related:
3DMark Time Spy – Time Spy (DX12) test (Gaming)
Ashes of the Singularity Escalation – Built-in benchmark tool CPU-Focused test, 1920 x 1080, Extreme quality preset, DX12 version (Gaming)
Ghost Recon: Wildlands – Built-in benchmark tool, 1920 x 1080, Very High quality preset, DX12 (Gaming)
Grand Theft Auto V – Built-in benchmark tool, 1920 x 1080, Maximum quality settings, Maximum Advanced Graphics, DX11 (Gaming)
Metro: Last Light Redux – Built-in benchmark tool, 1920 x 1080, Very High quality settings, SSAA Enabled, AF 16X, High Tessellation, DX11 (Gaming)

Total War Warhammer – Built-in benchmark tool, 1920 x 1080, Ultra quality preset, DX12 version (Gaming)
Cinebench
Cinebench is an application which renders a photorealistic 3D scene to benchmark a computer's rendering performance, on one CPU core, all CPU cores or using the GPU. We run the test using the all-core CPU and single-thread CPU modes.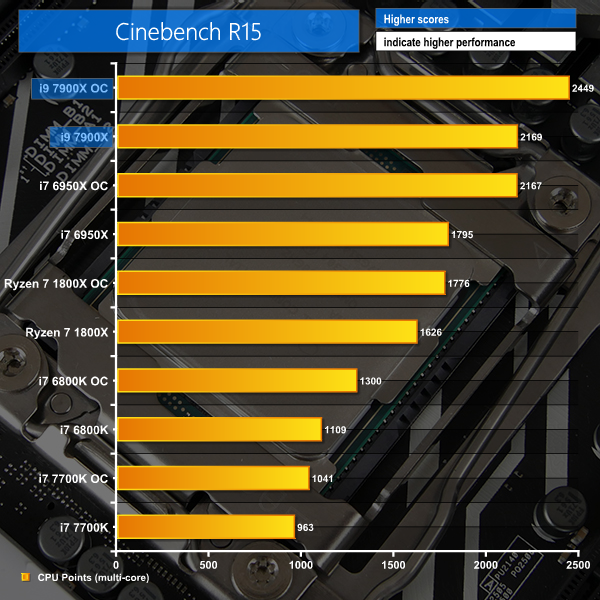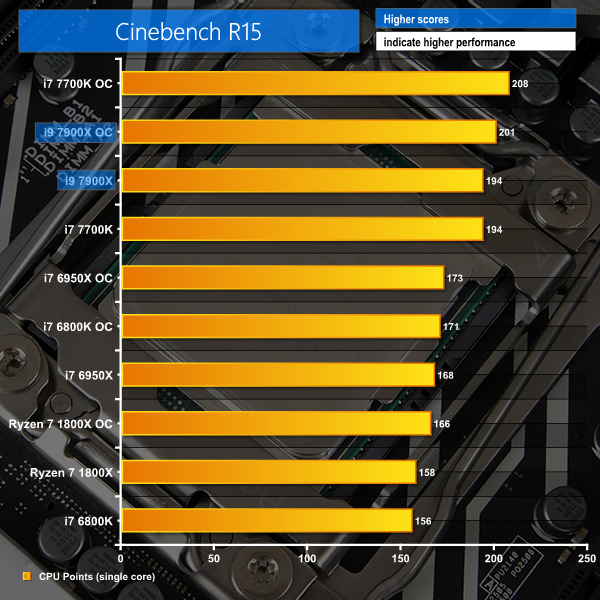 Handbrake Conversion
Handbrake is a free and open-source video transcoding tool that can be used to convert video files between different codecs, formats and resolutions. We measured the average frame rate achieved for a task of converting a 6.27GB 4K video using the Normal Profile setting and MP4 container. The test stresses all CPU cores to 100% and shows an affinity for memory bandwidth.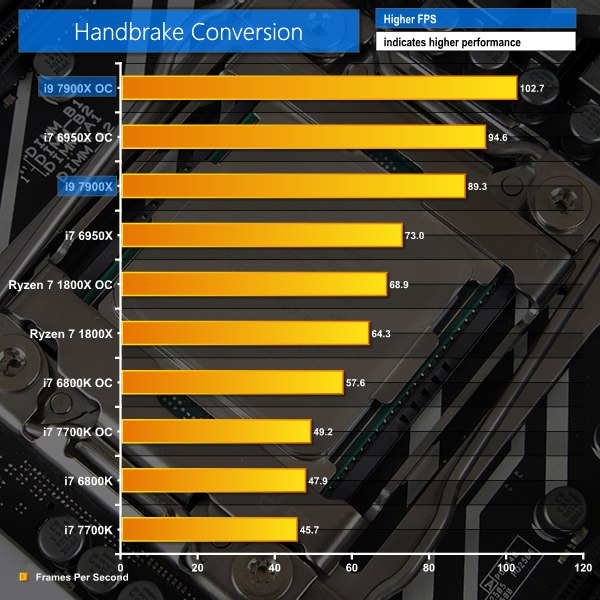 x265 Encoding

x265 Encoding tests system performance by encoding a 1080p test file using the x265/HEVC format.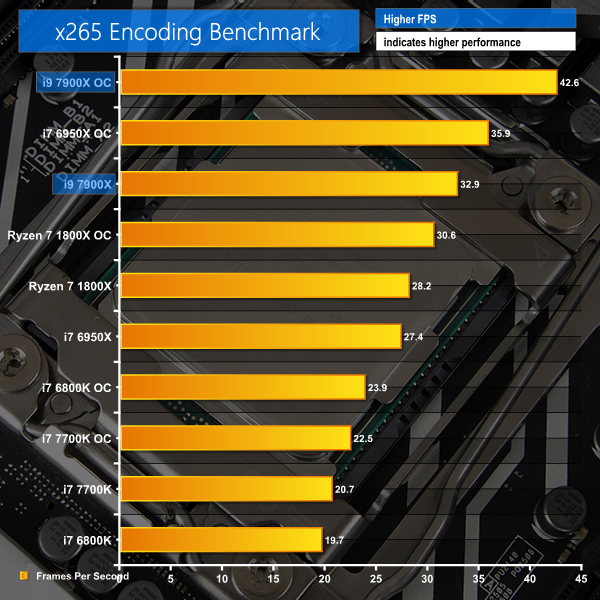 Overview:
Multi-threaded performance from the Core i9-7900X is superb. There's no other way of putting it. In Cinebench multi-threaded, the Skylake-X 10-core chip is 21% faster than the Core i7-6950X it replaces at stock frequencies and 13% with both processors overclocked. Switch focus to Ryzen 7 1800X, and the i9-7900X is 33% faster at stock and 38% better when overclocked. Single-threaded performance also shows Skylake-X in a positive light thanks to its high clock speeds and modern architecture.
Handbrake performance for the 7900X is strong but the chip's tendency to reduce its frequency to 3.6GHz during conversion resulted in reduced performance against an overclocked 6950X. We saw similar frequency reduction characteristics from the 6950X and this is a testament to the stress placed on CPUs by Handbrake. Compared to the 6950X, the i9-7900X is 22% faster at stock and 9% quicker when overclocked. Skylake-X's 10-core beats Ryzen 7 1800X by 39% at stock and 49% when overclocked.
The x265 encoding benchmark rewards clock speed on multi-threaded CPUs, hence why Ryzen 7 gets so close to the performance of the 7900X. Compared to the Broadwell-E 10-core chip, Core i9 is 20% faster at stock and 19% quicker with both overclocked. Ryzen 7 shows solid performance but the 10-core 7900X is 17% quicker at stock and 39% better with both overclocked.
If you are looking for a multi-threaded beast, Intel's new Core i9-7900X is just that. It puts a beating on every other CPU in our charts at stock, and only the Broadwell-E i7-6950X can show competitive performance when heavily overclocked.
7-Zip
7-Zip is an open source Windows utility for manipulating archives. We measure the Total Rating performance using the built-in benchmark tool. The test stresses all CPU cores to 100% and shows an affinity for memory bandwidth.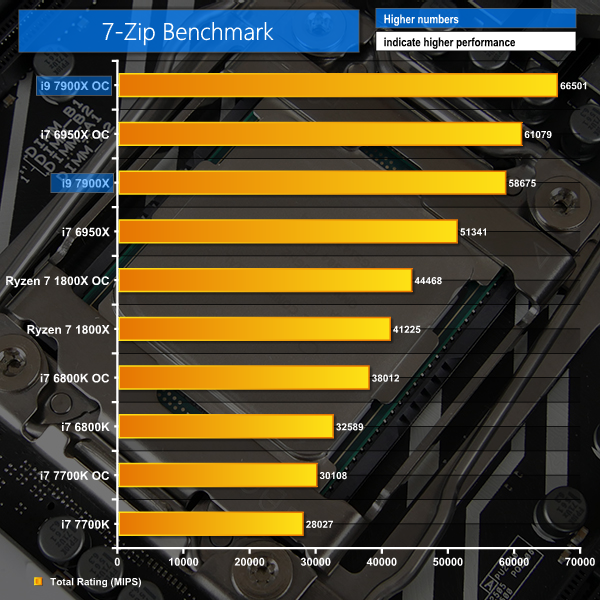 Mozilla Kraken

Mozilla Kraken is a browser-based JavaScript benchmark that tests a variety of real-world use cases. We use Chrome as the test browser. The test exhibits very little multi-threading and shows an affinity for CPU clock speed and IPC.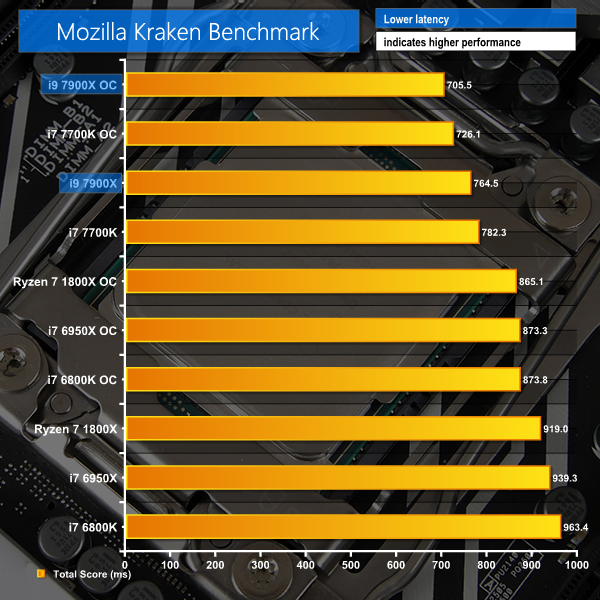 Sandra Memory Bandwidth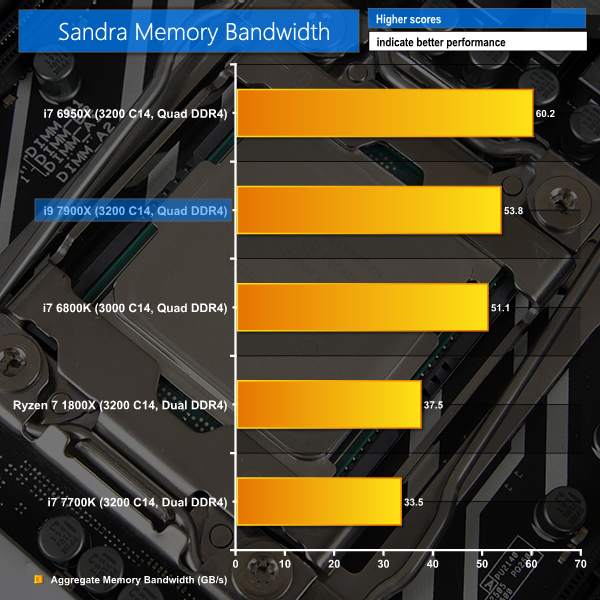 Overview:
The multi-threaded 7-Zip test continues to show the i9-7900X as a performance powerhouse. Performance increases over a 6950X are 14% at stock and 9% when overclocked. Compared to Ryzen 7 1800X, the 7900X is 42% quicker at stock and 50% better when both chips are overclocked. If you have workloads which demand a sizeable amount of file archival, the i9-7900X is a smart choice.
Mozilla Kraken is displaying surprising results given its preference for IPC and clock speed more than cores. The 7900X puts in a good showing thanks to its Skylake architecture and fast lightly-threaded boost clocks of 4.3GHz or 4.5GHz.
Memory bandwidth is past 50GBps for the quad-channel DDR4 solutions and Skylake-X is no exception. There seems to be an early bug with this test as the bandwidth for our Core i9-7900X system with 3200MHz C14 G.SKILL DDR4 should be closer to the i7-6950X result of 60GBps. A BIOS or software update should fix this as we see no reason why memory bandwidth should be reduced compared to Broadwell-E. All-out memory bandwidth is an area where Intel's quad-channel HEDT platform has a clear advantage over dual-channel Ryzen competition.
3DMark
3DMark is a multi-platform hardware benchmark designed to test varying resolutions and detail levels of 3D gaming performance. We run the Windows platform test and in particular the Fire Strike benchmark, which is indicative of high-end 1080p PC Gaming. We also test using the Time Spy benchmark which gives an indication of DirectX 12 performance.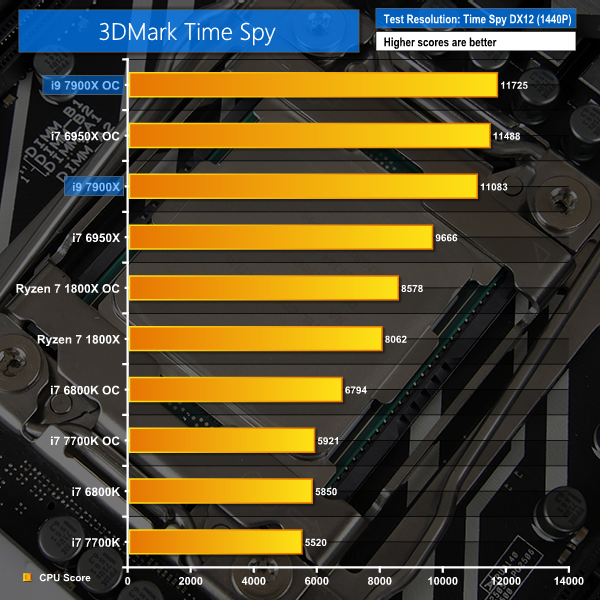 Grand Theft Auto V

Grand Theft Auto V remains an immensely popular game for PC gamers and as such retains its place in our test suite. The well-designed game engine is capable of providing heavy stress to a number of system components, including the GPU, CPU, and Memory, and can highlight performance differences between motherboards.
We run the built-in benchmark using a 1080p resolution and generally Maximum quality settings (including Advanced Graphics).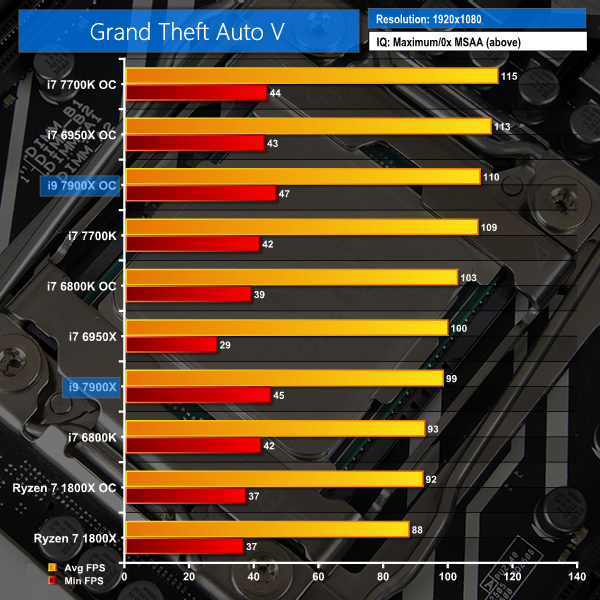 Metro: Last Light Redux

Despite its age, Metro: Last Light Redux remains a punishing title for modern computer hardware. We use the game's built-in benchmark with quality set to Very High, SSAA enabled, AF 16X, and High tessellation.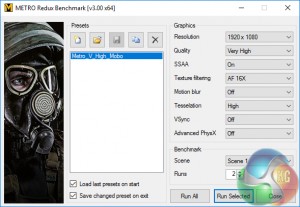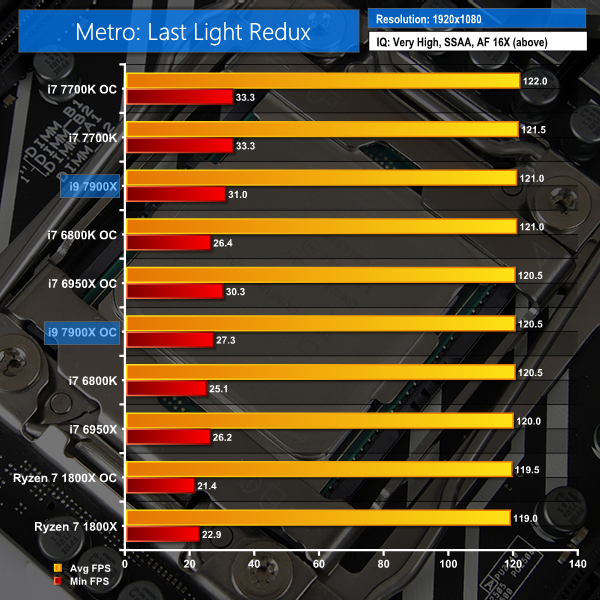 Gaming Performance Overview:

3DMark's Time Spy DX12 benchmark shows a liking for the 7900X. This benchmark scales well with core count in a manner that few games currently follow. It is, however, a promising insight to performance with potential future more multi-threaded titles.
GTA V performance from the 7900X is a little surprising, given that Skylake architecture and a 4.0GHz clock speed should result in performance that handily outperforms the stock-clocked i7-6950X. That is, however, not the case. It seems that the rebalanced cache for Skylake-X is having a slightly negative influence on gaming performance, compared to Kaby Lake and Broadwell-E. The overclocked 6950X is slightly faster than the overclocked 7900X in GTA V at 1080P, despite the latter's 400MHz clock speed advantage. With that said, the Skylake-X 10-core is faster than Ryzen in GTA V (which is not surprising given GTA V's affinity for Intel architectures).
Even at 1080P, Metro: Last Light Redux is GPU-limited at 120 FPS. As such, all CPUs will perform pretty much the same in this title. Kaby Lake's Core i7-7700K is consistently the fastest part, with Ryzen 7 1800X propping up the pack. The Skylake-X 10-core sits nicely in between with strong minimum FPS numbers.
Ashes of the Singularity Escalation

Ashes of the Singularity Escalation is a Sci-Fi real-time strategy game built for the PC platform. The game includes a built-in benchmark tool with DirectX 12 support. We run the CPU-focused benchmark using DirectX 12, a 1080p resolution and the Extreme quality preset.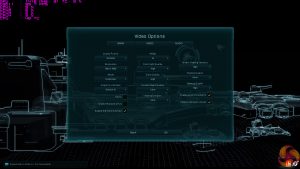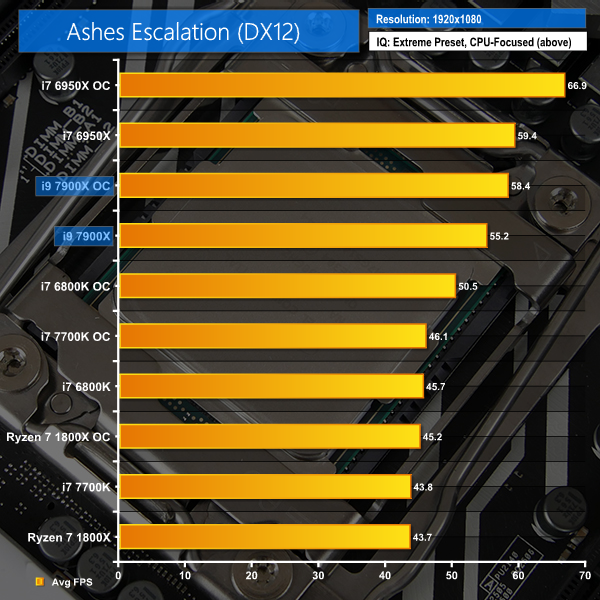 Ghost Recon Wildlands

Tom Clancy's Ghost Recon Wildlands is an open world tactical shooter video game developed by Ubisoft Paris. It is the tenth instalment in the Tom Clancy's Ghost Recon franchise and is the first Ghost Recon game to feature an open world environment.
We run the built-in benchmark using a 1080P resolution and the Very High quality preset.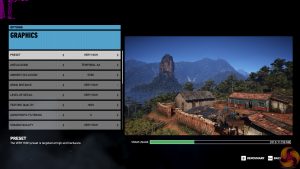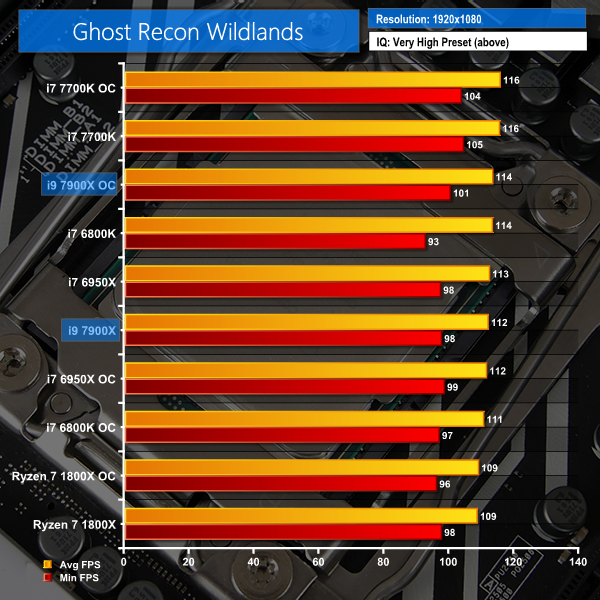 Total War: Warhammer

Total War: Warhammer is another title which features both DX11 and DX12 modes. Heavy loading can be placed on the CPU using the built-in benchmark. The DX12 mode is poorly optimised and tries to force data through a low number of CPU threads rather than balance operations across multiple cores. As such, this gives a good look at pure gaming performance of each CPU in titles that aren't well multi-threaded.
We run the built-in benchmark using the DirectX 12 mode, a 1080p resolution, and the Ultra quality preset.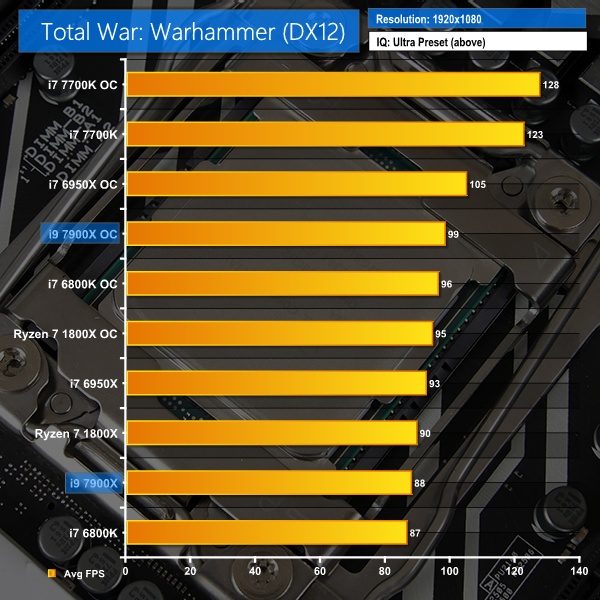 Gaming Performance Overview:

Ashes of the Singularity: Escalation shows a preference for the 6950X, placing it ahead of both the stock and overclocked i9 processor. This is likely related to the rebalanced cache for Skylake-X.
Ghost Recon Wildlands keeps performance tight between CPUs and looks to prefer clock speed more than massive core counts. Ryzen 7 props up the chart with its small performance deficit while the 7900X sits behind Kaby Lake's fast 7700K towards the highest performance point.
Even in the DX12 mode, Total War: Warhammer shoves sizeable amounts of work through a single thread, keeping it pinned at 100% utilisation. As such, the performance hierarchy becomes a race for IPC and clock speed. However, we noticed stuttering on Intel's HEDT platforms that was not present on the Ryzen 7- and 7700K-based alternatives. These stutters resulted in reduced average performance for the HEDT chips as minimum FPS numbers plummeted. If you want to play Total War: Warhammer, the 7700K is the best option. Skylake-X is fine with a healthy overclock but its result is far from flattering for a $999 CPU (albeit possibly fixable with software patches).
The market for people buying an almost £1000 CPU and using it for gaming at 1080p is likely to be very slim. What 1080p does is give a good indication of the CPU's raw gaming performance as GPU power is sufficient to push frame rates to a level where the CPU and memory limitations can be observed.
We supplement the 1080p gaming results with a pair of games tested at 1440P and 4K. We chose Ghost Recon Wildlands and GTA V as they are computationally-heavy, open-world games with good built-in benchmarks.
Ghost Recon Wildlands

We run the built-in benchmark using a 1440P and 4K resolution and the same settings as the 1080p test (Very High preset).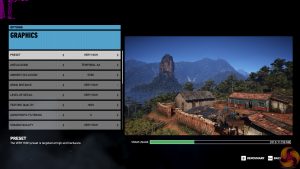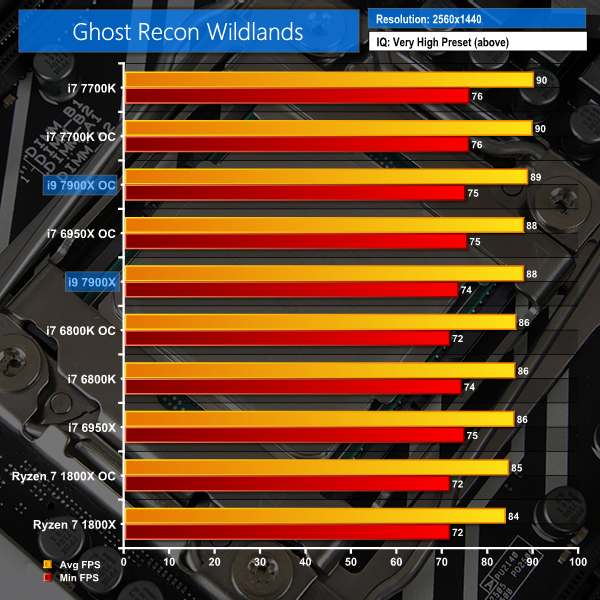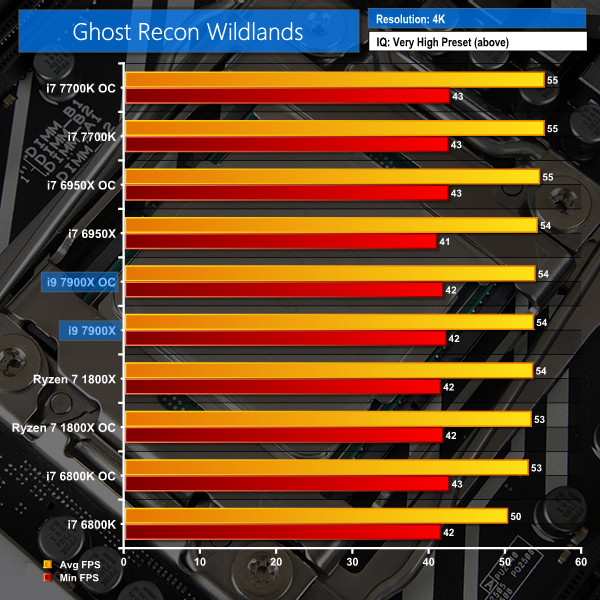 Grand Theft Auto V

We run the built-in benchmark using a 1440P and 4K resolution and the same settings as the 1080p test (generally Maximum quality settings including Advanced Graphics).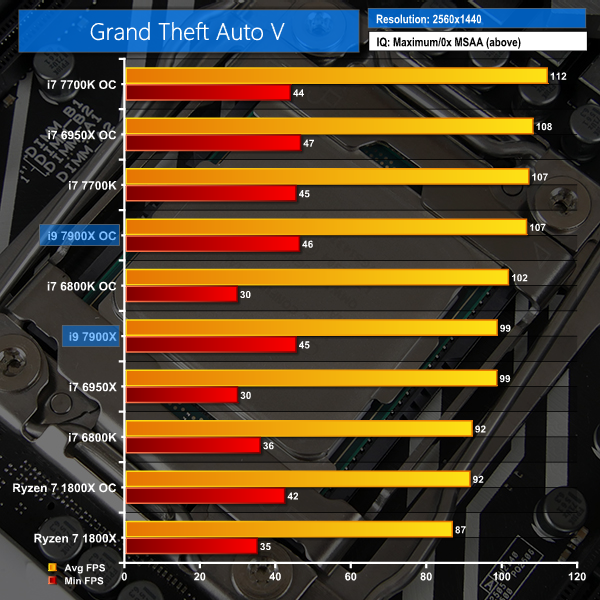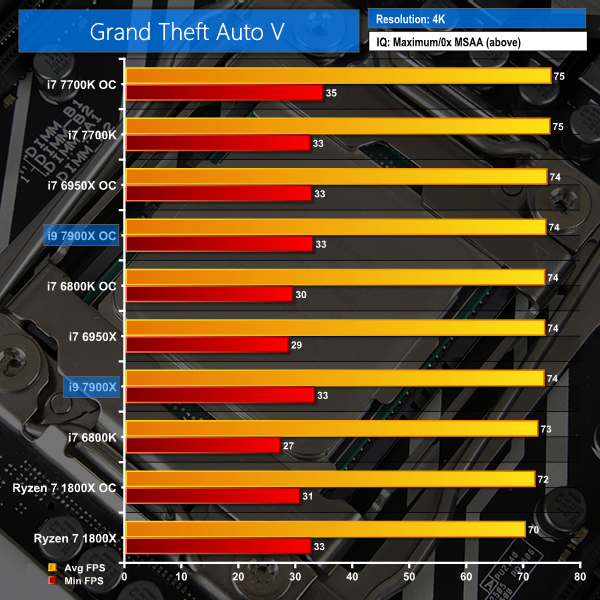 1440P and 4K Gaming Performance Overview:
Ghost Recon Wildlands continues to scale primarily with CPU frequency when tasked with a 1440P gaming resolution. As such, Skylake-X puts in a decent showing but the differences are slim between all CPUs. Crank the GPU workload up to a 4K rendering resolution and all CPUs, bar the 6800K which shows odd behaviour, perform practically the same.
Even a 1440P resolution is not quite demanding enough to mask the CPU-induced bottlenecks in GTA V. If you want a high-refresh rate gaming experience in GTA V and have the GPU horsepower to push that, Skylake-X does a decent job when overclocked but is still outpaced by Broadwell-E's 6950X and the speedy 7700K. Switch up to 4K and the Intel CPUs show similar performance across the board. Even a GTX 1080 Ti can't take this ageing title to 90+ FPS where CPU-induced bottlenecks, even at 4K, would start to rear their ugly heads.
We leave the system to idle on the Windows 10 desktop for 5 minutes before taking a power draw reading. For CPU load results, we read the power draw while producing five runs of the Cinebench multi-threaded test as we have found it to push power draw and temperature levels beyond those of AIDA 64 and close to Prime 95 (non-AVX) levels. Even five continuous loops of Cinebench results in a short run time on high-performance CPUs which influences the validity of the temperature reading, so we run 5 minutes of AIDA64 stress test to validate data.
The power consumption of our entire test system (at the wall) is shown in the chart. The same test parameters were used for temperature readings.
Power Consumption
Power draw readings are accurate to around +/-5-10W under heavy load due to instantaneous fluctuations in the value. We use a Platinum-rated Seasonic 760W PSU (with 8-pin plus 4-pin power connectors where possible) and install a GTX 1070 video card that uses very little power.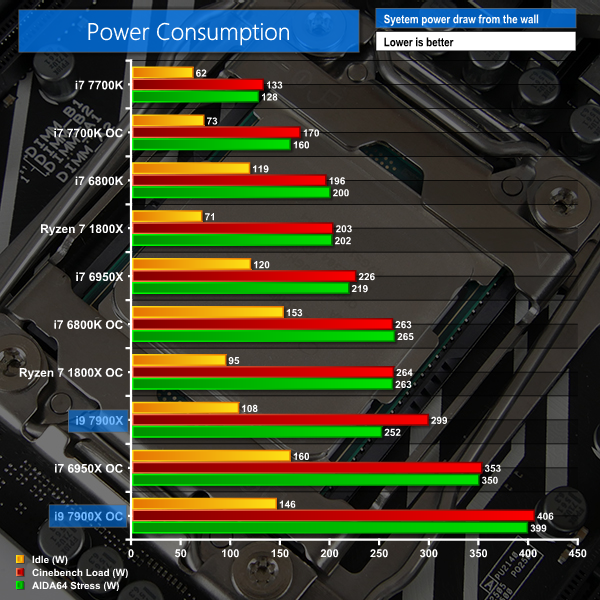 The Core i9-7900X is a power guzzler, which partially explains its superb performance metrics. The 10-core Skylake-X system draws 73W (32%) more power than the next most power-hungry stock system which is the Core i7-6950X. Add almost 100W (almost 50%) onto the power draw of a Ryzen 7 1800X system to get to the Cinebench load usage for the Core i9-7900X. AIDA64 load sees the i9-7900X throttling its clock speed back to around 3.6GHz, down from 4GHz all-core, to reduce power consumption in the synthetic stress test.
Switching focus to overclocked results, nothing can match the 4.6GHz 1.20V Core i9-7900X when it comes to load power draw. With the system pulling more than 400W from the wall, many of us who said >1kW PSUs are unnecessary in the modern day may be about to eat our own words. Make sure that beefy PSU has 8-pin plus 4-pin CPU power connectors, as this level of power draw points to significant stress on a single 8-pin connector, not to mention the motherboard VRM. Despite its lower VCore (1.20V versus 1.275V), the 7900X draws 53W (15%) more power than the 4.2GHz overclocked 6950X in Cinebench. Looking at the 4.05GHz Ryzen 7 1800X, the increase in power draw to our overclocked 7900X is a sizeable 142W (54%). A 4.8GHz 4C8T Kaby Lake 7700K uses less than half the power of the 7900X.
I guess that spells a convincing end to those jokes about AMD being power-hungry. Judging by the power consumption numbers, Intel has taken a brute force approach with as much finesse as a bulldozer to achieving ground-breaking performance with the Core i9-7900X. Personally, I am all for higher power draw if the performance warrants it. However, it is also clear that many consumers value efficiency, not to mention a reduction in thermal energy pumped into their chassis or cooling loop or workspace.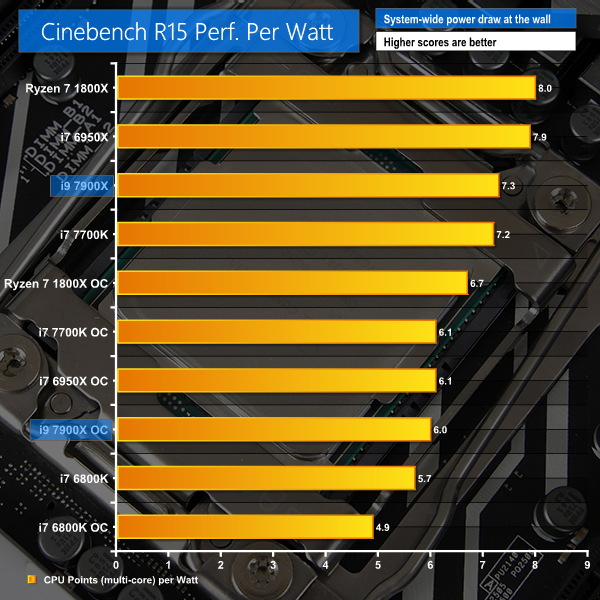 Performance per Watt in Cinebench, which we will loosely regard as rendering power efficiency, is better on the i7-6950X and Ryzen 7 1800X compared to the i9-7900X. Overclocking results in reduced performance efficiency for all CPUs and the 7900X is hit hard in this metric. Ryzen 7 1800X continues to look like a solid performance per Watt option even when overclocked. AMD's chip backs up that claim with strong all-out performance in Cinebench, though nowhere near the Intel 10-core CPU levels.
Temperatures
Temperature recordings were taken using a 280mm Corsair H110i GT all-in-one liquid cooler with its two fans running at full speed (around 2300 RPM). Ambient temperatures were held around 23°C (and normalised to 23°C where there were slight fluctuations).
We read the Tdie temperature for Ryzen which accounts for the 20°C temperature offset. The charted temperatures are without the 20°C offset added on. Ryzen idle temperatures are omitted due to inaccurate readings caused by sensor drift.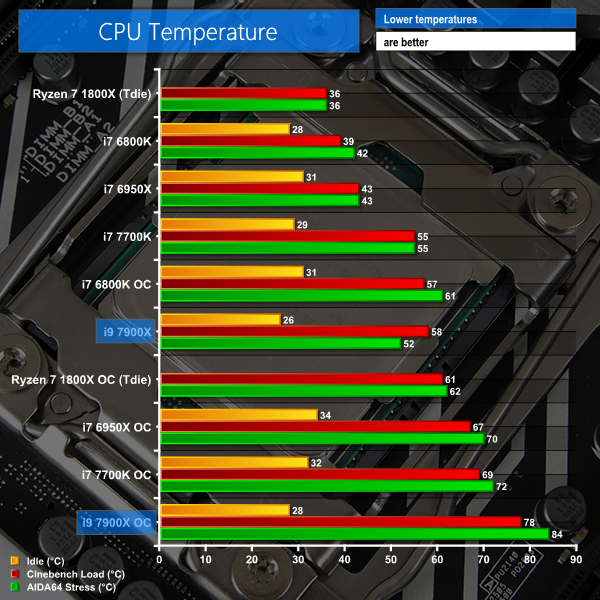 There is not much more to say about thermal performance of the Core i9-7900X that has not already been said – it's far from a cool-running chip. While that's fine in theory – you want higher performance, you'll have to accept higher operating temperatures – the reason for the poor thermal performance is what will leave a sour taste in enthusiasts' mouths. This is not simply a case of ground-breaking performance resulting in high load temperatures, it's largely driven by Intel's decision to use cheaper thermal interface material (TIM) beneath the heatspreader rather than the superior solder approach.
Reasons for Intel's decision to use TIM rather than solder are unclear; the per-unit costs differential between TIM and solder is likely to be insignificant on a $999 processor, even when factoring in the economy of scale. The large Skylake-X die is unlikely to present concerning failure mechanisms for solder, either, so perhaps the health and safety procedures and certification processes at Intel's factories are where TIM really shows its cost benefit over solder. Or perhaps Intel simply does not care that TIM starts to show limitations only when the vendor's processors are run outside of specification (overclocked).
Whatever the reason, it is not a move that has stood well with enthusiasts. Consumers were disappointed by the poor thermal performance of the Kaby Lake 7700K to the point where DIY de-lidding kits became popular. That's a whole new level of seriousness when trying to force the heatspreader off a $999 processor. I do hope that Intel realises the issues presented by using a lower-quality thermal design for HEDT parts and addresses the situation in future product iterations.
It's not just overclockers feeling the pain here, as prosumers and workstation buyers who value low-noise operation at stock operating parameters are also realising the caveats of a limited thermal design. The sub-60°C stock-clocked load results shown in our chart may seem good for the Core i9-7900X. However, when factoring in the 2300RPM fans used on a high-end 280mm AIO cooler to achieve those results, thermals look far less impressive.
The Intel Core i9-7900X 'Skylake-X' 10-core processor unlocks a new level of performance for enthusiast consumers. Multi-threaded performance is superb thanks to the use of ten physical cores with Hyper-Threading and quad-channel memory, while lightly-threaded results are equally promising thanks to the high clock speeds used in tandem with Intel's excellent Skylake architecture.
Multi-threaded performance from the i9-7900X is at a whole new level. Performance increases over the Core i7-6950X in Cinebench, Handbrake, 7-Zip, and x265 encoding are in double-digit figures in percentage terms before overclocking is thrown into the mix. Skylake-X's current flagship is the fastest consumer processor available for a variety of multi-threaded tasks. It's quite the bargain compared to the ridiculously-priced i7-6950X, too, not that that is any form of praise.
Gaming performance is good but it's not market-leading. Users interested solely in gaming (not streaming) should be looking at the Core i7-7700K for their system. There are, however, several results which place the Broadwell-E i7-6950X in front of the i9-7900X in gaming performance. This is likely due to the rebalanced cache configuration of the CPU (though a lack of early software optimisations is also likely to be playing a role).
That's disappointing for many users who, justifiably, would have expected superb multi-threaded performance from the i9's 20 threads and near chart-topping gaming performance thanks to the use of high-speed Skylake cores.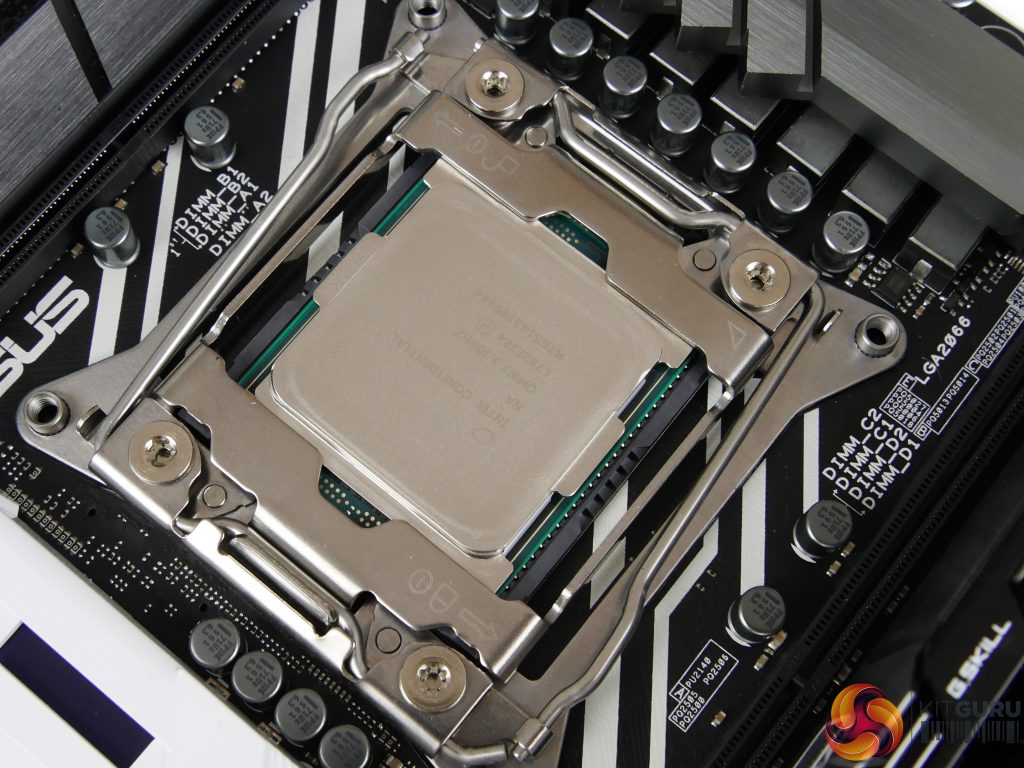 Then we move onto the sticky points for the current Skylake-X flagship – overclocking, thermals, and power consumption.
Starting first with overclocking, the results are generally good for a 10-core HEDT CPU. We hit 4.6GHz at 1.20V and expect than many chips should be fine at a similar frequency on all cores. In isolation, this would be a solid outcome. However, the fact that our overclocking results were temperature-limited was disappointing.
Intel's thermal design for the Core i9-7900X is not good. The use of TIM on a power-hungry 10-core CPU results in undesirable temperature levels at stock speeds and readings that easily push towards 100°C under reasonable overclocked voltage levels without using the best CPU cooling available off-the-shelf. If you want to hit the aforementioned 4.6GHz at 1.20V, you'll have to cross your fingers and hope for low ambients when using an air cooler or put up with incredible fan noise from a hard-pushed AIO.
The use of solder or some metal under the heatsink would have solved this issue and the associated costs would be easily absorbed into a $999 retail price. Instead, Intel has chosen to opt for the cheaper route of using barely satisfactory TIM that will force users to invest, perhaps unnecessarily so, in higher-quality cooling hardware and run their system at higher (louder) fan speeds. Hardly the mark of quality that one would expect from such a premium processor on such a premium platform. De-lidding is an option but on a $999 processor, it is certainly not a procedure that I would feel comfortable undertaking with my own two hands.
Probably unsurprising, given the lofty temperatures, power consumption for the Core i9-7900X is very high. Out-of-the-box, the CPU draws more power than any other stock-clocked processor we compared it to, with only the overclocked Core i7-6950X commanding more energy. Dial in a reasonable overclock to 4.6GHz with 1.20V and system-wide power draw will easily hit 400W under rendering load.
It is evidently difficult to analyse the Core i9-7900X. On one side of the argument, Intel has delivered ground-breaking performance to a consumer market at a significant price reduction from the previous generation, all tied together within the feature-heavy X299 chipset. However, thermal performance is poor, power consumption is very high, and gaming performance is rarely near first place.
With the Core i9-7900X, Intel has used the brute force approach to countering AMD's Ryzen 7 and pre-emptively striking against Ryzen Threadripper. In doing so, finesse has gone out of the window and the staple characteristics that have long been associated with Intel processors – power efficiency and decent thermal performance – have quickly followed. Core i9-7900X is a solid option if you must have the best of the best and have tasks that warrant the significant investment. Just do not expect to feel all warm and fuzzy like you would had you invested in a well-polished, no compromise, price-efficient platform.
We wait eagerly to see what AMD's Ryzen Threadripper brings to the table in just a few weeks, and would advise potential buyers of Core i9-7900X to do the same.

The Intel Core i9-7900X is available for £949.99 (at the time of writing) from Overclockers UK.
Discuss on our Facebook page HERE.
Pros:
Superb out-of-the-box multi-threaded performance.
Strong lightly-threaded performance thanks to Turbo Boost 2.0 and Turbo Boost Max 3.0.
High all-core frequencies when overclocked, provided you can cool the chip.
44 PCIe lanes will appeal to multi-GPU users.
Strong memory potential – high-speed, quad-channel, up to 128GB.
X299 chipset feature set is a significant improvement over X99.
Cons:
Thermal performance is poor.
Power consumption is very high.
Extremely expensive and questionable value compared to AMD's Ryzen 7 offerings.
Gaming performance in some titles not as strong as Kaby Lake or Broadwell-E.
KitGuru says: A brute force approach that has the finesse of a bulldozer smashing through performance barriers. Intel's Core i9-7900X is, overall, the fastest consumer processor on the planet and can overclock to impressive speeds for a 10-core chip. Just make sure you do not expect reasonable thermal performance, low power consumption… or much change out of £1000.