Having analysed the £605 MSI RTX 2070 Gaming Z for launch day, today our attention has been on the more lowly MSI RTX 2070 Armor 8G.
I say 'more lowly' as this card is very much an entry-level RTX 2070. It is priced at £459 – Nvidia's baseline MSRP for reference clocked 2070 cards – and accordingly it does away with many of the features we saw on the much more expensive Gaming Z.
Instead, the Armor 8G is very much tailored to offer the best bang-for-buck as possible. And while that means the cooler is quite basic to look at – it doesn't do anything we've not seen before – it still performs well, keeping the temperatures at or below 65C under load. It is also very easy on the ears, while power draw is relatively frugal at the 185W mark.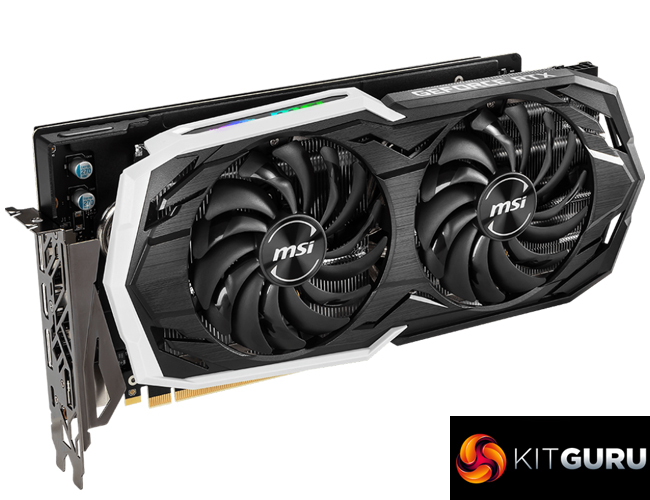 In terms of performance, it is clearly slower than the Gaming Z RTX 2070 – though that is not a surprise since the Armor 8G is clocked at 1620MHz, and the Gaming Z is clocked 210MHz faster out of the box.
That being said, however, the Armor 8G is still faster than a factory overclocked GTX 1080 – at 1440p resolution, we saw it perform on average 4.2% faster. It's not a massive difference at all, but it is the faster card.
We are of course still waiting for RTX features as well – namely, ray tracing and DLSS – to be implemented in actual games, so we can't comment on that aspect of the cards yet. What we do know, however, is that this RTX 2070 is still faster than GTX 1080 in games you can go out and play today.
Overclocking did help us significantly improve overall performance, too. Our Armor 8G was stable with +220MHz added to the GPU core, giving it an operating frequency of 1962MHz – faster than the Gaming Z ran out of the box. This saw our Fire Strike score jump up 9%, while our average frame rate rose 11% when playing Deus Ex: Mankind Divided at 1440p.
Considering that the Armor 8G is available for £459, I have to say this is definitely the kind of RTX 2070 card to go for. The more expensive, factory overclocked models are currently priced too close to the GTX 1080 Ti, making a purchase hard to justify. This card, however, is cheaper than even the most affordable of GTX 1080 cards currently available – and considering it is faster, it is a bit of a no-brainer.
We won't get ahead of ourselves, though – it's a 4% performance advantage for the Armor 8G compared to GTX 1080, so it's not exactly a massive leap generation-on-generation. Still, considering all the furore around RTX pricing, to have a card on the market that actually outperforms its GTX brethren for less money is certainly a thing to be welcomed, even if the difference isn't much.
You can buy the MSI RTX 2070 Armor 8G for £459 HERE.
Pros
Despite seeming quite basic, the cooler is overall very capable.
Faster than GTX 1080.
Lots of overclocking headroom.
Simple, inoffensive design.
Cons
Shroud feels a little flimsy.
An extra 4% performance compared to GTX 1080 isn't exactly something to go wild about.
KitGuru says: It's a relatively basic card, but at £459 it outperforms GTX 1080 while costing less money. It's hardly a big leap in performance, but if you have around £450-500 to spend on a new graphics card, a reference clocked RTX 2070 is the way to go.