MSI's box design for the RTX 3080 Gaming X Trio hasn't changed much since the last time we reviewed a graphics card from this same family, with a large photo of the card itself taking up most of the front of the box.
On the back, MSI highlights a few key aspects of the card, including the Tri Frozr 2 cooler and new Torx 4.0 fans.

Inside, MSI includes a plethora of guides and booklets, but more interesting is the GPU support bracket. As we will see below, the Gaming X Trio is a big graphics card, so GPU sag is a real issue. This bracket should help to reduce that problem by providing extra support to the card.
The design of the Gaming X Trio, at least in terms of its shroud, doesn't appear to have changed much from the last generation. It is still a mix of grey and black sections, with an edgy and angular shape.
What is new is the Tri Frozr 2 cooler, and the three Torx 4.0 fans. Most obviously, all of the three fans are the same size, at approximately 90mm. With something like the 2080 Gaming X Trio, the fan closest to the I/O bracket was smaller than the other two.
We can also see the fans themselves have a different design. The key thing here is that the fan blades now come in pairs, with an outer section that directly attaches the two blades together. MSI says this 'focuses airflow into the updated TRI FROZR 2 cooling system', delivering 20% increased pressure compared to Torx 3.0.
Now then, as for the actual size of the thing, it is not small… measuring in at 323 x 140 x 56mm. Considering it also weighs over 1.5KG, we can see why MSI deemed it a good idea to include that GPU support bracket!
A large RGB strip is visible from the front side of the card, with the MSI and GeForce RTX logos also visible just below.
As for the backplate, this may look like standard fare at first glance, but interestingly this is actually made from graphene. MSI claims this is actually four times stronger than an equivalent plastic backplate, and twenty times more efficient for heat dissipation. The latter point doesn't come as surprise as nobody adds a plastic backplate to actually dissipate heat – when a plastic backplate is used, it's really just for aesthetics.  Nonetheless, it is interesting to see MSI doing something a bit different here.
Next up we come to the power connectors, and MSI is taking no chances here, with a total of three 8-pin plugs required. Considering two 8-pins, plus the PCIe slot, are capable of delivering 375W, this is almost certainly overkill for an RTX 3080, but we will come to power draw later in this review.
As for the display outputs, it is the standard allocation for RTX 3080, with 3x DisplayPort 1.4a, and 1x HDMI 2.1.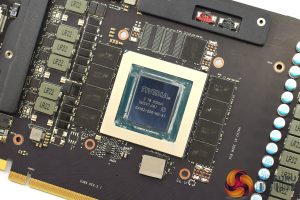 Prising off the heatsink gives us a look at the PCB, which is a custom job from MSI. It uses a 16-stage power delivery, which I believe is 13+3, using ON Semi's NCP302150 MOSFETs rated up to 50 A. Technically, these are co-packaged power stage solutions that integrate the high-side and low-side MOSFETs with the driver in a single, space-saving package. Micron's D8BGW GDDR6X memory modules are also on show, while we can note MSI has added an extra support bracket to prevent any bending of the PCB.
Meanwhile, the cooler is hefty unit, with two separate fin stacks. These are joined by a total of seven nickel-plated heatpipes, six of which measure 6mm, while the other pipe is thicker at 8mm. These pipes also make direct contact with the GPU die, while the memory and VRM contact with additional plates via thermal pads.