There's no doubt about it, the MSI RTX 3080 Gaming X Trio is a highly impressive graphics card. Just a single day has passed since we stated the RTX 3080 Founders Edition is the fastest graphics card we have ever tested, and now that honour has passed to the Gaming X Trio.
That is thanks to the decent factory overclock applied to this GPU, with its rated boost clock of 1815MHz. In practice, we saw it running right around the 1960MHz mark, making it 100MHz faster than the Founders Edition.
Across the 11 games we tested today, that extra frequency resulted in the Gaming X Trio outperforming the Founders Edition by an average of 4%, at both 1440p and 4K. It may not sound like much, but I think the days of custom cards coming in 5-10% faster than the reference designs are now behind us.

Still, when you take an RTX 3080 and add more frequency, we get a GPU that is simply faster than anything else currently available. The Gaming X Trio is on average 37% faster than the RTX 2080 Ti, 64% faster than the RTX 2080 Super, and 75% faster than the RTX 2080, all at 4K.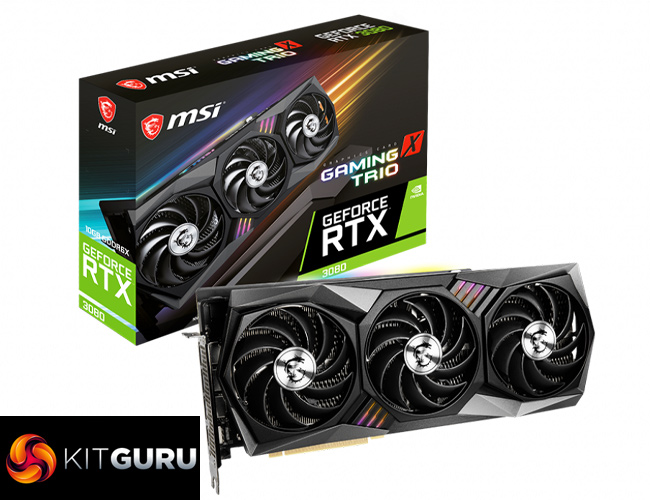 Added to that, MSI's new Tri Frozr 2 cooler is a real work of art. Thermal performance may not seem that impressive at only 3C cooler than the Founders Edition, but that's only because the fan curve has clearly been prioritised towards low noise levels. I'd go as far to say the Gaming X Trio is the quietest graphics card I have ever tested… all while running at speeds not far off 2GHz.
Of course, if you want to drop temperatures below 70C, a simple bump to the fan speed will do that and the card still would be near silent. With that in mind, it would have been good to see MSI add dual-BIOS to the Gaming X Trio, both for redundancy purposes but also to give users a choice between a Performance profile, or a Quiet profile.
Overclocking the card didn't net us much in the way of extra performance, but a couple of things were conspiring against us here. First of all, from the three RTX 3080 cards we have now tested, it really does seem that the GA102 GPU doesn't have much left to give in terms of extra clock speed. Secondly, MSI has already eaten into 100MHz of that headroom with its factory overclock, so the fact we could only add a further 40MHz to the core isn't the end of the world.
In sum, the MSI RTX 3080 Gaming X Trio is a terrific graphics card, and it improves on the Founders Edition in some pretty significant ways. The clear downside is going to be pricing, as we have been told to expect this card to go for £759.99. Personally, I feel that it is much easier for RTX 3080 custom cards to come in with this sort of price, than was the case for the 20 series. The fact is, RTX 3080 is such good value anyway that adding another £110 for a card like this still makes it better value in terms of cost per frame, than anything else on the market right now.
However, that's not to say the extra £110 is a mere drop in the ocean – this is still an expensive card. For many, the improvements the Gaming X Trio offers may not be worth that extra cash, when compared with a more stripped-back card like the Gigabyte Eagle. On the other hand, if you're planning to build a new 4K gaming system that's going to last several years, the increased price may not be so problematic as you will recoup the cost through lower temperatures, and lower noise levels, over your years of gaming.

You can buy the Gaming X Trio from Overclockers UK for £759.95 HERE.
Discuss on our Facebook page HERE.
Pros
Fantastic cooler.
Incredibly quiet under load.
Decent factory overclock results in 4% better performance than the Founders Edition.
Colour-neutral design.
Cons
£110 more expensive than Founders Edition/other cards at MSRP.
Dual-BIOS support would have added something extra.
KitGuru says: Objectively speaking, this is a superb RTX 3080 graphics card. It is expensive, but many will find it's a price worth paying for the improvements on offer.