The Palit RTX 3060 StormX OC ships in a compact white box. Key features and specifications of the GPU are listed on the back.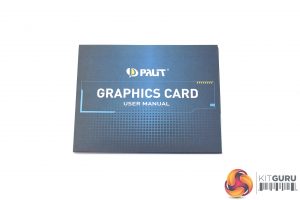 The only included accessory is a small user manual.
Now, as for the card itself, it's clearly a very basic design. Palit is using a black plastic shroud, with a semi-gloss finish, so while it is certainly very colour-neutral, it's hardly an eye catching graphics card. Whether or not you care about that though is entirely up to you.
There's just one fan used as part of the cooling solution, featuring 9 fan blades and a diameter of 100mm.
The dimensions are what this card is all about though, and it is impressively small – measuring 170 x 125 x 39mm. In fact, it's barely any longer than the x16 PCIe connector, making this a prime candidate for use in a HTPC or any other ITX build you might be planning.
We can also see there's no backplate, and instead the rear of the PCB is left bare, with the mounting bracket for the cooler clearly visible.
Power requirements and display outputs are completely as expected – the StormX OC requires a single 8-pin connector, while we get 3x DisplayPort 1.4 and 1x HDMI 2.1 ports.
As for the PCB, Palit has gone for as small a design as possible – we can clearly see the PCB ends in line with the PCIe retention clip. I certainly don't believe I have seen a PCB this small before.
In terms of the componentry, Palit has equipped the GPU with a 5-phase VRM, using the UPI UP9512R controller and OnSemi's 302045 MOSFETs. The memory VRM is 2-phase, using UPI's UP1666Q controller alongside Sinopower 7342EK MOSFETs.
The heatsink is also fairly basic. It is comprised of a single aluminium finstack, with three 6mm heatpipes. Both the GPU and the memory contact with a central baseplate, while there is an additional plate for the VRM off to the side.
Be sure to check out our sponsors store EKWB here