Following in the footsteps of both Gigabyte's RTX 3060 Gaming OC and MSI's RTX 3060 Gaming X Trio, today we have assessed Palit's RTX 3060 offering, in the diminutive shape of the RTX 3060 StormX OC.
There's really no other place to start than with the size of this graphics card. Measuring in at just 170mm long, it's barely longer than a x16 PCIe slot and is easily the smallest Ampere-based graphics card I have reviewed since the launch of the RTX 30-series last September.
That alone means the StormX OC will be given attention by the mini-ITX community and anyone planning a small form-factor build. But despite its tiny footprint, the StormX OC is still more than a match for the 170W GA106 GPU. Temperatures, for instance, peaked at just 69C, while the single fan only emitted a touch more noise than something like an Nvidia RTX 3070 Founders Edition.
Of course, its size means it can't match a Gaming X Trio in terms of raw cooling ability, but I'd argue that doesn't really matter. A peak GPU temperature that's below 70C is more than good enough, especially when that's delivered in a package this small.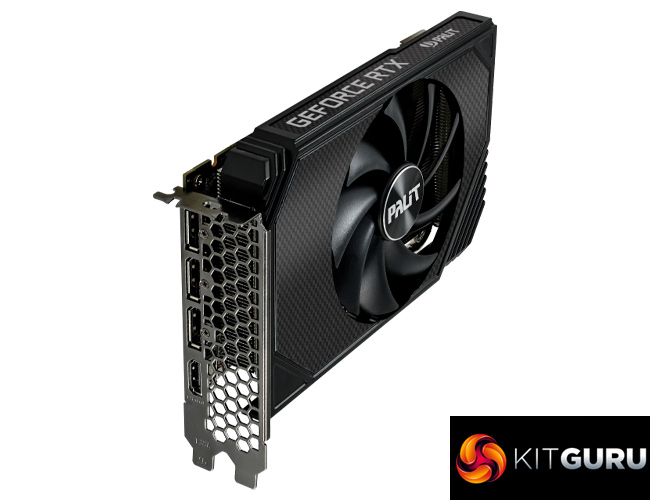 It's also impressive that the StormX OC runs pretty much as fast as the RTX 3060 Gaming X Trio, too. Averaged across all 12 games we tested, the Palit card is just 1% slower on average, but that difference is absolutely negligible – and even quite impressive considering it's also half the size of the MSI card.
As for pricing, in an ordinary world we'd expect the StormX OC to sit pretty close to Nvidia's MSRP of £299, in which case it would be an excellent option. With the market being what is is, Palit told us the UK MSRP for this card is £399, which is still less than the other RTX 3060s we've reviewed, but clearly much higher than it should be.
Ultimately, if you are looking for an RTX 3060, the Palit RTX 3060 StormX OC is a very impressive card considering just how small it really is. If space is at a premium in your system, this would be well worth a look. We can only hope it comes back into stock at a reasonable price point, but given the current state of affairs, we would imagine that's going to be quite unlikely.
We found the StormX OC listed at CCL HERE, but it is out of stock at the time of writing.
Discuss on our Facebook page HERE.
Pros
Incredibly small.
Very solid thermal and acoustic performance considering the size.
Effectively as fast as MSI's Gaming X Trio, which is almost twice as large.
Cons
Pretty plain to look at.
No backplate.
KitGuru says: For a graphics card to be this small, but deliver the results it does, is a very impressive thing. Anyone about to build a new SFF system should definitely take a look at the StormX OC.
Be sure to check out our sponsors store EKWB here