Nvidia's RTX 20 series may be just weeks away, but if you want a mid-range graphics card from AMD, then the RX 580 is still your best bet. For this article, Sapphire sent us two of its aftermarket RX 580 8GB cards – the Pulse and the Nitro+. Our aim? To compare the two cards and see what you gain (or lose) by going for one over the other. Lets see how they stack up against each other.
Watch via our VIMEO Channel (Below) or over on Youtube at 2160p HERE
If you are looking for an aftermarket RX 580 right now, you will find plenty of options, including a selection of 4GB and 8GB models. How do you know which to go for, when pricing can vary significantly between cards? Sapphire wants to make this process a bit easier for you by comparing its Pulse 8GB and Nitro+ 8GB  RX 580 cards head-to-head.

At the time of writing, the Pulse 8GB can be found for £260, while the Nitro+ retails for £299. We look at the differences between the two cards in terms of feature set, build and aesthetics, as well as performance.
Watch via Vimeo (below) or over on YouTube at 2160p HERE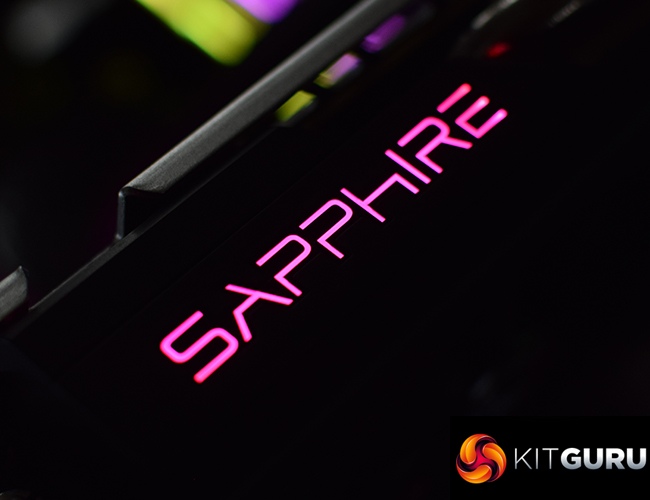 RX 580 8GB Pulse
 RX 580 8GB Nitro+
 Clock Speed
 1366MHz boost
 1411MHz boost
 Memory Speed
 2000MHz (8000MHz effective)
 2000MHz (8000MHz effective)
 Memory Bandwidth
 256GB/s
 256GB/s
 Bus Width
 256-bit
 256-bit
 Form-factor
 2-slot
 2.2-slot
 Dimensions
 230 X 125 X 40mm
 260 X 135 X 43mm
 Display Outputs
1x DL-DVI-D
2x HDMI 2.0b
2x DisplayPort 1.4
1x DL-DVI-D
2x HDMI 2.0b
2x DisplayPort 1.4
 Power Consumption
 <225W
 <235W
 Power Requirement
 1 x 8-pin
1 x 8-pin + 1 x 6-pin
Pulse on the left, Nitro+ on the right
As you can see from the spec comparison table, and the GPU-Z screenshots above, core specification is almost identical between the two cards – they are, after all, both RX 580s. This means both have 2304 stream processors, 8GB GDDR5 VRAM, a 256-bit memory bus and so on. The only difference here is the rated boost clock – the Pulse card runs up to 1366MHz, whereas the Nitro+ is slightly faster at up to 1411MHz.
There are more differences when we compare the cards' features, however. The Pulse card is the cheaper unit, so it lacks a few features included with the Nitro+. These include:
Dual-BIOS functionality
RGB Sapphire logo
Robust VRM cooling
Some of those may not bother you – 'Robust VRM cooling' for instance, only means to suggest that the Nitro+ has a superior VRM cooling solution, when (as we will look at on the next page) the Pulse is still perfectly fine in this regard. Dual-BIOS functionality is something I am appreciative of, though, as it means you have a fall-back in case you brick the card's primary BIOS.
RGB fiends among you will also be disappointed to discover the Pulse does not have a single bit of lighting – anywhere! If you want to colour-match your graphics card to the rest of your system, the Nitro+ is the card to get.